Embosphere® Microspheres are now cleared by the FDA for the intended use of embolization of blood vessels to control bleeding and hemorrhaging in the peripheral vasculature. As the first spherical embolic to receive this clearance, this is yet another indication in a long line of firsts for Embosphere, solidifying its place as the most clinically studied and clinically proven round embolic with consistent and predictable results for effective embolization.
Embosphere was first developed at the Lariboisière Hospital in Paris, France, with initial clinical studies taking place in the late 1980s. Previous to Embosphere, standard embolic agents used for therapeutic embolization initially only included non-spherical polyvinyl alcohol (PVA) particles and gelatin sponge, but both products were seen to have shortcomings.
By nature, non-spherical PVA particles vary in size. This irregularity could possibly lead to uncontrolled embolization as well as the clogging of microcatheters.1,2 Gelatin sponge has been linked with more inflammatory reactions than spherical embolic agents and is often time-consuming to prepare, with uniformly sized particles also a challenge to obtain.2,3 The desire and need for a better embolic agent led to the development of Embosphere Microspheres.
Made from a proprietary formulation of a tris-acrylic cross-linked co-polymer, Embosphere's spherical shape mimics the natural contour of the vessel lumen, allowing for a "fit and fill" effect. Moreover, the hydrophilic surface prevents aggregation in the catheter lumen and vasculature.*
Comparative studies show that Embosphere has many advantages over its predecessors. First and foremost, it's the only round embolic to have a direct correlation between the size of the particle used and the diameter of the occluded artery.1 Competing embolics have no such correlation and have been shown to have higher in-vivo deformation rates and therefore are unable to provide predictable embolization.1,4 Data has also shown Embosphere Microspheres to compress up to 33%, helping to facilitate smooth microcatheter passage.5 These microspheres then return to their stated diameter after delivery, contributing to durable and targeted results.
Now, more than 20 years later, Embosphere is the most extensively studied and clinically utilized round embolic, having been proven in hundreds of thousands of procedures worldwide and in more than 220 peer-reviewed clinical articles.
A microsphere with unwavering performance and quality, Embosphere has still continued to innovate over the years. Starting in 1997, it was the first commercially available microsphere. In 2002, Embosphere was the first embolic agent packaged in a syringe and the first to receive US indication for uterine fibroid embolization (UFE). Fast forward to 2017, Embosphere was the first to receive US indication for prostatic artery embolization (PAE). And today we recognize the most recent first—its US indication for embolization to control bleeding and hemorrhaging in the peripheral vasculature.
These many firsts speak to Embosphere's high level of quality and performance as well as reflect Merit Medical's ongoing dedication to embolics and support for the minimally invasive therapies physicians provide.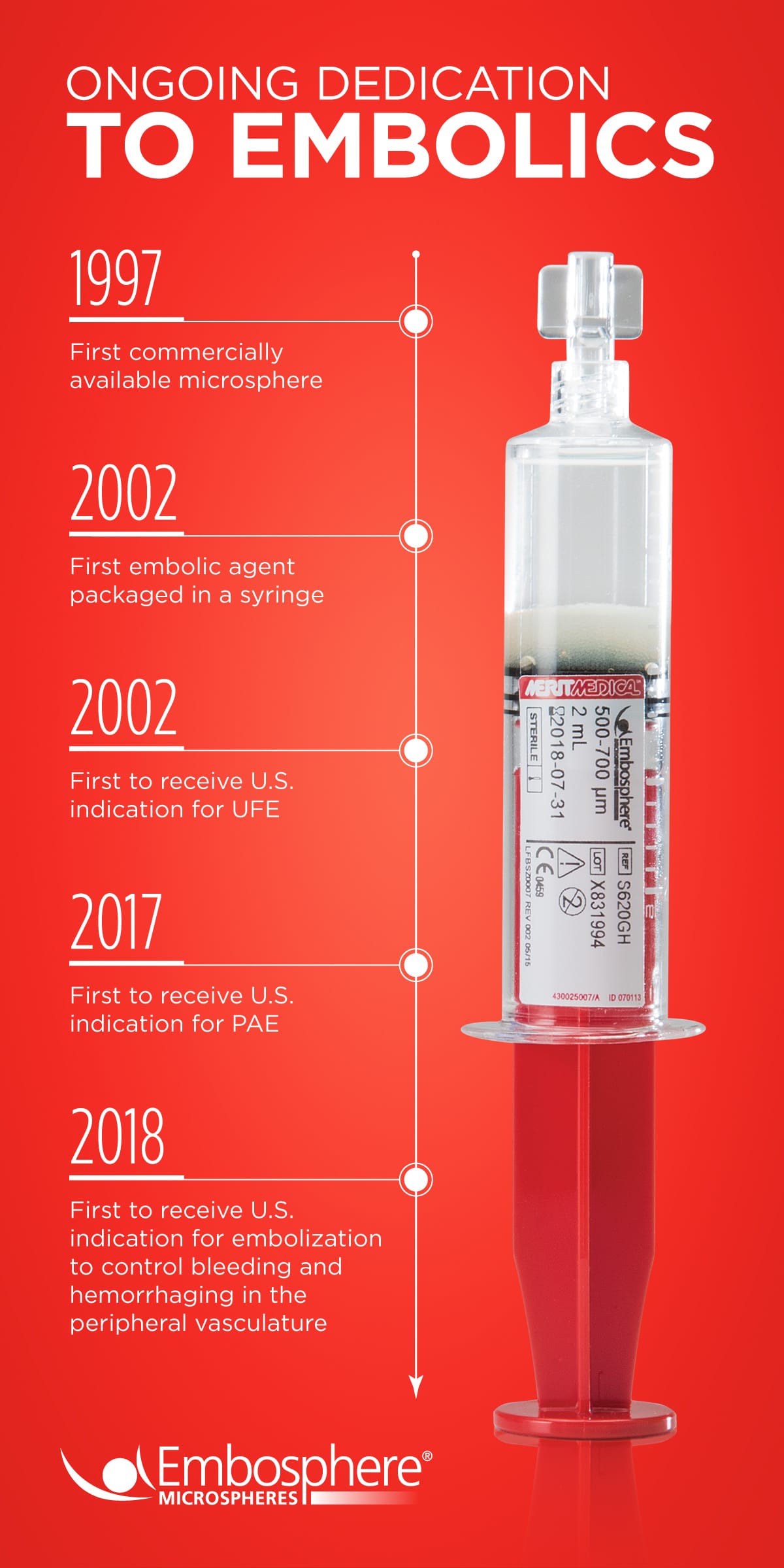 REFERENCES
Pelage, J., Laurent, A., Wassef, M., et al. (2002). Uterine artery embolization in sheep: Comparison of acute effects with polyvinyl alcohol particles and calibrated microspheres. Radiology, Aug;224(2):436-445.
Worthington-Kirsch, R. (2008, Jun). Do particle size and type matter? Retrieved from https://evtoday.com/2008/06/EVT0608_04.php?center=156
Oh, J., Lee, H., Chun, H., et al. (2015). Evaluation of arterial impairment after experimental gelatin sponge embolization in a rabbit renal model. Korean J Radiol, Jan-Feb;16(1):133-138.
Verret, V., Ghegediban, S., Wassef, M., et al. (2011). The arterial distribution of Embozene and Embosphere microspheres in sheep kidney and uterus embolization models. J Vasc Interv Radiol, Feb;22(2):220-228.
Laurent, A., Beaujeux, R., Wassef, M., et al. (1996). Trisacryl gelatin microspheres for therapeutic embolization, I: Development and in vitro evaluation. AJNR Am J Neuroradiol, Mar;17(3):533-540.
*In-House Data