Diversity & Talent
At Merit, we recognize and value the people who make up our company and see them as a key to our success. Merit encourages a culture of mutual respect, where everyone feels valued and respected, helping to foster an environment of understanding and appreciation for the similarities and differences among our teams, customers, communities, and other stakeholders.
Merit is committed to maintaining a diverse and inclusive workforce. We understand that a diverse workforce leads to greater innovation, more opportunities, and increases our access to qualified talent. The company does not tolerate discrimination or harassment of any applicant, employee, customer, or service provider because of age, race, color, religion, sex, ancestry, national origin, military service or application, marital status, citizenship status, physical or mental disability, genetic information, sexual orientation, gender identity or expression, or other protected characteristics under federal, state, or local law. Discrimination and harassment based on any of these characteristics is a violation of company policy and is not tolerated.
Diversity in Leadership
During 2019, approximately 33% of Merit's Executive Leadership is comprised of women and/or U.S. minorities, and four of our nine Board of Directors are women and/or U.S. minorities.  We are continuously working to deepen our cultural competence to enhance inclusivity in the workplace. We conduct specific leadership training and education initiatives throughout the company that aim to not only increase awareness and knowledge but also encourage our leaders to bring out the best in their team members, enabling everyone to work together.
Attracting, Developing, and Retaining Top Talent
Increasing our ability to attract, develop, and retain underrepresented talent at all levels of the organization is important to us. We continue to integrate diversity and inclusion strategies within our business, recruitment efforts and internal initiatives.
A Culture of Learning and Growing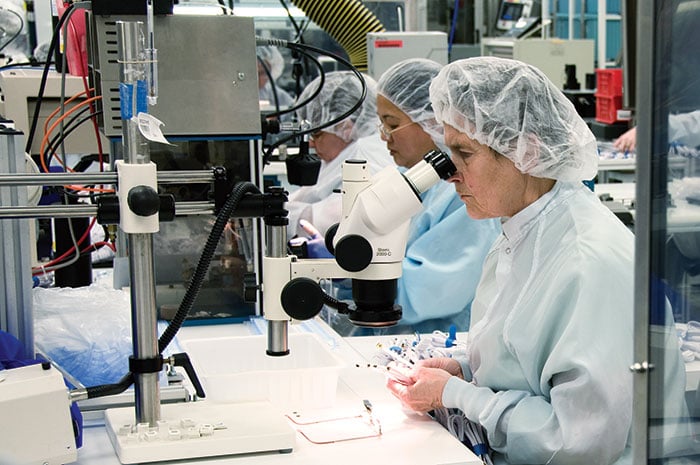 At Merit, we strongly believe in continuous learning and growth, allowing us to develop our top talent from within. We have implemented several initiatives to provide for the development and retention of our team, including:
Leadership Training Programs
Learning Management System that provides online training and education classes for Merit team members across the globe including succession planning to identify high-potential team members
Flexible and progressive work environment to help retain our team members, such as parental leave and part-time and weekend shifts.
Investing in our future workforce by hosting programs, such as internships throughout the company and working with high school students in job shadowing days. Merit's "Kid-to-Work Day," is a dynamic annual program where employees' children engage in full-day activities and experiences in manufacturing, IT, Marketing, R&D, and Engineering.