Diversity, Equity & Inclusion
Our team is committed to providing equal opportunity in all aspects of employment. We are an equal opportunity/affirmative action employer committed to making employment decisions without regard to race, religion, ethnicity or national origin, gender, sexual orientation, gender identity or expression, age, disability, protected veteran status, or any other characteristics protected by law. We also value the broad range of backgrounds and experiences our employees bring to the organization and recognize that this diversity has enabled us to achieve success as a leader within the industry. Merit does not tolerate harassment or discrimination of any applicant, employee, customer, or service provider because of age, race, color, religion, sex, ancestry, national origin, military service or application, marital status, citizenship status, physical or mental disability, genetic information, sexual orientation, gender identity or expression, or other protected characteristics under federal, state, or local law.
Diversity in Leadership
We are committed to recruiting and retaining diverse team members at all levels of the organization who can share their varied perspectives on the most complex challenges facing us as we work toward a more equitable world. Today, Merit's Board of Directors comprises 30% women, and 40% are directors with diverse backgrounds. Additionally, more than 34% of our management team are women. Our global workforce comprises 56% female team members, and 51% of our team members come from diverse minority backgrounds. While we are proud of our progress, we recognize there is still room for improvement and are working on initiatives in this area.
Attracting, Developing, and Retaining Top Talent
Increasing our ability to attract, develop, and retain underrepresented talent at all levels of the organization is important to us. We continue to integrate diversity and inclusion strategies within our business, recruitment efforts and internal initiatives.
A Culture of Learning and Growing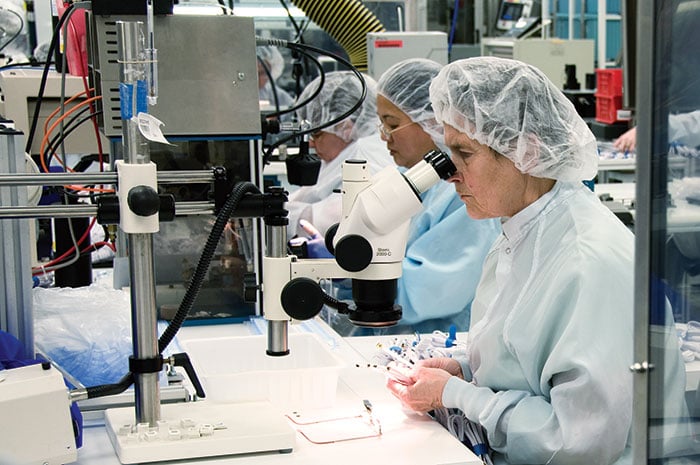 At Merit, we strongly believe in continuous learning and growth, allowing us to develop our top talent from within. We have implemented several initiatives to provide for the development and retention of our team, including:
Leadership Training Programs
Learning Management System that provides online training and education classes for Merit team members across the globe including succession planning to identify high-potential team members
Flexible and progressive work environment to help retain our team members, such as parental leave and part-time and weekend shifts.
Investing in our future workforce by hosting programs, such as internships throughout the company and working with high school students in job shadowing days. Merit's "Kid-to-Work Day," is a dynamic annual program where employees' children engage in full-day activities and experiences in manufacturing, IT, Marketing, R&D, and Engineering.
Employee Engagement
The engagement of our workforce is critical to delivering on our competitive strategy, and we place high importance on informed and engaged employees. We communicate frequently and transparently with our employees through a variety of communication methods, including video and written communications, town hall meetings, and our company intranet. We acknowledge individual contributions to Merit by celebrating milestones of service in five-year increments. As a result of the COVID-19 pandemic, we further strengthened our communication platform to employees, keeping them informed on critical priorities, important actions being taken by management in response to the pandemic, and continued efforts to protect employee health, safety, and wellbeing. In addition, the role of Vice President Corporate Communications was added to specifically focus on improving communications within Merit.
Women's Leadership Initiative
In 2021, Merit launched their North America Women's Leadership Initiative (WLI) with tremendous success. The WLI is an affinity group led by women that is open to all Merit employees. The group employs a comprehensive program to cultivate employee engagement and retention by holding meaningful events that facilitate both personal and professional development.
To learn more about our Diversity, Equity & Inclusion initiatives around the globe, please download our sustainability report.