PROGRAMS TO REDUCE WASTE
MERIT SMART SHIPPING™: PRODUCT PACKAGING REVIEWS BRING PROMISING RESULTS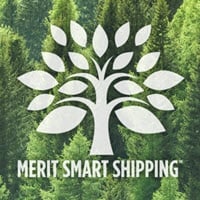 Merit looks for ways to reduce and conserve first, then to recycle. To do this, we are continuously challenging our processes and holding ourselves accountable for the results. As an added aspect of our Merit Smart Shipping Program, Merit has begun a multi-year commitment to take smart shipping even further and review all our product families for reductions in packaging. We have one goal in mind: eliminate all unnecessary packaging. We accomplish this by assessing how our products are ordered and used by our customers and then looking for opportunities to eliminate superfluous materials, such as intermediate boxes, packaging fillers, and number of shipments. In our first year of implementation, we recorded a savings of approximately 211,000 pounds in eliminated materials, included boxes and film. We look forward to reporting on this project year over year. Learn more →
SCRAPE YOUR PLATE PROGRAM
To reduce the amount of food waste sent to landfills, Merit Salt Lake City started the Scrape Your Plate program in November 2019. By partnering with a company that processes food waste, Merit Café scraps are now converted into natural gas, supplying energy to homes. The remaining food waste is turned into fertilizer for local farms. Since its start we have diverted and continue to divert thousands of pounds of food waste each year from the local landfill. By doing so, we help to keep methane gas from entering the atmosphere and contributing to winter inversions in Salt Lake County, Utah.
INTRA-MERIT SHIPPING
Millions of products travel between Merit manufacturing and distribution facilities. For this intra-Merit travel, we've transitioned entirely to reusable pallets and innovated methods to move products in bulk containers, significantly reducing intra-Merit shipping materials.
UTAH BUSINESS 2021 GREEN BUSINESS AWARD

Merit's global headquarters in Salt Lake City, Utah received the 2021 Green Business Award, which recognizes organizations and individuals making positive strides to promote sustainability within the Utah community. Merit specifically won in the Corporate Initiative category for the actionable steps taken to reduce the company's environmental footprint, now and in the future.
PAPERLESS WORK ORDERS
We have begun implementing our internally designed eWORQ program to transition our operating lines in Merit Salt Lake City from paper to electronic work orders. This pilot program at our corporate headquarters began in 2019, and it has reduced the amount of printed paper within our production processes. Once it is fully implemented at all our manufacturing sites, we estimate the eWORQ program to save millions of sheets of paper and thousands of plastic sleeves annually.
ENERGY & NATURAL RESOURCE CONSERVATION
ELECTRIC CAR CHARGER STATIONS
To encourage the increasing number of Merit employees who want to reduce their carbon footprint, we've installed electric car charging stations at our Salt Lake City, Utah and Galway, Ireland facilities. Electric vehicle chargers are provided free of cost to our employees and help our communities by preventing car emissions.
EFFICIENT HEATING & COOLING
Our campuses around the world utilize energy efficient variable frequency drives (VFD) for heating, ventilation, and air conditioning. We have also recently implemented a water efficient cooling system for machinery in our sensors operations where water used to cool machinery is recycled, saving hundreds of thousands of gallons of water each month.
DECREASING WATER CONSUMPTION
One of our 2030 environmental sustainability goals is to reduce our overall water intensity. We do this by implementing programs and initiatives, as well as spending capital to move to more efficient use of water at our global facilities. For example, at our corporate headquarters in Salt Lake City, Utah we have removed over 75% of the campus' water intensive grass and replaced it with decorative rock and low-water drought resistant plants and shrubs. This xeriscaping project alone with save approximately four million gallons of water each year.
 
 
TRANSITION TO LED LIGHTING
We're transitioning from traditional lighting to LED light bulbs at all our facilities around the globe.
FARM TO TABLE
At Merit Salt Lake City, our Farm-to-Table program includes a large garden and greenhouse dedicated, in part, to growing fruits and vegetables for use in our two on-site cafés. In 2021, we served more than 2,500 pounds of fresh produce to our employees. Not only does this program provide fresh, in-season, nutrient dense produce for our valuable team members, it also decreases the amount of produce shipped to our facility, helping to reduce our environmental footprint. In addition to nutritious food, the garden also generates oxygen-producing trees and shrubbery designed to support pollinating insects.
More than 5,400 pounds of fresh produce was distributed to Merit employees through our U-Pick program—a project we started to encourage our team to visit the garden for fresh air and sunshine during the workday and to pick fresh produce and participate in garden cultivation activities. Employees can also sign up for garden boxes where they can grow their own fresh produce for themselves and family members throughout the growing season. Our knowledgeable garden staff is always there to help, offering garden tips and their expertise. Altogether, our 2021 growing season produced more than 10,000 pounds of fresh produce.
REDUCE, REUSE, RECYCLE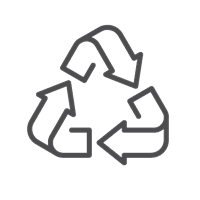 Doing our part to divert waste from local landfills is an important aspect of our ISO 14001 Environmental Management System (EMS). Each month we strive to reduce the impact of production on the communities we serve by recycling corrugate, paper, plastics, metals, pallets, and motor oil. During 2021, our global facilities recycled more than 20,000 MT of waste produced by our operations. We recognize there is more to do and strive to increase recycling each year as well as find ways to reduce total waste.
A great example of waste reduction is our internal system of utilizing reusable plastic totes and pallets for intercompany shipping of components and products. This action has vastly reduced the amount of corrugated and packing materials used. With more than eight manufacturing centers worldwide that transport millions of goods between sites throughout the year, the reduction in boxes and shipping materials really adds up.
SUPPORTING SUSTAINABILITY THROUGH ISO CERTIFICATIONS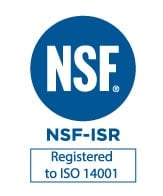 In 2019, Merit began pursuing certifications within our Environmental Health and Safety Management System (EHSMS) through the International Standards Organization (ISO). Merit's EHSMS is designed to address the management of environmental, health, and safety (EHS) compliance to local and global regulations and to facilitate the oversight of our management systems through monitoring, measuring, and reporting.
At the beginning of 2019, we set a goal to have all eight major manufacturing sites certify to ISO 14001 (environmental management) by the end of 2021 and to certify to ISO 45001 (occupational health and safety management) by the end of 2022. We are also pursuing certification of our Energy Management System (EnMS) through ISO 50001.
The chart below shows our progress toward these goals. As we continue to pursue continual improvement in these important areas, Merit experiences real change throughout our organization that support our achievement of our sustainability programs and targets.
Sustainability-Related ISO Certification at Merit Medical
Merit Location
ISO 14001 Environmental
ISO 45001 Health & Safety
ISO 50001 Energy
Salt Lake City, Utah
✅
✅
Tijuana, Mexico
✅
✅
Galway, Ireland
✅
✅
✅
Singapore
✅
✅
✅
Pearland, Texas
✅
✅
Richmond, Virginia
✅
✅
Paris, France
✅
Venlo, Netherlands
✅
✅