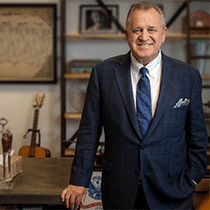 FRED LAMPROPOULOS
Chairman and Chief Executive Officer
Fred Lampropoulos has been in the medical device industry for more than 30 years. After serving as the Chairman and Chief Executive of Utah Medical, Lampropoulos founded Merit Medical Systems, Inc., in 1987, where he currently serves as Chairman and Chief Executive Officer (CEO).
Lampropoulos has invented and holds more than 200 patents on devices used in the diagnostic and therapeutic treatment of cardiac, peripheral, gastrointestinal, and pulmonary conditions.
He is also highly involved in his community and serves on many boards. Lampropoulos is the recipient of numerous awards, including the Governor's Medal for Science and Technology and CEO of the Year. He was inducted into the Utah Business Hall of Fame.
Lampropoulos is a former Special Forces Officer and an Honorary Colonel in the Utah National Guard. He holds several honorary doctorates, including Doctorate in Business Administration from Westminster College in Salt Lake City, recognizing his contribution to and development of industry and education within the state of Utah.
RAUL PARRA
Chief Financial Officer
Raul Parra, CPA, was appointed Merit's Chief Financial Officer and Treasurer in July 2018, having served as Interim Chief Financial Officer from May 2018 to July 2018. He is a member of the Board of Directors at American Express National Bank and a member of its Audit Committee. He also served as Merit's Vice President of Accounting and Corporate Controller.
Parra served in other accounting-related capacities with Merit, including Director of Financial Reporting. Prior to joining Merit, Parra was employed as an auditor by Deloitte & Touche LLP from 2003 to 2009.
Mr. Parra holds a Bachelor of Science degree in Business Administration, with an emphasis in accounting, from Sonoma State University. He is a certified public accountant.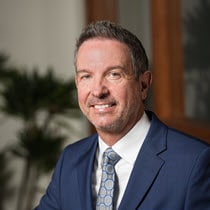 NEIL PETERSON
Chief Operating Officer
Neil Peterson serves as Chief Operating Officer of Merit and is responsible for the company's global operations. During his 27 years at Merit, Mr. Peterson has held multiple positions of increasing responsibility within the company, including the past five years as Vice President, Operations. In that position, Mr. Peterson was responsible for oversight of all operations at Merit's headquarters facilities in South Jordan, Utah.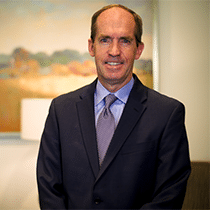 BRIAN G. LLOYD
Chief Legal Officer & Corporate Secretary
Brian G. Lloyd was appointed Merit's Chief Legal Officer and Corporate Secretary in April 2016. Prior to joining Merit, Lloyd served as a member of the business transactions group at Parr Brown Gee & Loveless for more than 20 years.
His experience includes advising public and private companies as well as investors on corporate governance, securities regulation, mergers, acquisitions, and financing transactions, including public offering, private equity, and venture capital transactions.
Lloyd has been recognized as one of the top corporate/mergers and acquisitions lawyers in Utah in the 2003 to 2016 editions of Chambers USA—America's Leading Business Lawyers and has been honored by Best Lawyers in America from 2007 to 2016, including recognition in Utah as Lawyer of the Year in Corporate Compliance in 2015 and Venture Capital in 2016.
He earned a Bachelor of Arts degree from Brigham Young University and a Juris Doctor degree from Columbia University.
MIKE VOIGT
Chief Human Resources Officer
Mike Voigt joined Merit in 2020 with more than 20 years of progressive global human resources (HR) leadership experience in diverse industries, including medical device, pharmaceutical, and technology. Voigt has led successful organizational transformation efforts on a global scale and has deep expertise within strategic HR business partnering, global HR leadership, HR services, cultural development, organizational design, compensation, M&A, and recruiting.
Prior to Merit, Voigt was Chief Human Resources Officer at Mavenir, a rapidly growing global technology company. Prior to Mavenir, he worked at Galderma for nine years where he held multiple HR roles in the U.S., France, and Switzerland.
Voigt holds a bachelor's degree in Business Administration from Oklahoma State University.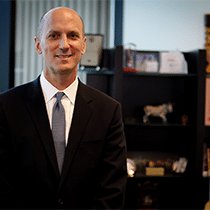 JOE WRIGHT
Chief Commercial Officer
Joe Wright joined Merit in 2005 as Vice President of International and was responsible for sales in Canada, Asia Pacific, and Latin America. He also served as Vice President of Global Marketing in 2006 and 2007 and was then promoted to President of Merit Technology Group, overseeing Merit OEM, Merit Sensor, and MCTec B.V.
As Chief Commercial Office, Wright will be responsible for spearheading the company's overall commercial strategy. In 2010, he oversaw the creation of Merit China in Beijing. In 2011, he also established Merit Asia in Hong Kong, the company's headquarters in Southeast Asia. Wright has continued to expand Merit's presence with facilities and/or personnel in Australia, Brazil, Canada, India, Japan, Malaysia, South Korea, Taiwan, and Vietnam.
Before joining Merit, Wright held sales, marketing, and business development positions with Motorola and Micron. He holds bachelor's and master's degrees in Business Administration from Columbia University and speaks Japanese.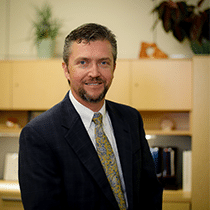 JOHN KNORPP
Chief Regulatory Affairs Officer
John Knorpp came to Merit in 2010 as Director of Regulatory Affairs of the Endotek Division and was promoted to his current position of Chief Regulatory Affairs Officer in 2013. In this role he directs all global regulatory and medical affairs activities.
Knorpp has been in the medical device industry since 1996 in both quality and regulatory roles. Prior to joining Merit, he was Director of Regulatory Affairs for C.R. Bard, Inc.
Knorpp holds a Bachelor of Science degree in Statistics-Quality Science from Brigham Young University and a Master of Business Administration degree from the University of Utah. He currently serves on the Executive Board of Directors for BioUtah.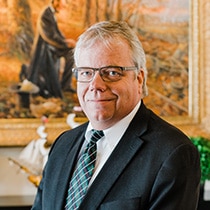 JOSEPH PIERCE
Chief Information Officer
Joseph Pierce has been the Chief Information Officer (CIO) at Merit since 2006. He first joined the company as Head Software Developer in 1991, and then he became Director of Applications in 1999. During his time as CIO, Pierce has overseen the expansion of IT operations in Europe, Asia, and North America. Prior to joining Merit, he worked in IT for Rocky Mountain Helicopters and FX Energy.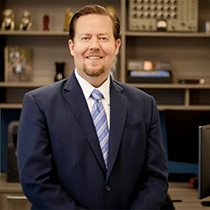 JASON TREFT
Chief Technology Officer
Jason Treft joined Merit in 2007 and has been the Chief Technology Officer (CTO) since 2012. In this role, he directs global technology strategy in IT operations. The CTO organization includes technology infrastructure and architecture; cybersecurity; network, systems and database administration; cloud platforms and domestic and international support teams.
Since 1996, Treft has worked in many segments of the IT industry, including consulting, data center, internet services, and technical training. Prior to Merit, he owned an IT consulting firm with emphasis on IT outsourcing, cloud-based hosting services and cybersecurity.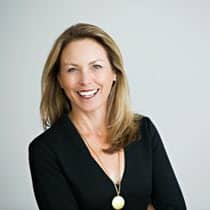 JOANNE ALKIRE
Executive Vice President, Global Marketing and Strategy
JoAnne Alkire joined Merit in 2021 with more than 30 years of experience in the medical technology industry. She has led strategic planning, portfolio management, and new product commercialization at large and mid-sized medical device companies.
JoAnne's prior experience includes leadership of Medtronic Inc.'s entry into the U.S. transcatheter valve market, and strategy and marketing leadership roles in coronary intervention, cardiac surgery, cardiac rhythm management, cellular therapies and pain management at Medtronic, Cardiovascular Systems, Inc., St. Jude Medical, and Be the Match.
JoAnne holds a Master of Business Administration from the Darden School at the University of Virginia, and a Bachelor of Arts degree from the University of Wisconsin.