Philanthropy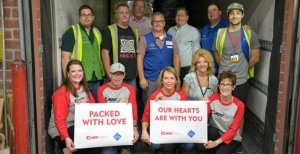 From the beginning, Merit Medical has set out to improve lives around the globe. More than 30 years later, this mission is still what drives the company forward in both business and social impact. Through product and financial contributions, employee time and dedication, and collaboration with global and local non-profit organizations, Merit worldwide facilities foster stronger communities and create positive change.
Contributing to Healthcare in Underserved Regions
Merit Medical works with charitable organizations around the globe to distribute products to non-profits, hospitals, and clinics that help meet the needs of underserved communities in emerging countries. Learn more about the charitable organizations and communities Merit supports through product donations.
Empowering Tomorrow's Leaders
We believe when children have access to education, it gives them the confidence and tools to reach their fullest potential. That's why our company contributes to local youth education programs that provide safe and positive learning environments.
Supporting Boys & Girls Clubs of America
Through donations to the Boys and Girls Clubs of Salt Lake City, Merit's global headquarters in South Jordan helps to promote a safe and positive environment for children that nurtures both academic achievement and healthy behaviors.
Funding Advanced Education
Merit's global headquarters in South Jordan supports the Salt Lake Community College Plastic Injection Molding Technology Program with a generous endowment for students pursuing a career in this field.
Backing STEM Education
The Merit Richmond facility gives annually to programs that support science, technology, engineering, and math (STEM) education, supplying students with the knowledge and skills they need to succeed.
Junior Achievement Program
Fred Lampropoulos, Merit Founder and CEO, serves on the Junior Achievement City Advisory Council. The company also holds a "store front" in the Junior Achievement City where children can learn about Merit and what is required to work in various areas of the medical device manufacturing industry. Merit also contributes donations that help children attend annual Junior Achievement City events, where they experience many different business environments, and they can run for Junior Achievement City public offices.
Caring for Our Communities
It takes a community to care for its people. Through charitable donations, we're able to support the local organizations that make this possible. Whether it's our time or company resources, giving back to the community reflects our mission to improve lives worldwide.
Bringing Help to Those in Need
In addition to our company providing monetary aid to local immigrant and elder shelters, employees at Merit Tijuana donate food, clothing, and personal hygiene items to help those in need. Merit's global headquarters in South Jordan contributes monetary aid to the St. Anne's Homeless Shelter in Ogden, UT. St Anne's provides food, shelter, and critical emergency services to aid the poor, needy, and homeless in Utah.
Keeping People Healthy
Merit's global headquarters in South Jordan gives to the American Heart Association Utah Division to help further its life-saving Hands-Only CPR and AED training program.
Promoting Safer Communities
Merit Houston and Richmond facilities make ongoing contributions to the local Fraternal Order of Police and Volunteer Fire Department, supporting those who serve our communities.
Delivering Better Healthcare Outcomes
Merit's global headquarters in South Jordan works to deliver better healthcare outcomes by supporting BioUtah, a non-profit association that serves the state's life science industry.
Raising Awareness
Bringing visibility to the issues people face sparks change. By participating in community outreach programs and events that elevate these issues, we're creating more opportunities for understanding, connection, and compassion within the community.
Shedding Light on Addiction
Merit's global headquarters in South Jordan is a proud sponsor of the KUTV 2 News Addicted Utah, a campaign that sheds light on issues surrounding addiction and provides resources for individuals and their families.
Supporting Breast Cancer Awareness
Every October, our employees around the globe recognize Breast Cancer Awareness Month through facility and community events. See all the ways we recognized Breast Cancer Awareness Month 2020.