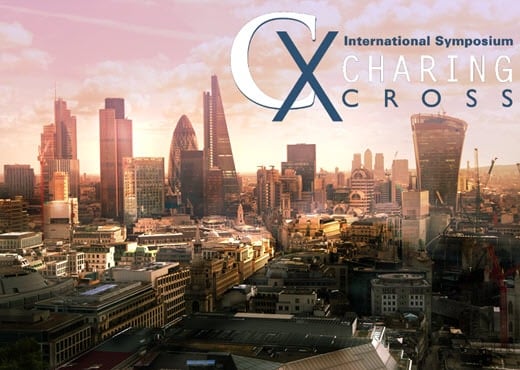 Merit will be exhibiting at this year's Charing Cross International Symposium 2022, "the leading vascular symposium where Education, Innovation, and Evidence come together." This year's symposium will be offered in-person in London and virtually 26-28 April. Merit is hosting two experiential hands-on workshops and two interactive physician education opportunities.
Find us at booth #16 where we'll be showcasing the following products:
PRODUCT SHOWCASE
The HeRO Graft, a hemodialysis access graft designed for catheter-dependent patients or those failing fistulas or other grafts, offers a 69% reduction in future infections compared to patients receiving catheters as well as a cost-saving of 23% on average per year.
Pioneered by interventional cardiologist John Gurley, M.D., the Inside-Out approach was developed in response to patients with chronically occluded veins that required life-saving vascular access. Inserted in the femoral vein, the Surfacer® Inside-Out® Access Catheter System locates an exit from the right internal jugular vein, maintaining viable secondary veins if necessary.
Featuring a unique tri-layered endoprosthesis microstructure, the Merit WRAPSODY Cell-Impermeable Endoprosthesis extends long-term vessel patency in patients who experience obstructions in the dialysis outflow circuit. The hydrophilic coating allows pinpoint accuracy, smooth insertion, and withdrawal with top-tier trackability.
Please Note: The Merit WRAPSODY Cell-Impermeable Endoprosthesis is not available for sale or use within the United States.
A minimally invasive solution for patients, the ClariVein® OC Infusion Catheter features a unique 360-degree rotatable dispersion wire at the distal end. The catheter design has been engineered with a small profile, exceptional flexibility, strong imaging visualization, and excellent pushability.
Please Note: The ClariVein OC Infusion Catheter is not available for sale or use within the United States.
To access the vascular system, Merit MAK Mini Access Kits take a very small approach, minimizing bleeding and trauma for the patient. Merit MAK guide wires are carefully engineered with a fully enclosed hoop and available in several configurations. Each kit includes a coaxial introducer/dilator pair, 21G needle, and guide wire.
PHYSICIAN EDUCATION
Edited Case: How to Treat Venous Leg Ulcers Efficiently.
How Low Can You Go?
Faculty: Mr. Leith Williams
Date: Tuesday, 26 April
Time: 16:50-16:55 BST
Location: Kensington 2, Venous and Lymphatic Challenges
Learning Objectives:
• Understand the benefits of treating advanced venous disease with the ClariVein OC/NTNT technique.
• Receive an update of evidence and guidance on the treatment of venous leg ulcers
• Learn a practical approach to the ClariVein OC device and procedure
Satellite Symposium: When to Stent? Which Stent?
Continuing Experience with the WRAPSODY Cell-Impermeable Endoprosthesis
Faculty: Dr. Andrew Wigham, Dr. Ounali Jaffer, and Dr. Robert Jones
Date: Wednesday, 27 April
Time: 10:00-10:30 AM BST
Location: Richmond, Vascular Access Masterclass
Learning Objectives:
• Understand how to manage patients and how to decide their best treatment options (i.e., treatment algorithm)
• Know more about the current WRAPSODY trial pipeline (FIRST, IDE, and Registry)
• Learn how WRAPSODY can be beneficial and cost effective in daily treatment
HANDS-ON WORKSHOPS
Hands-on Vascular Access Workstation with the Merit WRAPSODY, HeRO Graft, and Surfacer
Faculty: Mr. Gilbert
Date: Tuesday, 26 April
Time: 10:00-15:00 BST
Location: Workshop Wing
Hands-on Venous Workstation with the ClariVein OC and Merit MAK Mini Access Kit
Faculty: Mr. Williams
Date: Wednesday, 27 April
Time: 09:30-15:30 BST
Location: Workshop Wing
---
At Merit Medical, we are equally dedicated to cutting-edge innovation with our medical products and physician education. Merit is proud to participate in Charing Cross 2022, and we look forward to seeing you in person or virtually!
Merit WRAPSODY™ Endoprosthesis and ClariVein® OC are not approved or available for sale in the United States.
Before using any of the Merit products mentioned above, refer to Instructions for Use for indications, contraindications, warnings, precautions, and directions for use.