EXTENDING LONG-TERM VESSEL PATENCY IN PATIENTS WITH OBSTRUCTIONS IN THE DIALYSIS OUTFLOW CIRCUIT
Dialysis patients can often experience complications due to stenosis and occlusions in the dialysis outflow circuit. This can lead to repeated interventions, frequent trips to the hospital, and inadequate dialysis treatments. The Merit WRAPSODY Cell-Impermeable Endoprosthesis is built to combat these challenges and extend long-term vessel patency rates.
Features & Benefits
UNIQUE TRI-LAYERED CELL-IMPERMEABLE ENDOPROSTHESIS MICROSTRUCTURE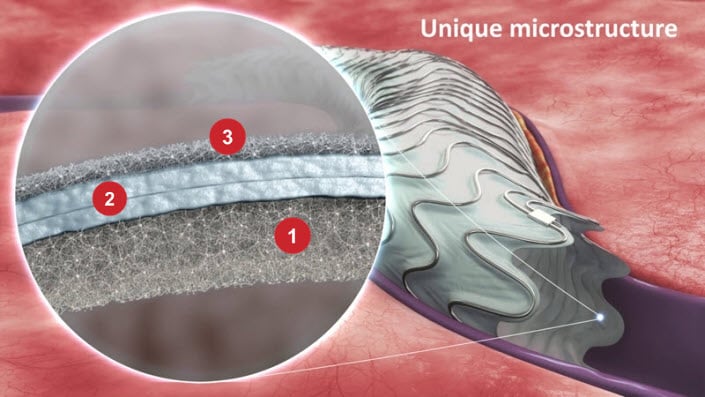 INSIDE NOVEL SPUN GRAFT LAYER

The innermost layer of the WRAPSODY is made of a biocompatible, novel spun PTFE layer designed to limit inflammation and thrombus formation without coatings, chemicals, or drugs.

MIDDLE CELL-IMPERMEABLE GRAFT LAYER

The WRAPSODY is engineered with an impermeable middle graft layer built to prevent transmural cellular migration without the use of drug bonding.
CASE STUDY
Dolmatch, et al. JVIR. 2020; 31: 494–502.1 Evaluation of a Novel Spun Polytetrafluoroethylene Stent Graft in an Ovine External Iliac Artery Model Purpose: To compare the patency, tissue response, and thrombogenicity of the WRAPSODY and a leading ePTFE covered stent.
CONCLUSION
The WRAPSODY's cell-impermeable middle graft layer prevents cellular migration and tissue accumulation (as shown in pink) across device layers and around nitinol stent struts better than the leading ePTFE covered stent.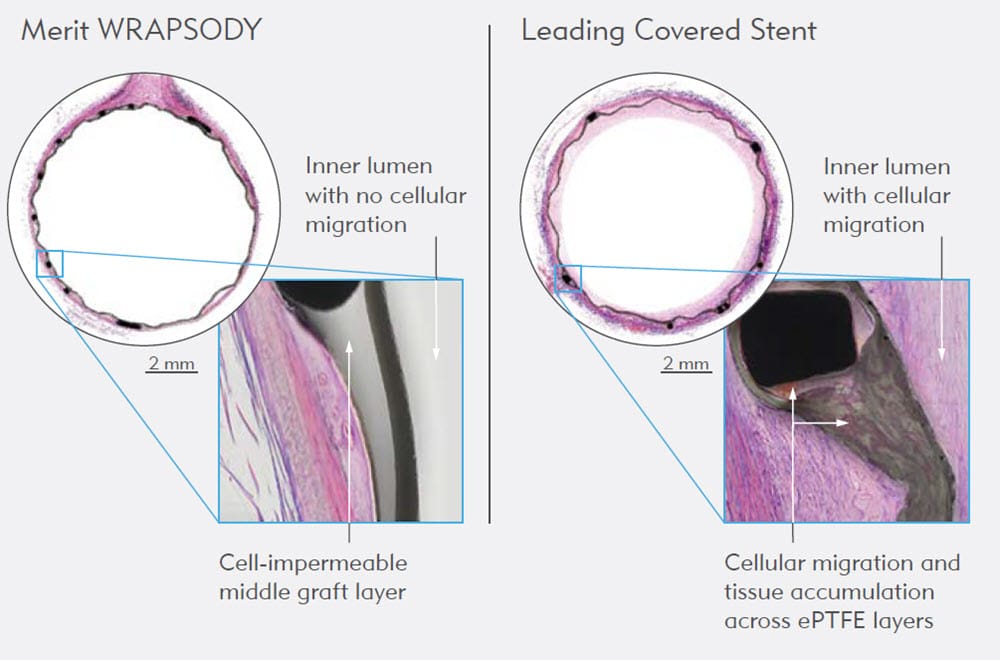 Cross-Sectional Histology Images: Left External Iliac, Animal, 180 days1
OUTER ePTFE STANDARD LAYER

The outer layer of the WRAPSODY is engineered with a standard, biocompatible ePTFE material that allows for necessary tissue ingrowth to prevent stent migration.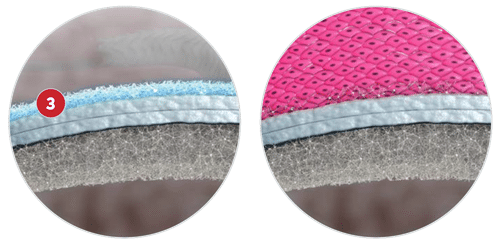 Close up of the outer ePTFE on the left, and tissue ingrowth on the right
SOFTENED END ROWS REDUCE EDGE STENOSIS
WRAPSODY'S end rows are designed with less radial force (1) to better conform to healthy tissue, reduce vessel trauma, and improve long-term patency. Additionally, nitinol struts (2) allow for upsizing of up to 25% for superior vessel conformance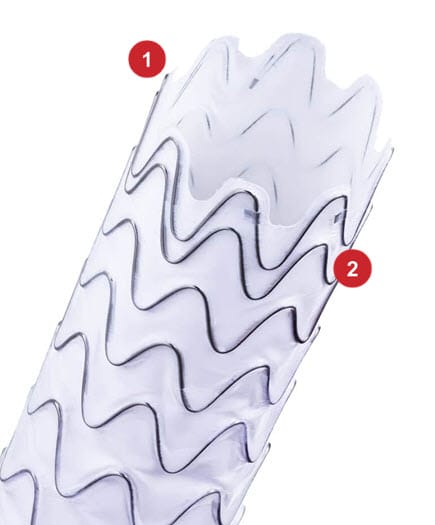 RADIAL STRENGTH AND COMPRESSION RESISTANCE
Allows the cell-impermeable endoprosthesis to withstand intraluminal forces AND extrinsic pressure placed on the device – and is consistent across all diameter sizes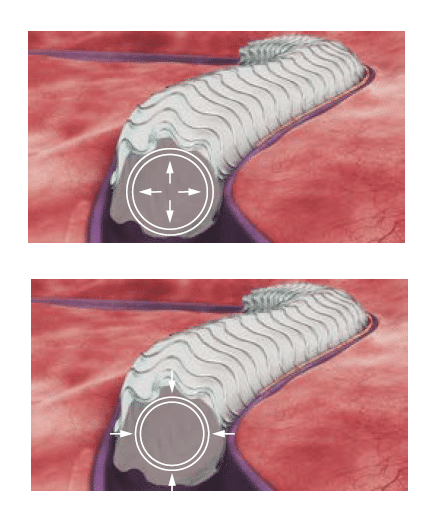 ---
PINPOINT ACCURACY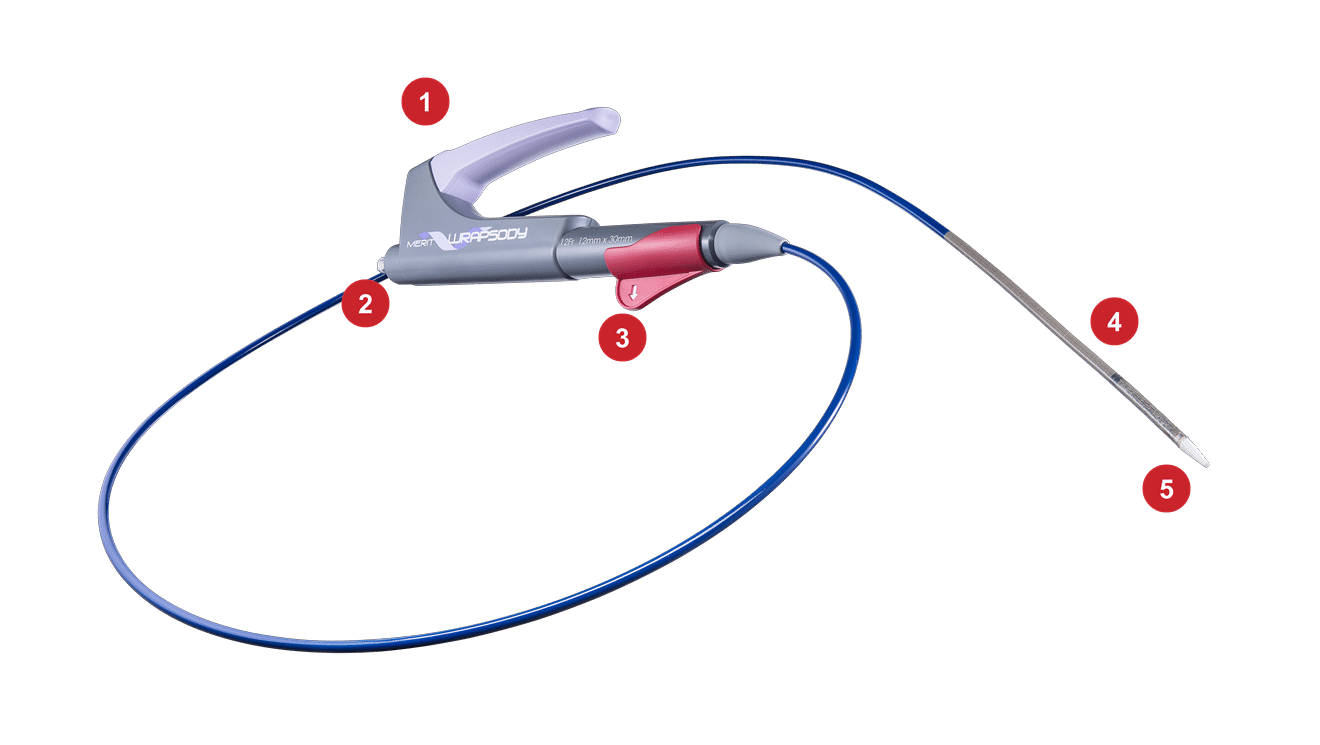 1 – Racheted Deployment Handle
for one-handed accurate and controlled cell-impermeable stent graft placement
2 – Single Port
for flushing guide wire lumen and cell-impermeable stent graft pod
3 – Safety Clip
to prevent inadvertent deployment
4 – Radiopaque Marker Bands
for enhanced visualisation
5 – Soft Atraumatic Tip
for a seamless transition over a 0.035″ guide wire
---
HYDROPHILIC COATING
Allows smooth insertion & withdrawal, along with exceptional trackability
Documents
Discover more about the Merit WRAPSODY by reviewing the product documents.
Clinical Data
Product Documents
Current IFUs
Current Brochures
Order Information
View All Details
| Catalog Number | Expanded Family Name | Expanded Family Name2 | Stent Graft Diameter (mm) | Stent Graft Length (mm) | Catheter Working Length (cm) | Delivery Profile (French) | Vessel Diameter Range (mm) | Guide Wire Compatibility | Sterilization | Latex Free | Shipping Box Qty | GS1 | GTIN Unit | GTIN Carton | GTIN Shipper |
| --- | --- | --- | --- | --- | --- | --- | --- | --- | --- | --- | --- | --- | --- | --- | --- |
| WRAP-L06050 | Merit WRAPSODY™ | Endovascular Stent Graft System | 6 mm | 50 mm | 120 cm | 8F | 4.6 mm - 5.3 mm | 0.035" (0.89 mm) | ETO | Yes | 1 | | | | |
| WRAP-L06075 | Merit WRAPSODY™ | Endovascular Stent Graft System | 6 mm | 75 mm | 120 cm | 8F | 4.6 mm - 5.3 mm | 0.035" (0.89 mm) | ETO | Yes | 1 | | | | |
| WRAP-L06100 | Merit WRAPSODY™ | Endovascular Stent Graft System | 6 mm | 100 mm | 120 cm | 8F | 4.6 mm - 5.3 mm | 0.035" (0.89 mm) | ETO | Yes | 1 | | | | |
| WRAP-L06125 | Merit WRAPSODY™ | Endovascular Stent Graft System | 6 mm | 125 mm | 120 cm | 8F | 4.6 mm - 5.3 mm | 0.035" (0.89 mm) | ETO | Yes | 1 | | | | |
| WRAP-L07050 | Merit WRAPSODY™ | Endovascular Stent Graft System | 7 mm | 50 mm | 120 cm | 9F | 5.4 mm - 6.1 mm | 0.035" (0.89 mm) | ETO | Yes | 1 | | | | |
| WRAP-L07075 | Merit WRAPSODY™ | Endovascular Stent Graft System | 7 mm | 75 mm | 120 cm | 9F | 5.4 mm - 6.1 mm | 0.035" (0.89 mm) | ETO | Yes | 1 | | | | |
| WRAP-L07100 | Merit WRAPSODY™ | Endovascular Stent Graft System | 7 mm | 100 mm | 120 cm | 9F | 5.4 mm - 6.1 mm | 0.035" (0.89 mm) | ETO | Yes | 1 | | | | |
| WRAP-L07125 | Merit WRAPSODY™ | Endovascular Stent Graft System | 7 mm | 125 mm | 120 cm | 9F | 5.4 mm - 6.1 mm | 0.035" (0.89 mm) | ETO | Yes | 1 | | | | |
| WRAP-L08050 | Merit WRAPSODY™ | Endovascular Stent Graft System | 8 mm | 50 mm | 120 cm | 9F | 6.2 mm - 7.2 mm | 0.035" (0.89 mm) | ETO | Yes | 1 | | | | |
| WRAP-L08075 | Merit WRAPSODY™ | Endovascular Stent Graft System | 8 mm | 75 mm | 120 cm | 9F | 6.2 mm - 7.2 mm | 0.035" (0.89 mm) | ETO | Yes | 1 | | | | |
| WRAP-L08100 | Merit WRAPSODY™ | Endoprosthesis | 8 mm | 100 mm | 120 cm | 10F | 6.2 mm - 7.2 mm | 0.035" (0.89 mm) | ETO | Yes | 1 | | | | |
| WRAP-L08125 | Merit WRAPSODY™ | Endovascular Stent Graft System | 8 mm | 125 mm | 120 cm | 10F | 6.2 mm - 7.2 mm | 0.035" (0.89 mm) | ETO | Yes | 1 | | | | |
| WRAP-L09050 | Merit WRAPSODY™ | Endovascular Stent Graft System | 9 mm | 50 mm | 120 cm | 10F | 7.3 mm - 8.1 mm | 0.035" (0.89 mm) | ETO | Yes | 1 | | | | |
| WRAP-L09075 | Merit WRAPSODY™ | Endovascular Stent Graft System | 9 mm | 75 mm | 120 cm | 10F | 7.3 mm - 8.1 mm | 0.035" (0.89 mm) | ETO | Yes | 1 | | | | |
| WRAP-L09100 | Merit WRAPSODY™ | Endovascular Stent Graft System | 9 mm | 100 mm | 120 cm | 11F | 7.3 mm - 8.1 mm | 0.035" (0.89 mm) | ETO | Yes | 1 | | | | |
| WRAP-L09125 | Merit WRAPSODY™ | Endovascular Stent Graft System | 9 mm | 125 mm | 120 cm | 11F | 7.3 mm - 8.1 mm | 0.035" (0.89 mm) | ETO | Yes | 1 | | | | |
| WRAP-L10050 | Merit WRAPSODY™ | Endovascular Stent Graft System | 10 mm | 50 mm | 120 cm | 11F | 8.2 mm - 9.0 mm | 0.035" (0.89 mm) | ETO | Yes | 1 | | | | |
| WRAP-L10075 | Merit WRAPSODY™ | Endovascular Stent Graft System | 10 mm | 75 mm | 120 cm | 11F | 8.2 mm - 9.0 mm | 0.035" (0.89 mm) | ETO | Yes | 1 | | | | |
| WRAP-L10100 | Merit WRAPSODY™ | Endovascular Stent Graft System | 10 mm | 100 mm | 120 cm | 12F | 8.2 mm - 9.0 mm | 0.035" (0.89 mm) | ETO | Yes | 1 | | | | |
| WRAP-L10125 | Merit WRAPSODY™ | Endovascular Stent Graft System | 10 mm | 125 mm | 120 cm | 12F | 8.2 mm - 9.0 mm | 0.035" (0.89 mm) | ETO | Yes | 1 | | | | |
| WRAP-L12030 | Merit WRAPSODY™ | Endovascular Stent Graft System | 12 mm | 30 mm | 120 cm | 12F | 9.0 mm - 10.8 mm | 0.035" (0.89 mm) | ETO | Yes | 1 | | | | |
| WRAP-L12040 | Merit WRAPSODY™ | Endovascular Stent Graft System | 12 mm | 40 mm | 120 cm | 12F | 9.0 mm - 10.8 mm | 0.035" (0.89 mm) | ETO | Yes | 1 | | | | |
| WRAP-L12050 | Merit WRAPSODY™ | Endovascular Stent Graft System | 12 mm | 50 mm | 120 cm | 12F | 9.0 mm - 10.8 mm | 0.035" (0.89 mm) | ETO | Yes | 1 | | | | |
| WRAP-L12060 | Merit WRAPSODY™ | Endovascular Stent Graft System | 12 mm | 60 mm | 120 cm | 12F | 9.0 mm - 10.8 mm | 0.035" (0.89 mm) | ETO | Yes | 1 | | | | |
| WRAP-L12070 | Merit WRAPSODY™ | Endovascular Stent Graft System | 12 mm | 70 mm | 120 cm | 12F | 9.0 mm - 10.8 mm | 0.035" (0.89 mm) | ETO | Yes | 1 | | | | |
| WRAP-L12080 | Merit WRAPSODY™ | Endovascular Stent Graft System | 12 mm | 80 mm | 120 cm | 12F | 9.0 mm - 10.8 mm | 0.035" (0.89 mm) | ETO | Yes | 1 | | | | |
| WRAP-L14030 | Merit WRAPSODY™ | Endovascular Stent Graft System | 14 mm | 30 mm | 120 cm | 12F | 10.9 mm - 12.6 mm | 0.035" (0.89 mm) | ETO | Yes | 1 | | | | |
| WRAP-L14040 | Merit WRAPSODY™ | Endovascular Stent Graft System | 14 mm | 40 mm | 120 cm | 12F | 10.9 mm - 12.6 mm | 0.035" (0.89 mm) | ETO | Yes | 1 | | | | |
| WRAP-L14050 | Merit WRAPSODY™ | Endovascular Stent Graft System | 14 mm | 50 mm | 120 cm | 12F | 10.9 mm - 12.6 mm | 0.035" (0.89 mm) | ETO | Yes | 1 | | | | |
| WRAP-L14060 | Merit WRAPSODY™ | Endovascular Stent Graft System | 14 mm | 60 mm | 120 cm | 14F | 10.9 mm - 12.6 mm | 0.035" (0.89 mm) | ETO | Yes | 1 | | | | |
| WRAP-L14070 | Merit WRAPSODY™ | Endovascular Stent Graft System | 14 mm | 70 mm | 120 cm | 14F | 10.9 mm - 12.6 mm | 0.035" (0.89 mm) | ETO | Yes | 1 | | | | |
| WRAP-L14080 | Merit WRAPSODY™ | Endovascular Stent Graft System | 14 mm | 80 mm | 120 cm | 14F | 10.9 mm - 12.6 mm | 0.035" (0.89 mm) | ETO | Yes | 1 | | | | |
| WRAP-L16030 | Merit WRAPSODY™ | Endovascular Stent Graft System | 16 mm | 30 mm | 120 cm | 14F | 12.7 mm - 14.4 mm | 0.035" (0.89 mm) | ETO | Yes | 1 | | | | |
| WRAP-L16040 | Merit WRAPSODY™ | Endovascular Stent Graft System | 16 mm | 40 mm | 120 cm | 14F | 12.7 mm - 14.4 mm | 0.035" (0.89 mm) | ETO | Yes | 1 | | | | |
| WRAP-L16050 | Merit WRAPSODY™ | Endovascular Stent Graft System | 16 mm | 50 mm | 120 cm | 14F | 12.7 mm - 14.4 mm | 0.035" (0.89 mm) | ETO | Yes | 1 | | | | |
| WRAP-L16060 | Merit WRAPSODY™ | Endovascular Stent Graft System | 16 mm | 60 mm | 120 cm | 14F | 12.7 mm - 14.4 mm | 0.035" (0.89 mm) | ETO | Yes | 1 | | | | |
| WRAP-L16070 | Merit WRAPSODY™ | Endovascular Stent Graft System | 16 mm | 70 mm | 120 cm | 14F | 12.7 mm - 14.4 mm | 0.035" (0.89 mm) | ETO | Yes | 1 | | | | |
| WRAP-L16080 | Merit WRAPSODY™ | Endovascular Stent Graft System | 16 mm | 80 mm | 120 cm | 14F | 12.7 mm - 14.4 mm | 0.035" (0.89 mm) | ETO | Yes | 1 | | | | |
| WRAP-S06050 | Merit WRAPSODY™ | Endovascular Stent Graft System | 6 mm | 50 mm | 80 cm | 8F | 4.6 mm - 5.3 mm | 0.035" (0.89 mm) | ETO | Yes | 1 | | | | |
| WRAP-S06075 | Merit WRAPSODY™ | Endovascular Stent Graft System | 6 mm | 75 mm | 80 cm | 8F | 4.6 mm - 5.3 mm | 0.035" (0.89 mm) | ETO | Yes | 1 | | | | |
| WRAP-S06075-WAVE | Merit WRAPSODY™ | Endovascular Stent Graft System | 6 mm | 75 mm | 80 cm | 8F | 4.6 mm - 5.3 mm | 0.035" (0.89 mm) | ETO | Yes | 1 | | | | |
| WRAP-S06100 | Merit WRAPSODY™ | Endovascular Stent Graft System | 6 mm | 100 mm | 80 cm | 8F | 4.6 mm - 5.3 mm | 0.035" (0.89 mm) | ETO | Yes | 1 | | | | |
| WRAP-S06125 | Merit WRAPSODY™ | Endovascular Stent Graft System | 6 mm | 125 mm | 80 cm | 8F | 4.6 mm - 5.3 mm | 0.035" (0.89 mm) | ETO | Yes | 1 | | | | |
| WRAP-S07050 | Merit WRAPSODY™ | Endovascular Stent Graft System | 7 mm | 50 mm | 80 cm | 9F | 5.4 mm - 6.1 mm | 0.035" (0.89 mm) | ETO | Yes | 1 | | | | |
| WRAP-S07075 | Merit WRAPSODY™ | Endovascular Stent Graft System | 7 mm | 75 mm | 80 cm | 9F | 5.4 mm - 6.1 mm | 0.035" (0.89 mm) | ETO | Yes | 1 | | | | |
| WRAP-S07100 | Merit WRAPSODY™ | Endovascular Stent Graft System | 7 mm | 100 mm | 80 cm | 9F | 5.4 mm - 6.1 mm | 0.035" (0.89 mm) | ETO | Yes | 1 | | | | |
| WRAP-S07125 | Merit WRAPSODY™ | Endovascular Stent Graft System | 7 mm | 125 mm | 80 cm | 9F | 5.4 mm - 6.1 mm | 0.035" (0.89 mm) | ETO | Yes | 1 | | | | |
| WRAP-S08050 | Merit WRAPSODY™ | Endovascular Stent Graft System | 8 mm | 50 mm | 80 cm | 9F | 6.2 mm - 7.2 mm | 0.035" (0.89 mm) | ETO | Yes | 1 | | | | |
| WRAP-S08075 | Merit WRAPSODY™ | Endovascular Stent Graft System | 8 mm | 75 mm | 80 cm | 9F | 6.2 mm - 7.2 mm | 0.035" (0.89 mm) | ETO | Yes | 1 | | | | |
| WRAP-S08100 | Merit WRAPSODY™ | Endovascular Stent Graft System | 8 mm | 100 mm | 80 cm | 10F | 6.2 mm - 7.2 mm | 0.035" (0.89 mm) | ETO | Yes | 1 | | | | |
| WRAP-S08125 | Merit WRAPSODY™ | Endovascular Stent Graft System | 8 mm | 125 mm | 80 cm | 10F | 6.2 mm - 7.2 mm | 0.035" (0.89 mm) | ETO | Yes | 1 | | | | |
| WRAP-S09050 | Merit WRAPSODY™ | Endovascular Stent Graft System | 9 mm | 50 mm | 80 cm | 10F | 7.3 mm - 8.1 mm | 0.035" (0.89 mm) | ETO | Yes | 1 | | | | |
| WRAP-S09075 | Merit WRAPSODY™ | Endovascular Stent Graft System | 9 mm | 75 mm | 80 cm | 10F | 7.3 mm - 8.1 mm | 0.035" (0.89 mm) | ETO | Yes | 1 | | | | |
| WRAP-S09100 | Merit WRAPSODY™ | Endovascular Stent Graft System | 9 mm | 100 mm | 80 cm | 11F | 7.3 mm - 8.1 mm | 0.035" (0.89 mm) | ETO | Yes | 1 | | | | |
| WRAP-S09125 | Merit WRAPSODY™ | Endovascular Stent Graft System | 9 mm | 125 mm | 80 cm | 11F | 7.3 mm - 8.1 mm | 0.035" (0.89 mm) | ETO | Yes | 1 | | | | |