Vertebral compression fractures (VCFs) are the most common fracture in patients with osteoporosis.1 Although painful and debilitating, VCFs often go untreated. To help care for this patient population, Merit Medical innovated the Arcadia, an intuitive balloon-assisted vertebral augmentation (kyphoplasty) system. Designed to be used with the steerable PowerCURVE® Navigating Osteotome, the Arcadia offers several unique benefits when treating patients with painful VCFs.
Bipedicular Footprint, Unipedicular Approach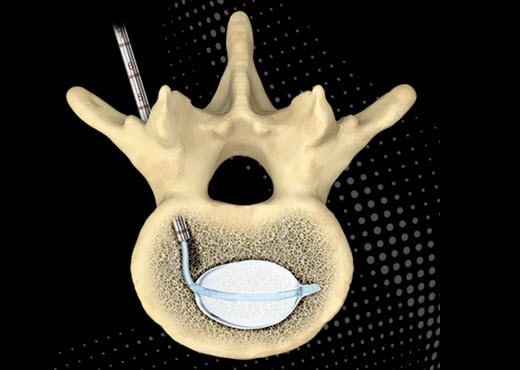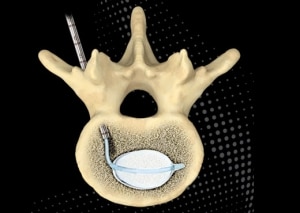 Steerability allows the Arcadia system to target a specific location within the vertebra using a transpedicular approach through a single skin incision. Once past the pedicle body junction, the ability to articulate the device allows accurate navigation to the biomechanically critical important anterior and middle third of the vertebra, resulting in a bipedicular cement footprint byway of a less invasive unipedicular approach.
Unipedicular access has other clinical advantages as well. A systematic review and meta-analysis published in Pain Physician2 compared the safety and efficacy of unipedicular and bipedicular vertebral augmentation approaches in the treatment of osteoporotic VCFs. Results showed that the unipedicular approach required less procedural time, lower radiation dose, and a reduced cement leakage ratio with similar clinical outcomes in pain relief, decreased disability, and improved short and long-term general health.
Reduced Procedural Radiation Exposure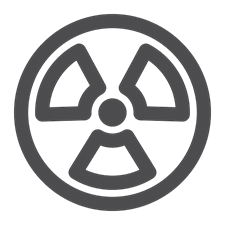 The use of fluoroscopic guidance in the transpedicular treatment of VCFs is necessary for visualization; however, radiation exposure must be limited when possible. The single access unipedicular approach, as provided with the steerable Arcadia, has the potential to reduce radiation exposure.2 Radiation exposure to patients undergoing unilateral vertebral augmentation has been shown to be 50% of the dose received by patients who receive bilateral treatment.2
Safe Transpedicular Access
Transpedicular steerable access, as made possible with the Arcadia and the PowerCURVE, is intended to enable safe passage past the pedicle body junction into the vertebral body. This approach offers advantages, including avoidance of the radicular spinal arteries, which are vulnerable when using an extrapedicular approach. This is significant given spinal arteries, such as the artery of Adamkiewicz, usually arise from the level of the ninth intercostal artery to the second lumbar artery.3
Further, Liu et al. reported that extrapedicular vertebral augmentation in the lumbar vertebrae had a risk of injuring the lumbar artery and was not recommended for use in L4 and L5, especially in female patients.4 Given this data and the size of lumbar vertebrae, transpedicular access with the steerable Arcadia and PowerCURVE devices may be an appropriate treatment option for this patient population.
Transpedicular access through the pedicle using steerable devices also reduces the oblique angle required when using rigid straight devices, decreasing the risk of breaching the medial cortex and cement leakage within the spinal canal.5
Enhanced Navigation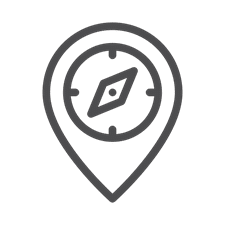 Compared to curved devices manufactured with a predetermined shape which limits trajectory based solely on access into the vertebral body, steerability allows physicians to change trajectory simply by turning the gray handle of the PowerCURVE and Arcadia after accessing the vertebra.
This provides a targeted single-access ability to cross the vertebral midline, enabling optimal balloon tamp positioning and cavity creation. The steerable osteotome, when used alone, can provide targeted channel creation, simultaneously sparing healthy cancellous bone and maximizing surface area to facilitate cement interdigitation. In addition, targeted cavity creation supports the controlled delivery of high-viscosity cement with optimal cement fill.
Reduced Complications
The sophisticated steerable technology of the Arcadia system enables a unipedicular approach to treatment. Complications associated with vertebral augmentation, in general, include infection, neural damage, and pedicle fracture.6 Passing the spinal canal only once, as seen with a unipedicular approach, may reduce the occurrence of such complications.
The Arcadia Balloon-Assisted Vertebral Augmentation System is a prime example of the new technologies Merit provides physicians, helping them to improve procedural outcomes and better the patient experience.
Indication for Use: The Arcadia steerable and straight balloon catheters are intended to be used for the reduction and fixation of fractures and/or creation of a void in cancellous bone in the spine. This includes use during percutaneous vertebral augmentation. These balloon catheters are to be used with cleared spinal polymethylmethacrylate (PMMA) bone cement for use during percutaneous vertebral augmentation, such as kyphoplasty.
Explore the Arcadia by visiting its product page or through the Merit Customer Support Center.
---
References
Pilitsis JG. n.d. "Vertebral Compression Fractures." https://www.aans.org/en/Patients/Neurosurgical-Conditions-and-Treatments/Vertebral-Compression-Fractures.
Sun H et al. 2016. "Can Unilateral Kyphoplasty Replace Bilateral Kyphoplasty in Treatment of Osteoporotic Vertebral Compression Fractures? A Systematic Review and Meta-Analysis." Pain Physician 19, no. 8 (Nov–Dec): 551–563. PMID: 27906934.
Kudo K et al. 2003. "Anterior Spinal Artery and Artery of Adamkiewicz Detected by Using Multi-Detector Row CT." American Journal of Neuroradiology 24(1): 13–17. PMID: 12533320.
Liu L et al. 2019. "An Anatomical study on lumbar arteries related to the extrapedicular approach applied during lumbar PVP (PKP)." PLoS One 14, no. 3: e0213164. PMID: 30835754.
Chung HJ et al. 2008. "Comparative Study of Balloon Kyphoplasty with Unilateral Versus Bilateral Approach in Osteoporotic Vertebral Fractures." Int Orthop 32, no. 6 (Dec): 817–820. PMID: 17768624.
Tsoumakidou G et al. 2017. "CIRSE Guidelines on Percutaneous Vertebral Augmentation." Cardiovascular and Interventional Radiology 40(3): 331–342. PMID: 28105496.