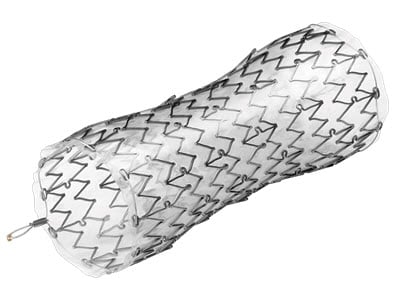 Fully covered self-expanding metal stents are commonly used for palliating malignant strictures. Merit Medical's Endotek® division developed the EndoMAXX®, an esophageal stent indicated for maintaining esophageal luminal patency in esophageal strictures caused by intrinsic and/or extrinsic malignant tumors and for occlusion of esophageal fistulae.
There are numerous treatment options available to help in the palliation of a malignant esophageal obstruction, such as photodynamic therapy, thermal ablative techniques, surgical resection or bypass, and chemotherapy/radiotherapy. However, endoscopic stenting offers significant advantages over these other therapies, as stents are generally easy and quick to place. They are safe, have a good complication profile, and are well-tolerated with a low incidence of significant pain.1,2
Despite having a good complication profile, two common complications of esophageal stenting exist: chest pain and stent migration. The EndoMAXX is designed to address each.
Chest pain due to esophageal stent placement has incidence rates ranging from 12%3 to as high as 37%.4 This pain is typically due to the expansion force, or outward pressure, an esophageal stent exerts on esophageal tissue, a tumor, or a stricture when implanted. It is believed that this force directly corresponds to the discomfort the patient feels while the stent is in place. Clinical guidance also suggests this force may contribute to perforation, a life-threatening additional complication that can occur with an esophageal stent.
The expansion force of the EndoMAXX is 2.4 N, compared to 5.4 N of the market-leading esophageal stent in the US.5 In addition, the EndoMAXX stent is designed with 2.5 cm of flare at each end of the stent. This feature helps anchor the stent within the esophageal lumen. Soft flared ends and a firm mid-body help to dilate an obstruction while protecting healthy esophageal mucosa.

Beyond having a lower radial force, the laser-cut design of the EndoMAXX has virtually no foreshortening or elongation of the stent during deployment, allowing for accurate sizing to the patient's anatomy. A recent study published by Essrani et al. in Cureus Journal of Medical Science confirmed that "[t]he most common complication . . . encountered was chest pain, which was transient and mostly resolved without any intervention."2
In addition, a study by Dua et al. published in Gastrointestinal Endoscopy showed that "[c]hest pain was reported in 11% of patients, and in two-thirds of these cases chest pain developed several weeks after stent placement while the patients were receiving radiotherapy." The authors concluded that "[t]he relatively low incidence of chest pain in this series could be related to the use of smallest-diameter (19 mm) stents in all patients with strictures."1
To meet the clinical need for a large-diameter stent, the EndoMAXX is available in 19-mm and 23-mm diameters. For clinical scenarios that require either a small diameter stent and/or when chest pain is a concern, Merit Endotek also offers the ALIMAXX-ES™ Esophageal Stent that is available in smaller diameters ranging from 12 mm to 22 mm. ALIMAXX-ES stents are designed to have a lower expansion force of 1.6 N, potentially reducing pain experienced by patients.
Migration is also a common complication of esophageal stent placement. Research shows migration rates for self-expanding metal stents range from 23 % to 31 % in malignant strictures. 6-8 In an effort to reduce migration, the EndoMAXX stent is designed with proprietary anti-migration struts that provide increased mucosal wall contact and friction.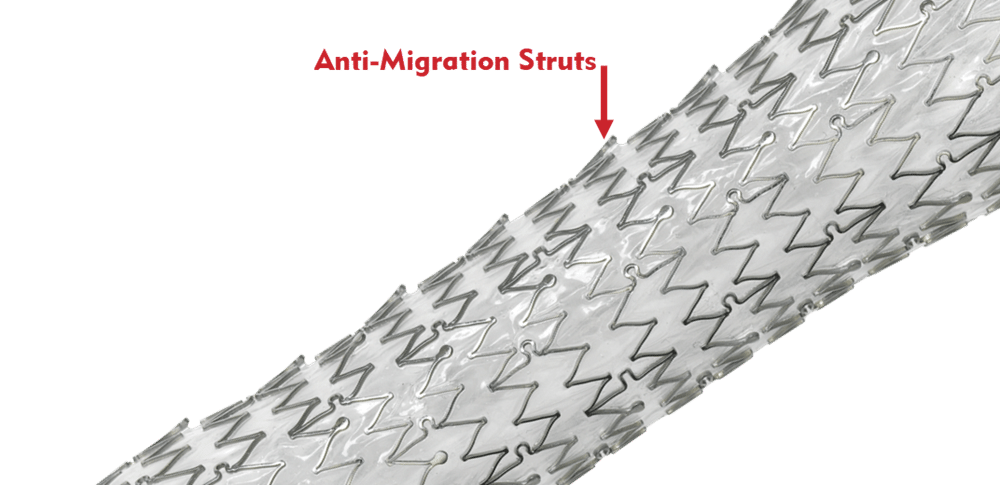 According to the aforementioned study by Dua et al., "stent migration occurred in 4 of 35 patients (11%)" and "all stent migrations were distal."1 It is to be noted that not all migration is bad. When a patient's tumor shrinks from cancer treatment, the stent has nothing to compress against and can migrate distally.
The EndoMAXX is designed with both proximal and distal metal sutures to provide a means for repositioning of the stent post placement and removal if necessary. This can be accomplished by using rat-tooth forceps and grasping the gold metal bead in the suture loop at the proximal end of the stent. Then carefully, using a purse-string effect, the proximal end of the stent is released from contact with the esophageal wall and traction is applied as it is removed.
No surgery is free of complications, but choosing products designed to decrease their incidence may result in better patient outcomes. Merit's esophageal stents have a number of key features that address common concerns associated with esophageal stent placement, all while maintaining luminal patency.
For more information regarding esophageal stenting solutions, visit our GI Stricture Management page, the EndoMAXX product page, or connect with our Customer Support Center.
---
References
Dua K et al. 2014. "Efficacy and Safety of a New Fully Covered Self-Expandable Non-Foreshortening Metal Esophageal Stent." Gastrointestinal Endoscopy 80, no. 4 (Oct): 577–585. PMID: 24685007.
Essrani R et al. 2020. "Complications Related to Esophageal Stent (Boston Scientific Wallflex vs. Merit Medical Endotek) Use in Benign and Malignant Conditions." Cureus Journal of Medical Science12, no. 3 (Mar 23): e7380. PMID: 32328390.
Hindy P et al. 2012. "A Comprehensive Review of Esophageal Stents." Gastroenterol Hepatol (NY) 8, no. 8 (Aug): 526–534. PMID 23293566.
van Boeckel P et al. 2010. "A New Partially Covered Metal Stent for Palliation of Malignant Dysphagia: A Prospective Follow-up Study." Gastrointest Endosc 72, no. 6: 1269–1273. PMID: 20951988.
Data on File.
Siddiqui A et al. 2012. "Placement of Fully Covered Self-Expandable Metal Stents in Patients with Locally Advanced Esophageal Cancer Before Neoadjuvant Therapy." Gastrointestinal Endosc 76, no. 1 (Jul): 44–51. PMID: 22726465.
Martinez J et al. 2011. "Esophageal Stenting in the Setting of Malignancy." ISRN Gastroenterology 2011: 719575. PMID: 21991527.
Shenfine J et al. 2005. "A Pragmatic Randomized Controlled Trial of the Cost-Effectiveness of Palliative Therapies for Patients with Inoperable Esophageal Cancer." Health Teach Assess 9, no. 5 (Feb): 1–121. PMID: 15717937.