Today marks the start of International Infection Prevention Week, a worldwide awareness event aimed at highlighting ways to stop the spread of healthcare-associated infections (HAIs). At any given time, about one in 25 inpatients have an infection related to hospital care.1 HAIs may lead to sepsis or even death,2 prompting healthcare providers to take preventative action to protect patients. Through a number of safety and infection prevention products and education programs, Merit Medical strives to make the healthcare setting safer for patients and healthcare professionals.
In 1987 Merit was built on a safety product: a safer and stronger disposable syringe. Over the past 32 years, we've continued this legacy of innovation, developing best-in-class safety and infection prevention devices that benefit patients, healthcare professionals, and overall health systems.
Many HAIs can be prevented with proper infection prevention practices. We're pleased to offer products and training programs that can help hospitals reduce their risk.
---
---
DualCap® Disinfection & Protection System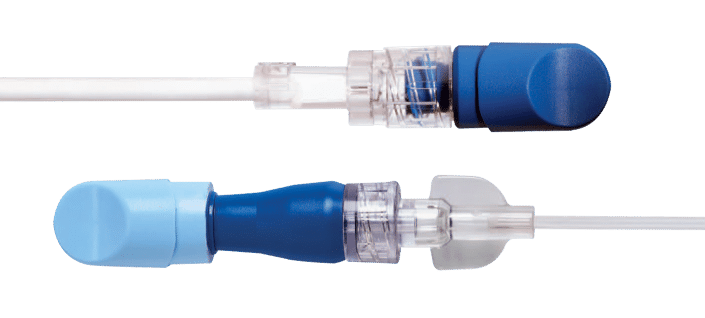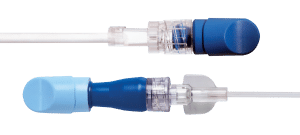 A shining star of our commitment to infection prevention is the DualCap® Disinfection & Protection System, a unique disinfecting cap system for use on both the male luer connector at the end of the IV tubing and the needle-free valve. Clinical evidence shows that the male luer connector can become contaminated up to 37% and the needle-free valve up to 24%, routinely causing vascular device cross-contamination.3
The DualCap — which was designed by nurses — helps to solve these problems via two color-coded, easy-to-grasp caps with built-in disinfecting sponges saturated with 70% isopropyl alcohol. Just twist onto the male luer connector and needle-free valve to disinfect and protect until access is required. Within 30 seconds, the DualCap not only disinfects but also provides a physical barrier to contamination for up to 7 days.4*
Learn more about how the DualCap helps to protect patients.
---
Safety Products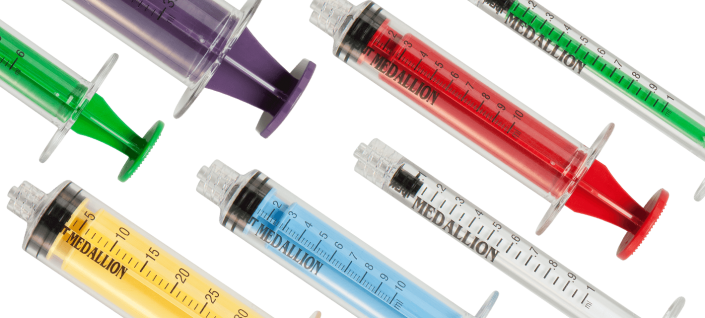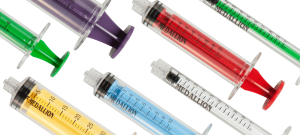 Other products designed to keep clinicians and patients safe include quick and safe fluid waste elimination systems, such as the BackStop®, MiniStop®, BackStop+™, and MiniStop+™. Our temporary sharps holders, the ShortStop® and ShortStop Advantage®, are intuitively designed to prevent sharps injuries. And PAL™ – Pen and Labels and Medallion® Syringes streamline medication labeling, helping to facilitate compliance with national safety goals.
Explore all of Merit's Safety & Waste Management and Infection Prevention products.
---
Educational Opportunities
We also offer the Think Safety and Infection Prevention program, a series of educational opportunities designed to help clinicians learn about techniques, tools, and methods that can improve patient outcomes and prevent HAIs as well as costly medical errors. Attendees can participate in live and recorded webinars and educational events throughout the year and learn the latest patient and clinician safety and infection prevention.
Merit is happy to recognize International Infection Prevention Week and be your partner in keeping hospitals and healthcare settings safe.
---
REFERENCES
1. Office of Disease Prevention and Health Promotion. (2019 Oct 7). Health care-associated infections. Retrieved from https://health.gov/hcq/prevent-hai.asp
2. Centers for Disease Control and Prevention. (2017 Dec 4). Healthcare-associated infections (HAIs). Retrieved from https://www.cdc.gov/winnablebattles/report/HAIs.html
3. Lopansri BK, et al. Does the Partner Matter? (SHEA 2011, Paper 4539).
4. DualCap® IV Pole StripsTM Disinfectant Caps for Male Luers and Luer Access Valves Instructions for Use. Catheter Connections.
* Under normal conditions if not removed