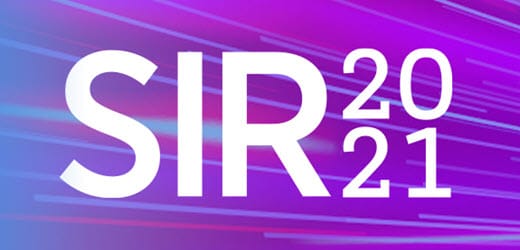 Merit will be exhibiting at this year's Society of Interventional Radiology (SIR) meeting held virtually from March 20-26. At the Merit virtual booth, we will showcase several innovative products—including the newly launched SplashWire™ Hydrophilic Steerable Guide Wire—and hold two must-see educational symposia.
Mark your calendars for the following events at our virtual booth:
Calling all medical students, nurse practitioners, physician assistants, and residents! This is your chance to learn about our renowned Think Education program. Designed and taught by physicians, Think Education offers both training and clinical support needed to implement new tools and techniques into your practice. Explore upcoming courses.
A day we dedicate to recognizing all the incredible women who work in interventional radiology and make a difference in patients' lives each day.
Have you met our latest guide wire? Stop by the Merit virtual booth to get a close-up of the SplashWire, designed to deliver superior performance in diagnostic and interventional procedures. See how it can help you traverse difficult lesions and support clinical outcomes in the most challenging procedures. Learn more about the new SplashWire.
Familiarize yourself with the CorVocet, a biopsy system designed to cut a full core of tissue, providing large specimens for pathological examination. With a lightweight and ergonomic design, the CorVocet facilitates one-handed priming, positioning, and deployment, which can be beneficial during image-guided procedures. Discover the CorVocet.
Stop by and learn about the Resolve ConvertX, a stent system used for temporary internal drainage in patients with ureteral or biliary obstructions. Learn how its technology provides a less invasive option by eliminating the need for a second interventional procedure. Explore the ConvertX.
DATE: Friday, March 26
SPEAKERS:
• David Shelley, MD
• Douglas P. Beall, MD
• Scott A. Koss, MD
TIME: 7:10-7:50 pm ET
About the Product:
Harnessing Merit Spine's unique portfolio feature of steerability, the Arcadia is an intuitive balloon-assisted vertebral augmentation (kyphoplasty) system that allows for a bipedicular footprint through a unipedicular approach, offering several benefits when treating patients with painful benign or pathologic vertebral compression fractures. Learn more here.
At Merit, our goal is to provide the highest-quality products and education services to better meet the needs of clinicians. We are proud to be a part of SIR 2021 and look forward to seeing you there!
Before using any of the Merit products mentioned above, refer to Instructions for Use for indications, contraindications, warnings, precautions, and directions for use.