Precision. Accuracy. Control.
Precise & Predictable Throw Adjustability | Full-Core Specimens |True One-Handed Operation
The CorVocet Biopsy System is designed to cut a full core of tissue, providing large specimens for pathological examination. Its sleek lines, lightweight, and ergonomic grip help facilitate one-handed priming, positioning, and deployment, which is especially beneficial during image-guided procedures.
Learn More About the CorVocet™ Biopsy System
Precise Throw Length
Provides more accuracy and precision than the competitors with its unique adjustability, allowing users to maximize target tissue sampling and minimize healthy tissue trauma
Full Core Specimens
Provide more tissue than notch sampling for improved pathological examination
Lightweight Design
Minimizes movement of needle when left in patient during imaging. CorVocet is 55% lighter than competitor A and 67% lighter than competitor B1
1. 18 Gauge, Data on file, Merit Medical, 2015
Features & Benefits
Full-Core Specimens, One-Handed Operation, Customizable Throw Length
This device can be used for soft tissue biopsy procedures, such as: 
Liver
Kidney
Prostate
Spleen
Breast
Lung
Lymph Nodes
Soft Tissue Masses
Additional Features
Dual Triggers – Device can be fired from two locations, accommodating for procedural needs
Depth Markings – Easy insertion depth reference
Multiple Sizes – Broad range of gauge sizes and lengths to meet procedural needs
Quiet Firing Action – Approximately 33% quieter than the competition for an improved patient experience
Echo-Enhanced Tip – Provides visualization during image-guided procedures
Throw Length – Accurate, controllable throw length adjustment in mm increments
Ready Indicator – Displays yellow when device is primed
Blunt Stylet – May be used to minimize damage to soft tissue, vasculature, and organs
Coaxial Introducer – With its unique quick release technology, the inner stylet can be removed without twisting and torquing
Biopsy Procedure Kits
Merit's Biopsy Procedure Kits provide many of the products needed for biopsy procedures. Learn more >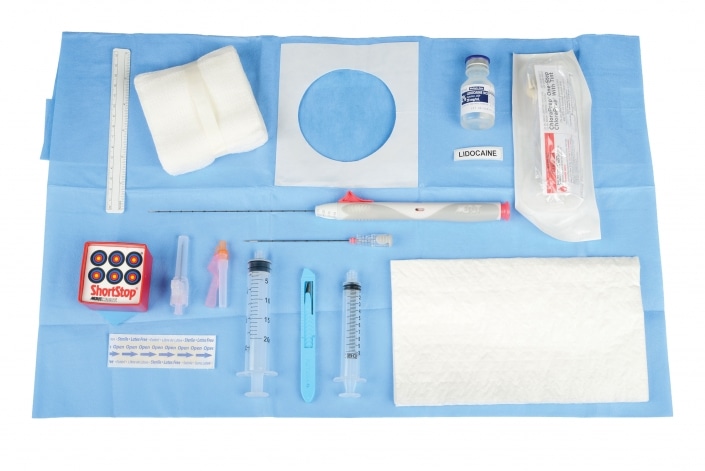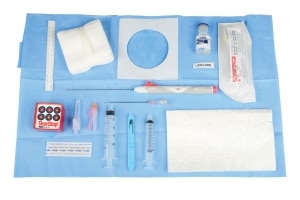 Ordering Information
| Catalog Number | Trademark | Expanded Family Name | Safety | Biopsy Device Gauge | Biopsy Device Length (cm) | Coaxial Length (cm) | Coaxial Gauge | Needle Type | Automatic or Semi-Automatic |
| --- | --- | --- | --- | --- | --- | --- | --- | --- | --- |
| CA1810S | CorVocet™ | Coaxial Bundle | Safety | 18G | 10.0 cm | 4.5 cm | 17G | Full-Core | Automatic |
| CORA1410 | CorVocet™ | Standalone Biopsy Needle | | 14G | 10.0 cm | | | Full-Core | Automatic |
| CORA1415 | CorVocet™ | Standalone Biopsy Needle | | 14G | 15.0 cm | | | Full-Core | Automatic |
| CORA1610 | CorVocet™ | Standalone Biopsy Needle | | 16G | 10.0 cm | | | Full-Core | Automatic |
| CORA1610S | CorVocet™ | Standalone Biopsy Needle | Safety | 16G | 10.0 cm | | | Full-Core | Automatic |
| CORA1615 | CorVocet™ | Standalone Biopsy Needle | | 16G | 15.0 cm | | | Full-Core | Automatic |
| CORA1615S | CorVocet™ | Standalone Biopsy Needle | Safety | 16G | 15.0 cm | | | Full-Core | Automatic |
| CORA1810 | CorVocet™ | Standalone Biopsy Needle | | 18G | 10.0 cm | | | Full-Core | Automatic |
| CORA1810S | CorVocet™ | Standalone Biopsy Needle | Safety | 18G | 10.0 cm | | | Full-Core | Automatic |
| CORA1815 | CorVocet™ | Standalone Biopsy Needle | | 18G | 15.0 cm | | | Full-Core | Automatic |
| CORA1815S | CorVocet™ | Standalone Biopsy Needle | Safety | 18G | 15.0 cm | | | Full-Core | Automatic |
| CORA1820 | CorVocet™ | Standalone Biopsy Needle | | 18G | 20.0 cm | | | Full-Core | Automatic |
| CORA1820S | CorVocet™ | Standalone Biopsy Needle | Safety | 18G | 20.0 cm | | | Full-Core | Automatic |
| CORA1825 | CorVocet™ | Standalone Biopsy Needle | | 18G | 25.0 cm | | | Full-Core | Automatic |
| CORA1825S | CorVocet™ | Standalone Biopsy Needle | Safety | 18G | 25.0 cm | | | Full-Core | Automatic |
| CORA2010 | CorVocet™ | Standalone Biopsy Needle | | 20G | 10.0 cm | | | Full-Core | Automatic |
| CORA2010S | CorVocet™ | Standalone Biopsy Needle | Safety | 20G | 10.0 cm | | | Full-Core | Automatic |
| CORA2015 | CorVocet™ | Standalone Biopsy Needle | | 20G | 15.0 cm | | | Full-Core | Automatic |
| CORA2015S | CorVocet™ | Standalone Biopsy Needle | Safety | 20G | 15.0 cm | | | Full-Core | Automatic |
| CORA2020 | CorVocet™ | Standalone Biopsy Needle | | 20G | 20.0 cm | | | Full-Core | Automatic |
| CORC1410 | CorVocet™ | Coaxial Introducer | | | | 4.4 cm | 13G | Full-Core | |
| CORC1610 | CorVocet™ | Coaxial Introducer | | | | 4.5 cm | 15G | Full-Core | |
| CORC1615 | CorVocet™ | Coaxial Introducer | | | | 9.5 cm | 15G | Full-Core | |
| CORC1810B | CorVocet™ | Coaxial Introducer | | | | 4.5 cm | 17G | Full-Core | |
| CORC1815B | CorVocet™ | Coaxial Introducer | | | | 9.5 cm | 17G | Full-Core | |
| CORC1820B | CorVocet™ | Coaxial Introducer | | | | 14.5 cm | 17G | Full-Core | |
| CORC1825B | CorVocet™ | Coaxial Introducer | | | | 19.5 cm | 17G | Full-Core | |
| CORC2010B | CorVocet™ | Coaxial Introducer | | | | 4.6 cm | 19G | Full-Core | |
| CORC2015B | CorVocet™ | Coaxial Introducer | | | | 9.6 cm | 19G | Full-Core | |
| CORC2020B | CorVocet™ | Coaxial Introducer | | | | 14.6 cm | 19G | Full-Core | |
| CORCA1410 | CorVocet™ | Coaxial Bundle | | 14G | 10.0 cm | 4.4 cm | 13G | Full-Core | Automatic |
| CORCA1410S | CorVocet™ | Coaxial Bundle | Safety | 14G | 10.0 cm | 4.4 cm | 13G | Full-Core | Automatic |
| CORCA1415 | CorVocet™ | Coaxial Bundle | | 14G | 15.0 cm | 9.4 cm | 13G | Full-Core | Automatic |
| CORCA1610 | CorVocet™ | Coaxial Bundle | | 16G | 10.0 cm | 4.5 cm | 15G | Full-Core | Automatic |
| CORCA1610S | CorVocet™ | Coaxial Bundle | Safety | 16G | 10.0 cm | 4.5 cm | 15G | Full-Core | Automatic |
| CORCA1615 | CorVocet™ | Coaxial Bundle | | 16G | 15.0 cm | 9.5 cm | 15G | Full-Core | Automatic |
| CORCA1615S | CorVocet™ | Coaxial Bundle | Safety | 16G | 15.0 cm | 9.5 cm | 15G | Full-Core | Automatic |
| CORCA1810B | CorVocet™ | Coaxial Bundle | | 18G | 10.0 cm | 4.5 cm | 17G | Full-Core | Automatic |
| CORCA1810SB | CorVocet™ | Coaxial Bundle | Safety | 18G | 10.0 cm | 4.5 cm | 17G | Full-Core | Automatic |
| CORCA1815B | CorVocet™ | Coaxial Bundle | | 18G | 15.0 cm | 9.5 cm | 17G | Full-Core | Automatic |
| CORCA1815SB | CorVocet™ | Coaxial Bundle | Safety | 18G | 15.0 cm | 9.5 cm | 17G | Full-Core | Automatic |
| CORCA1820B | CorVocet™ | Coaxial Bundle | | 18G | 20.0 cm | 14.5 cm | 17G | Full-Core | Automatic |
| CORCA1820SB | CorVocet™ | Coaxial Bundle | Safety | 18G | 20.0 cm | 14.5 cm | 17G | Full-Core | Automatic |
| CORCA1825B | CorVocet™ | Coaxial Bundle | | 18G | 25.0 cm | 19.5 cm | 17G | Full-Core | Automatic |
| CORCA1825SB | CorVocet™ | Coaxial Bundle | Safety | 18G | 25.0 cm | 19.5 cm | 17G | Full-Core | Automatic |
| CORCA2010B | CorVocet™ | Coaxial Bundle | | 20G | 10.0 cm | 4.6 cm | 19G | Full-Core | Automatic |
| CORCA2010SB | CorVocet™ | Coaxial Bundle | Safety | 20G | 10.0 cm | 4.6 cm | 19G | Full-Core | Automatic |
| CORCA2015B | CorVocet™ | Coaxial Bundle | | 20G | 15.0 cm | 9.6 cm | 19G | Full-Core | Automatic |
| CORCA2015SB | CorVocet™ | Coaxial Bundle | Safety | 20G | 15.0 cm | 9.6 cm | 19G | Full-Core | Automatic |
| CORCA2020B | CorVocet™ | Coaxial Bundle | | 20G | 20.0 cm | 14.6 cm | 19G | Full-Core | Automatic |
| CORCA2020SB | CorVocet™ | Coaxial Bundle | Safety | 20G | 20.0 cm | 14.6 cm | 19G | Full-Core | Automatic |