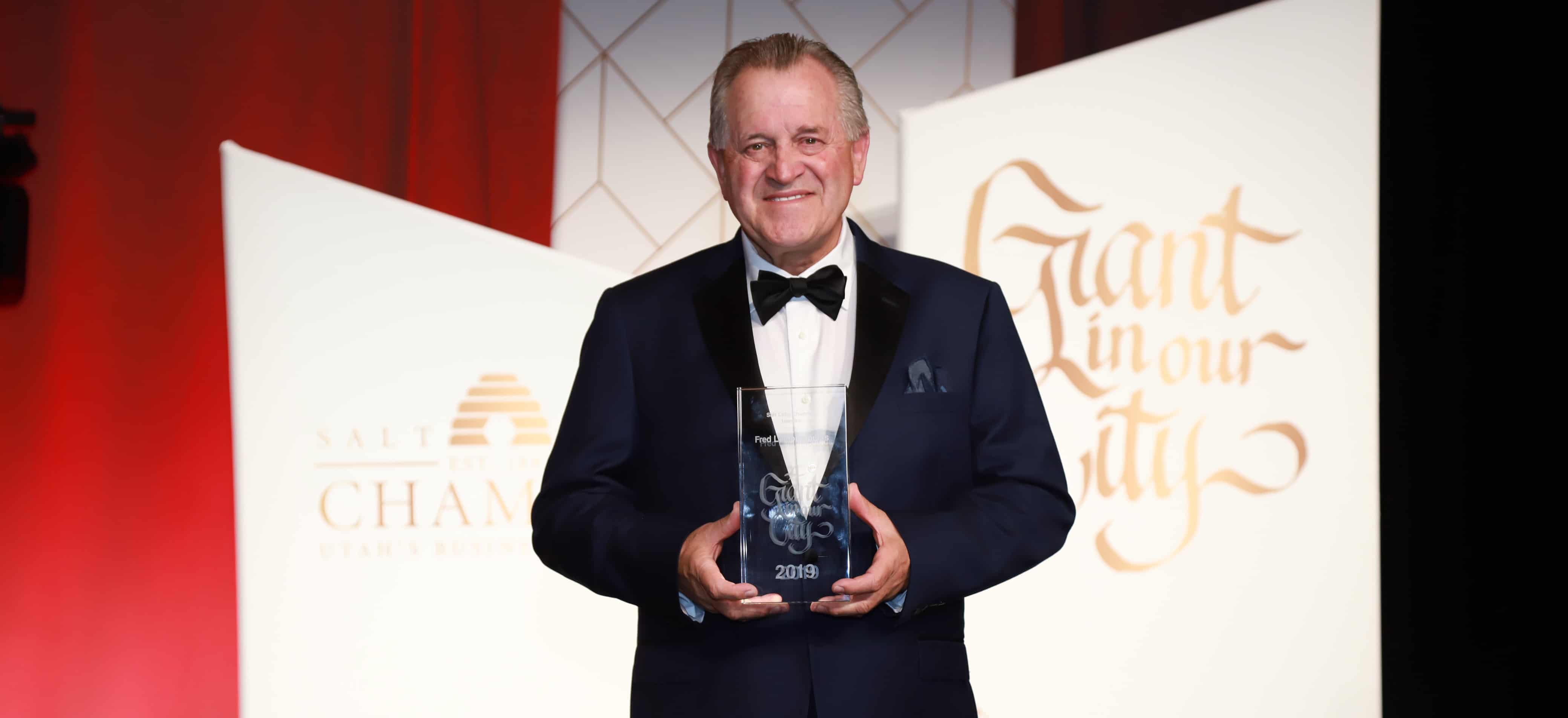 Merit Medical's Founder, Chairman, and CEO, Fred Lampropoulos, was honored as the 40th Giant in our City, a prestigious award that recognizes exceptional and distinguished service and extraordinary professional achievement. Presented by the Salt Lake Chamber, Utah's largest and longest-standing business association, it's the most esteemed business award given in the state.
Mr. Lampropoulos founded Merit Medical in 1987 on a single innovation: a stronger, safer, disposable syringe. Fast-forward more than three decades later, and Merit is now a leading manufacturer and marketer of proprietary disposable devices, holding over 800 patents and pending applications that represent thousands of inventions used in diagnostic, interventional, and therapeutic procedures worldwide.
Mr. Lampropoulos attributes Merit's growth to skills he acquired during his time serving as a military officer and combat officer—actively observing and listening. By applying this knowledge to customer needs, Merit Medical has been able to set itself apart in the medical device industry, providing physicians with tools they need to simplify and improve patient care. According to Mr. Lampropoulos, this has made several primary therapies more accessible, helping to treat and save upwards of 15,000 lives a day, something he acknowledges as a primary motivation for his work.
With its roots in Utah, Merit has continually expanded over the years, adding facilities around the globe. In addition to the United States, Merit Medical can be found in the Netherlands, France, Ireland, China, Mexico, Brazil, Canada, Australia, Japan, and Singapore, employing approximately 6,000 people.
Before Merit Medical, Mr. Lampropoulos was Chairman and CEO of Utah Medical. In 1991 he founded Sentir Semiconductors, now Merit Sensor Systems, Inc., a company that operates as a subsidiary of Merit Medical. In addition to his corporate work, Mr. Lampropoulos makes community a priority by supporting the arts and sciences. He has also worked with homeless and youth centers—places where Mr. Lampropoulos believes Merit Medical has a corporate responsibility. He was inducted into the University of Utah College of Science Hall of Fame, the Utah Business Hall of Fame, and the Utah Technology Hall of Fame. Mr. Lampropoulos has also been the recipient of several awards and honors, including the MWCN 2019 Entrepreneur of the Year Award, Utah National Guard Bronze Minuteman Award, the Governor's Medal for Science and Technology, and the Boy Scouts of America Silver Beaver Award.
Fred Lampropoulos was presented with the 40th Giant in our City award on May 31st at the Grand America Hotel in Salt Lake City.