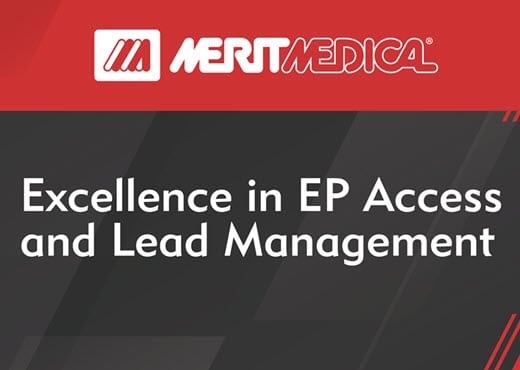 This week, the EP community is heading to San Francisco for the Heart Rhythm Society (HRS) annual meeting. Friday, April 29 – Sunday, May 1, physicians all over the globe will have access to in-person and online sessions. As a leader in EP and CRM, Merit is thrilled to exhibit cutting-edge technologies and host hands-on physician education, the theme this year: "Excellence in EP Access and Lead Management."
PRODUCT SHOWCASE AT BOOTH #2034
Achieve targeted hemostasis with the SafeGuard Focus, a specialized compression device specifically designed for use in patients with pacemakers and implantable cardioverter defibrillator (ICD) pockets.
HeartSpan® Portfolio
The HeartSpan portfolio – including the HeartSpan Fixed Curve Braided Transseptal Sheath, the HeartSpan Steerable Sheath Introducer, and the HeartSpan Transseptal Needle – offers advanced needles, introducers, and sheaths that work together to assist with ease of femoral insertion, trauma reduction when crossing the atrial septum, and ergonomic support during long procedures.
To meet the challenges of cardiac resynchronization therapy, the Worley system provides the solutions needed to reduce implantation times, gain easier access to the target vessel, and improve chances for successful implantation.
The Vitale Occlusion Balloon maintains hemostasis for up to 30 minutes,* allowing time for patients to stabilize and transition to surgery. Faster inflation, faster deflation, and better kink resistance offers better outcomes for you and your patients.
PHYSICIAN EDUCATION
Hands-On Training: I-CRT Tools & Techniques
Faculty: Seth Worley, MD, FHRS, FACC
Date: Saturday, April 30
Time: 12:45PM – 1:30PM PDT
Location: Booth #2034
---
Merit is committed to offering physicians the technologies and education opportunities they need to improve patient care. We look forward to discussing what we can do for your practice. See you at HRS 2022!
Want up-to-date Merit booth announcements?
Follow us on Twitter and LinkedIn.
Before using any of the Merit products mentioned above, refer to Instructions for Use for indications, contraindications, warnings, precautions, and directions for use.
*Data on file.