https://www.merit.com/wp-content/uploads/2019/03/SIR-Booth-520-x-370.jpg
370
520
Amy Swensen
https://www.merit.com/wp-content/uploads/2021/01/merit-medical-header-logo.dk2_.svg
Amy Swensen
2019-03-23 10:55:14
2021-12-08 14:37:53
Recap of SIR 2019
With New Indication, Embosphere® Continues to Trailblaze After Two Decades on the Market

Embosphere® Microspheres are now cleared by the FDA for the intended use of embolization of blood vessels to control bleeding and hemorrhaging in the peripheral vasculature. As the first spherical embolic to receive this clearance, this is yet another indication in a long line of firsts for Embosphere, solidifying its place as the most clinically studied and clinically proven round embolic with consistent and predictable results for effective embolization.
Embosphere was first developed at the Lariboisière Hospital in Paris, France, with initial clinical studies taking place in the late 1980s. Previous to Embosphere, standard embolic agents used for therapeutic embolization initially only included non-spherical polyvinyl alcohol (PVA) particles and gelatin sponge, but both products were seen to have shortcomings.
By nature, non-spherical PVA particles vary in size. This irregularity could possibly lead to uncontrolled embolization as well as the clogging of microcatheters.1,2 Gelatin sponge has been linked with more inflammatory reactions than spherical embolic agents and is often time-consuming to prepare, with uniformly sized particles also a challenge to obtain.2,3 The desire and need for a better embolic agent led to the development of Embosphere Microspheres.
Made from a proprietary formulation of a tris-acrylic cross-linked co-polymer, Embosphere's spherical shape mimics the natural contour of the vessel lumen, allowing for a "fit and fill" effect. Moreover, the hydrophilic surface prevents aggregation in the catheter lumen and vasculature.*
Comparative studies show that Embosphere has many advantages over its predecessors. First and foremost, it's the only round embolic to have a direct correlation between the size of the particle used and the diameter of the occluded artery.1 Competing embolics have no such correlation and have been shown to have higher in-vivo deformation rates and therefore are unable to provide predictable embolization.1,4 Data has also shown Embosphere Microspheres to compress up to 33%, helping to facilitate smooth microcatheter passage.5 These microspheres then return to their stated diameter after delivery, contributing to durable and targeted results.
Now, more than 20 years later, Embosphere is the most extensively studied and clinically utilized round embolic, having been proven in hundreds of thousands of procedures worldwide and in more than 220 peer-reviewed clinical articles.
A microsphere with unwavering performance and quality, Embosphere has still continued to innovate over the years. Starting in 1997, it was the first commercially available microsphere. In 2002, Embosphere was the first embolic agent packaged in a syringe and the first to receive US indication for uterine fibroid embolization (UFE). Fast forward to 2017, Embosphere was the first to receive US indication for prostatic artery embolization (PAE). And today we recognize the most recent first—its US indication for embolization to control bleeding and hemorrhaging in the peripheral vasculature.
These many firsts speak to Embosphere's high level of quality and performance as well as reflect Merit Medical's ongoing dedication to embolics and support for the minimally invasive therapies physicians provide.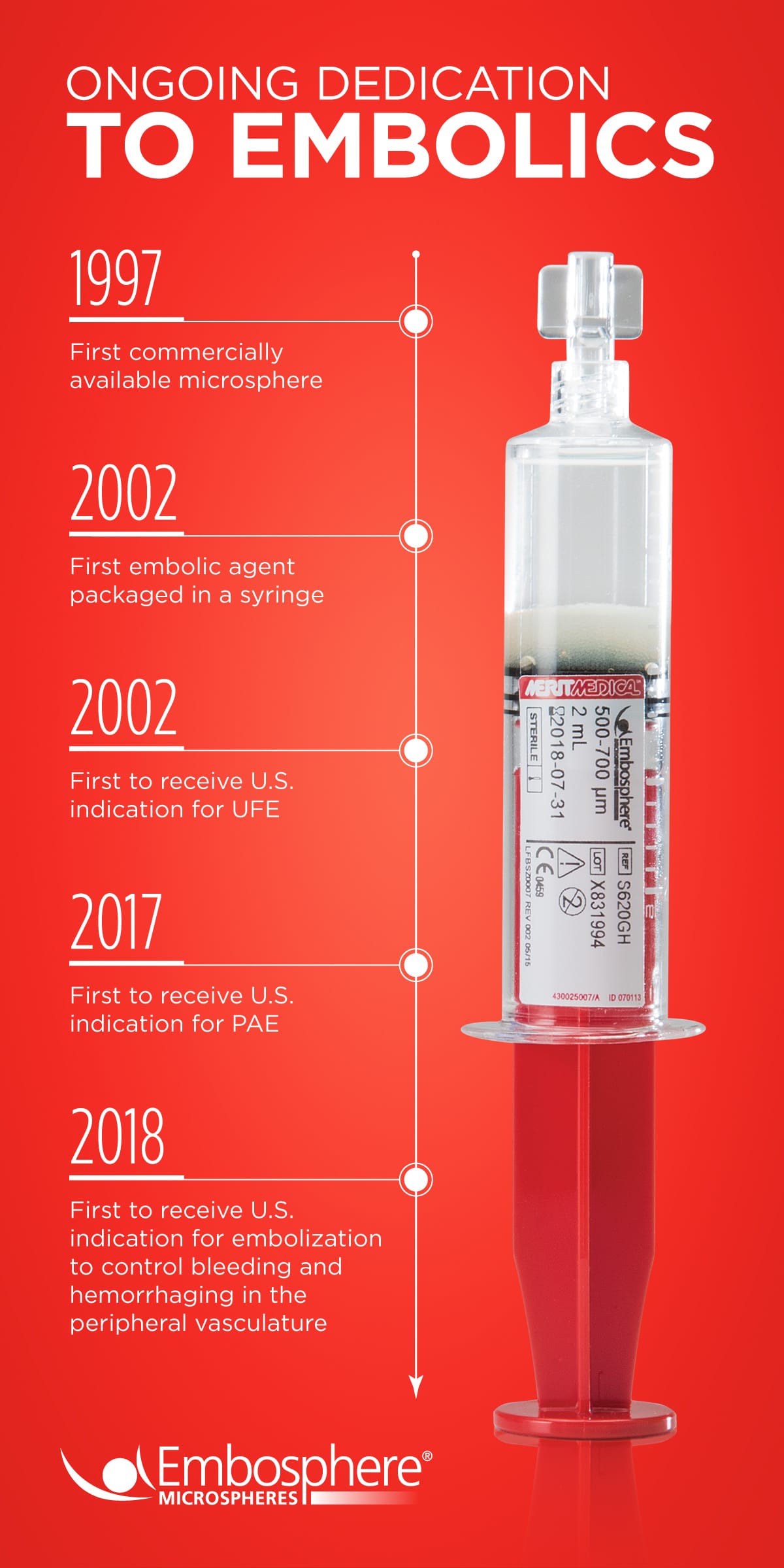 REFERENCES
Pelage, J., Laurent, A., Wassef, M., et al. (2002). Uterine artery embolization in sheep: Comparison of acute effects with polyvinyl alcohol particles and calibrated microspheres. Radiology, Aug;224(2):436-445.
Worthington-Kirsch, R. (2008, Jun). Do particle size and type matter? Retrieved from https://evtoday.com/2008/06/EVT0608_04.php?center=156
Oh, J., Lee, H., Chun, H., et al. (2015). Evaluation of arterial impairment after experimental gelatin sponge embolization in a rabbit renal model. Korean J Radiol, Jan-Feb;16(1):133-138.
Verret, V., Ghegediban, S., Wassef, M., et al. (2011). The arterial distribution of Embozene and Embosphere microspheres in sheep kidney and uterus embolization models. J Vasc Interv Radiol, Feb;22(2):220-228.
Laurent, A., Beaujeux, R., Wassef, M., et al. (1996). Trisacryl gelatin microspheres for therapeutic embolization, I: Development and in vitro evaluation. AJNR Am J Neuroradiol, Mar;17(3):533-540.
*In-House Data
https://www.merit.com/wp-content/uploads/2019/03/Embosphere_520x370.jpg
370
520
Amy Swensen
https://www.merit.com/wp-content/uploads/2021/01/merit-medical-header-logo.dk2_.svg
Amy Swensen
2019-03-22 14:26:34
2021-12-01 15:21:39
With New Indication, Embosphere® Continues to Trailblaze After Two Decades on the Market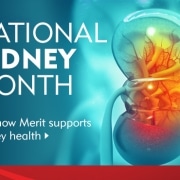 Merit Medical Supports National Kidney Month

In honor of National Kidney Month and World Kidney Day on March 14th, Merit Medical shows its ongoing commitment to renal health through its diverse portfolio of high-quality therapeutic products, various clinician training opportunities, and dialysis patient education.
The latest U.S. Renal Data System Annual Data Report confirmed that more than 660,000 Americans are being treated for end-stage renal disease; of these, 468,000 are dialysis patients.[1] Around the world, the number of individuals diagnosed with end-stage renal disease continues to increase by 5%–7% per year.2
To help physicians care for this growing patient population, Merit provides a broad array of innovative products that provide reliable access for both hemodialysis and peritoneal dialysis (PD) treatments.
The HeRO® Graft is a hemodialysis access graft for patients who are failing fistulas, or grafts, or are approaching catheter dependency due to the blockage of veins, causing an outflow insufficiency. It's the only fully subcutaneous AV access solution clinically proven to maintain long-term access for hemodialysis patients with central venous stenosis. The HeRO's proprietary design has translated into fewer infections and superior dialysis adequacy compared to tunneled dialysis catheters.3
Physicians can also choose from an assortment of other hemodialysis products, such as the Centros® Hemodialysis Catheters or the ProGuide™ Chronic Dialysis Catheters and ancillary products like micro-introducers, wires, and sheaths.
Merit PD care includes the state-of-the-art Flex-Neck® Peritoneal Dialysis Catheters. With a larger internal diameter over competitive catheters, Flex-Neck catheters allow for higher flow rates than other catheters on the U.S. market.4 Catheter Implantation Kits are also available, designed to streamline the implantation procedure and promote efficiency.
Dialysis support continues with ThinkDialysisAccess™ hands-on physician training courses intended for surgeons and interventionalists. These immersive experiences use cadavers, case reviews, and problem-solving techniques in preparation for implantation of the HeRO Graft and/or the Merit PD catheter system. Learn more about upcoming course dates.
To better aid physicians in dialysis access cases, Merit has a dedicated team of dialysis access clinical specialists who understand the intricacies of hemodialysis and PD and are ready to support. From explaining correct Merit product use to on-site troubleshooting, Merit clinical specialists are available to assist.
Educational events across the nation are also offered for physicians who are interested in providing optimal care for dialysis patients. By hosting dinner lectures with clinical educators and experts in the dialysis field, Merit gives physicians a space to ask questions, discuss challenges, learn about Merit therapeutic devices and education courses, and share ways to improve dialysis care. The website lists upcoming ThinkDialysisAccess™ courses throughout the year. The course on April 8 is designed specifically for Fellows (Peritoneal Dialysis and HeRO Graft implantation techniques) and on April 10-12 the focused will be on Peritoneal Dialysis Access techniques.
A significant part of improving dialysis care is ensuring patients understand their treatment options. Ask4PD.com is a patient education site powered by Merit Medical that's dedicated to helping patients understand dialysis care, especially PD. Individuals have access to helpful resources, including patient and healthcare professional testimonials.
Join Merit in recognizing National Kidney Month and World Kidney Day, and learn more about the many therapeutic devices, accessory products, and services provided to improve dialysis treatment.
REFERENCES
National Kidney Foundation. (2016 Jan). End stage renal disease in the United States. Retrieved from https://www.kidney.org/news/newsroom/factsheets/End-Stage-Renal-Disease-in-the-US
University of California San Francisco. (2014). The kidney project, statistics. Retrieved from https://pharm.ucsf.edu/kidney/need/statistics
Katzman, H. E., McLafferty, R. B., Ross, J. R., et al. (2009). Initial experience and outcome of a new hemodialysis access device for catheter-dependent patients. J Vasc Surg, Sep;50(3):600-607.
Internal data.
https://www.merit.com/wp-content/uploads/2019/03/NKM_520x370-1.jpg
370
520
Amy Swensen
https://www.merit.com/wp-content/uploads/2021/01/merit-medical-header-logo.dk2_.svg
Amy Swensen
2019-03-22 11:05:07
2021-12-01 15:24:51
Merit Medical Supports National Kidney Month