Merit Medical® has been innovating and delivering quality compression devices for nearly two decades. We launched our first hemostasis band in 2000, and since then it has been our goal to innovate and improve upon subsequent products, ensuring our customers finish each diagnostic and interventional procedure with confidence. Today we have a broad suite of hemostasis devices for each access site, including radial/ulnar, distal radial, and femoral. The PreludeSYNC EVO™, PreludeSYNC DISTAL™, and SafeGuard® are three such products, premium compression devices that help to achieve controlled hemostasis accurately, quickly, and comfortably.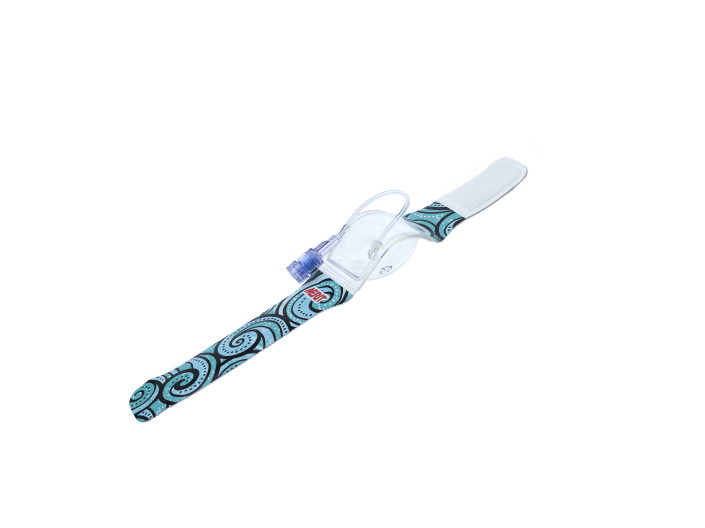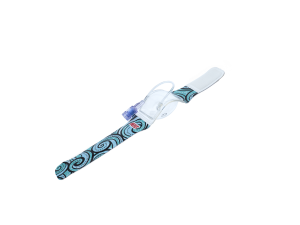 To assist in gaining and maintaining hemostasis of the radial/ulnar artery following catheterization procedures, this year we launched the PreludeSYNC EVO, our latest compression device designed to elevate both the operator and patient experience through clarity, safety, and comfort. A clear balloon and curved backer plate provide optimal visualization of the puncture site, facilitating easy placement. It also features a new Slip-n-Lock™ Cap for safe and easy inflation and deflation. Available in two sizes (24 cm and 29 cm), the soft, adjustable band of the PreludeSYNC EVO fits securely and comfortably around a patient's wrist.
Explore all the ways we have evolved achieving patent hemostasis with the PreludeSYNC EVO.
---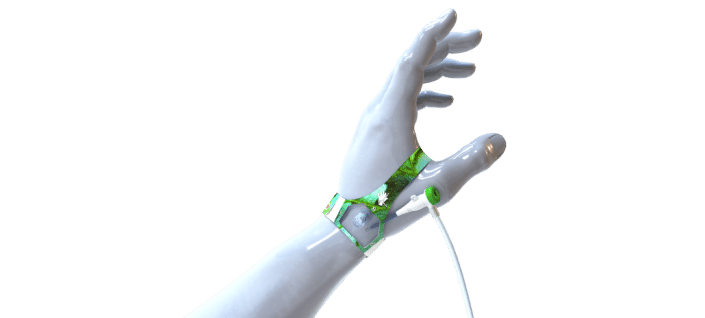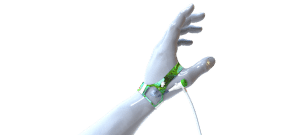 Due to a growing trend of physicians performing distal radial access procedures, we combined a unique band configuration with the comfort and efficacy of the PreludeSYNC™ Radial Compression Device and created the PreludeSYNC DISTAL, the first-ever compression device for distal radial access sites. For a secure and comfortable fit, the PreludeSYNC DISTAL is designed with a material that provides adjustable placement and includes extension bands for larger hands if needed. It is also available in right and left hand devices. A clear balloon provides focused compression for up to 10 mL of air, and a large window area offers unobstructed site visibility that assists placement of the balloon accurately over the access site.
Learn more about the PreludeSYNC DISTAL and its many design features.
---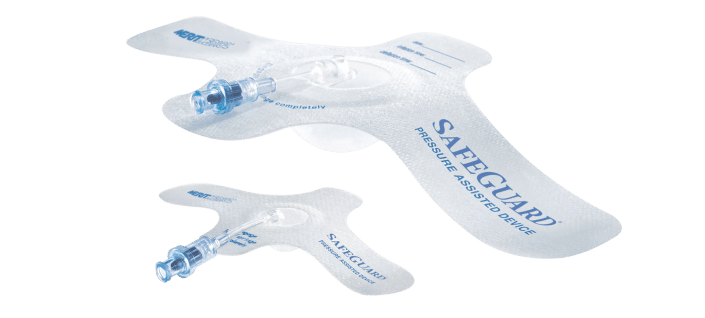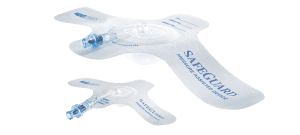 The SafeGuard is our original pressure-assisted device for femoral access sites and continues to be a trusted hemostasis band among our customers. Clinical trial data show the 24 cm SafeGuard reduces active compression time1 and has a lower complication rate1 versus manual compression.2 From recovery to positioning and transport, the SafeGuard provides consistent pressure throughout the patient care process. It also facilitates site assessment through a clear window without removing the device. Patients who have undergone a catheterization procedure also prefer SafeGuard, with 87% reporting it "much more comfortable" than any previous procedure.1 Given these advantages, SafeGuard use can reduce demands on staff, maximize valuable resources, and enhance patient comfort.
Discover more SafeGuard clinical benefits.
Whether you choose radial/ulnar, distal radial, or femoral access, we offer an extensive portfolio with many pathways to vascular hemostasis. Our field sales and clinical support teams are trained and ready to meet your facility's patient hemostasis needs. With a strong history of hemostasis product offerings, you can feel confident in finishing each interventional procedure with a Merit Medical compression device.
---
To learn more about our compression devices, visit our diverse Hemostasis Product Portfolio.
---
REFERENCES:
1. Data on file.
2. Sanborn, T. A. (2004). Reduced vascular complications after percutaneous coronary interventions with a nonmechanical suture device: Results from the randomized RACE study (manual compression subset). Catheter Cardiovasc Interv, Mar;61(3):327–332.