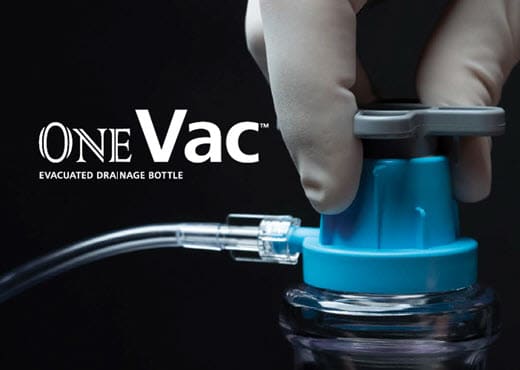 Merit Medical is proud to announce the launch of the One-Vac Evacuated Drainage Bottle, the latest in evacuated drainage bottle technology. The smart option to aspirate, remove, or sample percutaneous fluids, the One-Vac is engineered with an advanced design that makes collection and discard simple, efficient, and safe.
The One-Vac is a valued addition to Merit's Drainage portfolio and accompanies other premier products, such as the Aspira® Drainage System. This extension of the Drainage portfolio is the result of Merit's commitment to continued innovation and dedication to providing clinicians with multiple high-quality product options when treating patients.
Several key features are designed to make the One-Vac easy to use, helping to reduce the occurrence of common issues associated with bottle use.
KEY FEATURES & BENEFITS
1 – Ergonomic Handle
Start, stop, and regulate flow. Easy to remove, minimizing spills during discard.
2 – Easy Sampling
Connect syringe and open handle to remove fluid for sampling.
3 – Bottle Neck
Easy to hold.
4 – Durable Plastic
Designed to prevent breakage.
5 – Faster Flow Rates
Provides 68% faster flow rates than competitive evacuated bottles.1
Learn more about the One-Vac Evacuated Drainage Bottle by exploring its product page or by connecting with our Customer Support Center to see how you can incorporate it and other Merit solutions into your practice today.
---
Before using, refer to the product Instructions for Use (IFU) for indications, contraindications, potential complications, warnings, precautions, and directions for use.
---
REFERENCES
1. Data on file.