Superior vena cava (SVC) tears are one of the most-deadly complications in transvenous lead extraction procedures. Although rare, occurring at 0.46% of all lead extractions performed, more than half of these SVC tears end in mortality.1 A multi-year analysis published in Circulation: Arrhythmia and Electrophysiology, showed that when an endovascular balloon was used, patients undergoing lead extraction were more likely to survive.1
Transvenous lead extraction is considered safe and effective with a low major complication rate.1 However, complications can occur—one being the dangerous and often lethal SVC tear. In such situations, an endovascular balloon is used to occlude the SVC tear, preventing blood loss and offering more time for repair.
Azarrafyi et al.1 collected data on adverse events in lead extraction between July 1, 2016, and July 31, 2018. SVC tears were examined for patient demographics, case details, and index hospitalization mortality.
Results1 showed 116 confirmed SVC events. Out of these, 44% involved proper endovascular balloon use, and 56% did not use a balloon or had improper use of one. Proper use of an endovascular balloon led to 45 of 51 patients (88.2%) surviving in comparison to 37 of 65 patients (56.9%) where a balloon was not used or was improperly used (P=0.0002). Proper balloon deployment was an independent, negative predictor of in-hospital mortality for patients who experienced an SVC tear (odds ratio, 0.13; 95% CI, 0.04–0.40; P<0.001).
The authors of the study concluded that patients undergoing lead extraction were more likely to survive SVC tears when treatment included an endovascular balloon.1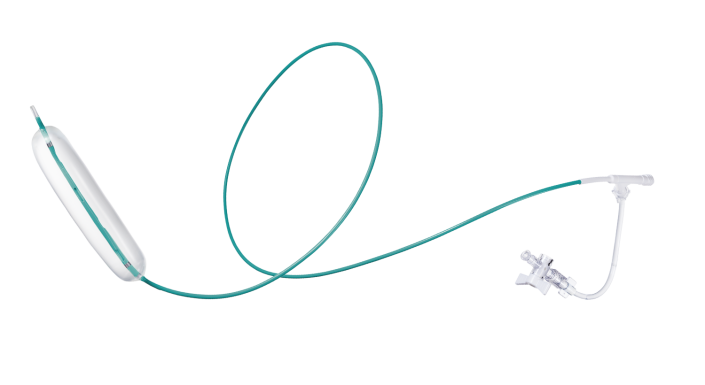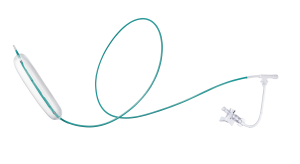 To care for patients with SVC tears, Merit Medical offers the Vitale™, an occlusion balloon that maintains hemostasis for up to 30 minutes,2 intended to allow time for patients to stabilize and transition to surgery.
Clinician evaluations3 comparing the 8F and 10F Vitale with a competing endovascular balloon showed the Vitale to have a faster placement time of 30 seconds (1:28 vs. 1:58). Clinicians also reported the Vitale 8F and 10F to have softer tips that are less traumatic to the vasculature.
Additional benefits of the Vitale Occlusion Balloon:
Faster Inflation4 Ensures any tear is occluded promptly.
Smallest Footprint on the Market 8F has same capabilities as a larger balloon.
To further prep clinicians for procedures, Merit offers the Vitale in a premier kit, conveniently providing the tools needed for SVC treatment.
Kit Contents, 8F Balloon
Kit Contents, 10F Balloon
60 cc VacLok® Syringe
60 cc VacLok® Syringe
8F

Prelude SNAP™ Hydrophilic Sheath Kit

6F

Prelude SNAP™ Hydrophilic Sheath Kit

InQwire® Amplatz Guidewire

0.035″ X 260 cm 3 mm J Tip
10F

Prelude SNAP™ Hydrophilic Sheath Kit

InQwire® Amplatz Guidewire

0.035″ X 260 cm 3 mm J Tip
Discover the Vitale Occlusion Balloon by visiting the product page and contacting Customer Support for more information.
Because when it comes to SVC tears, every second counts.
The occlusion balloon catheter is indicated for temporary occlusion of large vessels, including the superior vena cava, in applications including perioperative occlusion and emergency control of hemorrhage. This device is intended for use by interventionalists and endovascular specialists who are familiar with the complications, side effects, and dangers associated with using this device. Before using, refer to Instructions for Use for indications, contraindications, warnings, precautions, and directions for use.
---
References
Azarrafyi et al. 2019. "Endovascular Occlusion Balloon for Treatment of Superior Vena Cava Tears During Transvenous Lead Extraction: A Multiyear Analysis and an Update to Best Practice Protocol." Circulation: Arrhythmia and Electrophysiology 12(8): e007266. PMID: 31401856.
Data on File.
Clinician Evaluations, Final Report. Data on File.
Data on File.