PROVIDING LIFE-CHANGING SOLUTIONS
COMMITTED TO DIALYSIS ACCESS
Kidney disease is a global issue. Approximately 2 million people worldwide suffer from kidney failure, and the number of patients diagnosed with the disease continues to increase at a rate of 5—7% per year.1 As many people worldwide currently receive treatment with dialysis or a kidney transplant to stay alive, yet this number may only represent 10% of people who actually need treatment to live.2
Access is the foundation for any successful dialysis procedure. Merit Medical's comprehensive Dialysis Access Portfolio brings quality, reliability and innovative solutions to your practice.
HeRO® Graft
Central venous stenosis is a common and serious vascular complication among long-term hemodialysis patients that can lead to the loss of vascular access and a diminished life expectancy.
The HeRO Graft (Hemodialysis Reliable Outflow) is the only fully subcutaneous AV access solution clinically proven to maintain long-term access for hemodialysis patients with central venous stenosis.
Key Features & Benefits (compared to catheters)
69% fewer infections.2
16-32% improved dialysis clearance of toxins and fluids (Kt/V).2
Less than half the interventions to keep access functioning.2
Patency rates comparable to AVG.3
More Options: Super HeRO & HeRO Ally Revision Kit
The Super HeRO Adapter and Support Seal system expands upon the clinically proven HeRO Graft by allowing surgeons to utilize other standard wall and early cannulation vascular graft options.
Surfacer® Inside-Out® Access Catheter System
The current clinical approach when treating dialysis patients with chronically occluded central veins is to use another vein if a subsequent central venous catheter is needed. Failed venous access attempts may prevent permanent arteriovenous access, increasing patient morbidity and the overall cost of care.4
Designed to gain central venous access, the Surfacer System works by inserting the device through the right femoral vein and navigating it up through the patient's venous system with an exit point in the right internal jugular vein, the optimal location for placing a central venous catheter.
Key Features & Benefits
Preserves the viability of secondary central veins.
Supports the achievement of permanent AV access, which reduces hemodialysis provider cost and downtime by decreasing catheter-associated morbidity and complications.5
Easier, minimally invasive procedure compared to surgical bypass for patients with totally occluded central veins.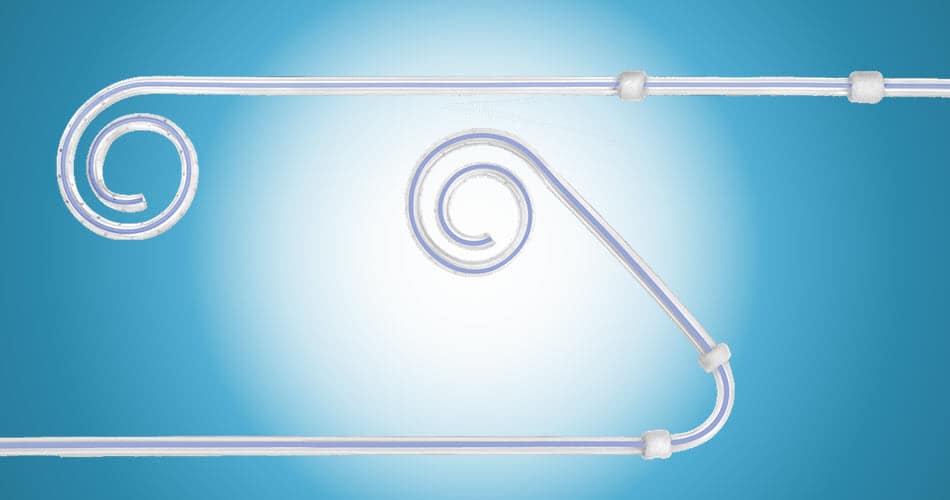 Peritoneal Dialysis
Compared to in-center hemodialysis, home dialysis patient advantages include more profound improvements in blood pressure control, better kidney disease-related quality of life, and shorter recovery time from dialysis treatments. Such benefits are also associated with peritoneal dialysis (PD) compared to in-center hemodialysis.
We offer a line of Flex-neck PD Catheters that are available in various shapes and sizes to accommodate tunneling techniques and exit site options. Our adult catheters have an internal diameter of 3.5 mm, allowing up to 30% higher flow rates than competitors (with 2.6 mm internal diameter). Infant catheters are available in one and two cuff configurations. Each catheter kit contains a unique stenciling system for improved placement accuracy.
Key Features & Benefits
Large internal diameter.
Available in a range of sizes for adult, adolescent, pediatric, and infant patients.
PD accessories as well as Laparoscopic and Percutaneous Implantation Kits are available to streamline procedures and promote efficiency.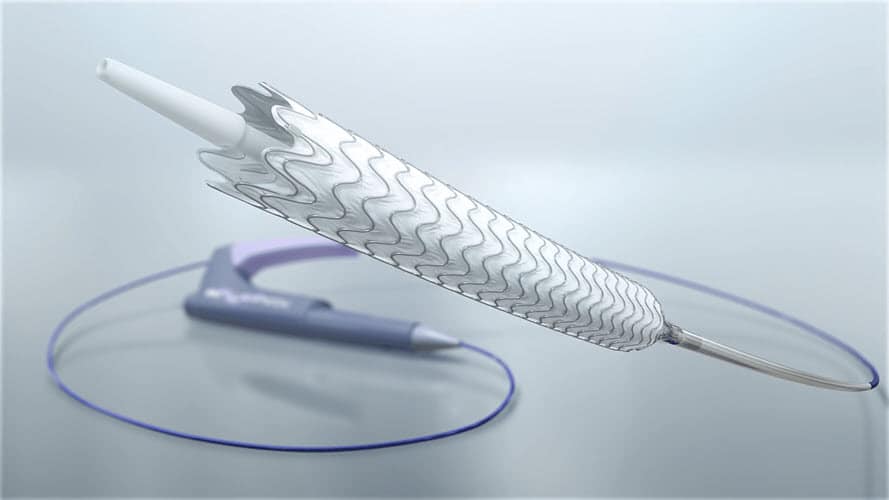 Merit WRAPSODY™ Endoprothesis
Hemodialysis access failures take a great toll on a patient's quality of life. Frequent hospital admissions, invasive diagnostic tests, and open and endovascular reinterventions are associated with increased morbidity.6 Maintaining vessel patency in hemodialysis patients is critical; however, surgical access durability is temporary at best, with half-life for arteriovenous grafts lasting approximately one year and arteriovenous fistulas providing only slightly better outcomes.6 A common failure of hemodialysis access is stenosis or occlusion of the dialysis outflow circuit. Obstructions caused by cellular migration and tissue accumulation across graft ePTFE layers can be a contributing factor.
Endoprosthesis Designed with Cell-Impermeable Middle Graft Layer – Merit WRAPSODYAddressing this clinical challenge, Merit Medical® introduced the Merit WRAPSODY™, a novel endoprosthesis designed with a revolutionary cell-impermeable middle graft layer. With this unique feature, the Merit WRAPSODY Endoprosthesis inhibits transmural cellular migration without the use of drug bonding, helping to prevent obstructions from forming within the endoprosthesis.
Key Features & Benefits
Inhibits transmural cellular migration without the use of drug bonding
Provides a viable treatment option that preserves functional hemodialysis access
Biocompatible ePTFE material that allows for necessary tissue ingrowth to prevent stent migration
PLEASE NOTE: This product page is intended only for an audience outside of the United States as the Merit WRAPSODY Endoprothesis is not approved or available for sale in the United States. By going to the WRAPSODY's product page, you are acknowledging you are not viewing this information for use within the United States.
SOLUTIONS FROM STICK TO STITCH
From unique, life-saving devices for dialysis access to accessories for everything in between – including catheters, balloons, torque devices and more, Merit offers a full portfolio of products designed with both patients and physicians in mind.
PRELUDE® SHEATH INTRODUCERS
Our line of Prelude® Sheath Introducers are part of the innovative family of Merit vascular access products. These products offer excellent transitions, kink resistance, smooth insertion, and more to make accessing your patient easy and convenient. The hemostasis valve minimizes blood leakage during procedures and these introducers are available in custom kit options to meet your clinical needs.
CENTROS AND CENTROSFLO™
As the most patent catheters on the market, the Centros (without side holes) and the CentrosFLO (with side holes) long-term hemodialysis catheters feature self-centering curved tips which automatically center the catheter ports within the middle of the vessel to maintain optimal blood flow and minimal recirculation rates, enhancing overall catheter performance.
PROGUIDE™ CHRONIC DIALYSIS CATHETERS
ProGuide chronic dialysis catheters are designed for optimal patient comfort, ease of insertion, and maintenance. Multiple kit options are available for insertions through a valved peel-away sheath or over-the-wire placements.
The Dynamis AV is a dilatation balloon catheter indicated for the treatment of obstructive lesions of native or synthetic arteriovenous dialysis fistulae.
When it comes to peripheral intervention, having a wide variety of available product and treatment options is important. The Advocate PTA balloon catheter portfolio facilitates demand for versatility by combining unique configurations into a broad matrix of balloon sizes and catheter lengths.
BASIXTOUCH™ INFLATION DEVICE
The basixTOUCH provides expanded capacity for inflation. With 35 ATM pressure capability and 30 mL syringe volume, the basixTOUCH is ideal for any interventional lab using high-pressure, large-volume balloons. With wider threads and quick-release handle, the basixTOUCH offers rapid inflation and deflation to busy labs that need top efficiency.
SEADRAGON2™ TORQUE DEVICE
Operable with one hand, this ergonomic torque device is designed to enhance manipulation of the guide wire tip. Simply squeeze and release.
SLIP-NOT® SUTURE RETENTION DEVICE
The Slip-Not Suture Retention Device helps manage bleeding after an AV fistula intervention by utilizing a novel method to secure your purse-string suture. Suture tension adjustments are achieved at the push of a button.
OUTAKE® CATHETER EXTRACTOR
The OuTake Catheter Extractor is a convenient, simple, and cost-effective device used to remove tunneled double lumen hemodialysis catheters with an ingrown cuff.
To provide access to training during the pandemic, we offer the following virtual learning opportunities, as well as virtual in-services.
For Physicians: Virtual Percutaneous PD Webinar
In this webinar, gain an overview and learn about components of percutaneous PD with Dr. Peter B. Hathaway, a nationally recognized leader in PD catheter placement.
Course topics include:
Current PD environment
Pre-operative assessment and prep
Ultrasound techniques
Percutaneous PD tools and kits
Patient stenciling
PD catheter implantation
Tunneling techniques
Complications and trouble shooting
And more
For Other Clinicians: Virtual Dialysis Access CE Program
Earn continuing education credits with our Virtual Dialysis Access CE Program. Designed for nurses, dialysis technicians, and other healthcare professionals, this program offers and overview of dialysis access by outlining the types of access available and the order of preference for use.
Program topics include:
Overview of dialysis access
Order of preference for dialysis access
Types of dialysis access: AV fistula, AV graft, hemodialysis catheters, PD
To register for these virtual training opportunities as well as learn about our Think Dialysis Access™ physician education program, visit here.
To better aid physicians in dialysis access cases, we also have a dedicated team of dialysis access clinical specialists who understand the intricacies of hemodialysis and PD and are ready to support you. From explaining correct Merit product use to on-site troubleshooting, Merit clinical specialists are available to assist. Connect with a Merit clinical specialist today.
A significant part of improving dialysis care is ensuring patients understand their treatment options. Ask4PD.com is a patient education site powered by Merit that's dedicated to helping patients understand dialysis care, especially PD. Individuals have access to helpful resources, including patient and healthcare professional testimonials.
REFERENCES
University of California San Francisco. 2018. "The Kidney Project." https://pharm.ucsf.edu/kidney/need/statistics
Initial Experience and Outcome of a New Hemodialysis Access Device for Catheter-Dependent Patients.Howard E. Katzman, Robert B. McLafferty, John R. Ross, Marc H. Glickman, Eric K. Peden and Jeffrey H. Lawson. JVS, Journal of Vascular Surgery, September 2009 Volume 50, Issue 3, Pages 600-607.e1
Gage et al. 2012. EJVES.
Data on file at Bluegrass Vascular Technologies, Inc.
Data on file.
Rodriguez, Eduardo, et al. 2017. "Hemodialysis Outflow Vein Stenosis." In Hemodialysis Access Fundamentals and Advanced Management, edited by Sherene Shalhub, Anahita Dua, and Susanna Shin, 257–263. Switzerland: Springer International Publishing.