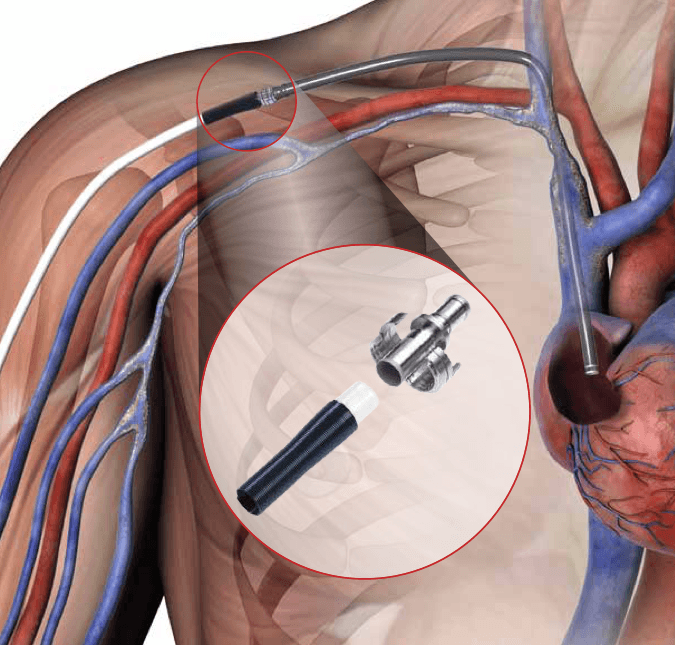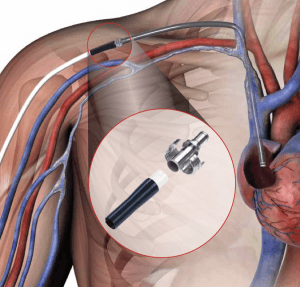 By Alicia Armeli
Short of leaping tall buildings at a single bound, the Super HeRO™ Adapter is living up to its name.
"The Super HeRO gives you options to customize your approach—unique patients unique procedures." –Dr. Stephen E. Hohmann, MD, FACS, Baylor Jack and Jane Hamilton Heart and Vascular Hospital, Dallas, Texas
"The new HeRO Graft Adaptor gives vascular access surgeons a variety of options on which graft to use instead of the standard PTFE. I currently use the ACUSEAL graft, which can be cannulated in 24 hours and there is no need for a bridge catheter. Removing the permcath at the same time as the insertion of the HeRO Graft decreases the risk of infection for these dialysis patients with central vein pathology and no need to come back for an additional procedure to remove the catheter." –Dr. Jesse Garcia, MD, MedStar Washington Hospital Center, Washington, DC
"The Hero Adapter has opened a new window of opportunity in the creation and rescue of complex hemodialysis access."—Dr. David Varnagy, MD, FACS, Vascular Institute of Central Florida, Orlando, Fla.
These are only a few of the positive comments made by vascular surgeons regarding the newest addition to the growing family of Merit Medical dialysis devices. The Super HeRO Adapter and its accompanying HeRO Ally™ Revision Kit are a one-of-a-kind dynamic duo of dialysis technology that offer surgeons the same safety and efficiency of the original HeRO™ (Hemodialysis Reliable Outflow) Graft—but with the added flexibility of more graft options to choose from.
Proper vascular access is essential for dialysis adequacy. And yet vascular access complications are the leading cause of morbidity among dialysis patients and add to high healthcare costs.1 It's these same complications that lead to hospitalization of dialysis patients between one and two times every year.2
Central venous stenosis is a common and serious vascular complication that involves the narrowing of the veins leading to the heart. These central veins are often the final common route used for dialysis, and once occluded, vascular access is eventually lost and life expectancy diminishes.3
This is a serious health risk for patients requiring dialysis, especially those who are catheter-dependent. Central venous stenosis is linked to external catheterization, as studies have shown that approximately one out of four patients with venous stenosis has a history of central venous catheter placement.4
Catheters are used in approximately 80% of patients starting dialysis and 25% of all prevalent patients as a bridge to permanent vascular access or because all options for permanent access have been exhausted.5  Patients using a catheter are not only at risk for venous stenosis but are four times more susceptible to access-related infection than patients with a graft and eight times more at risk than those who have a fistula.6
To bypass venous stenosis and improve long-term dialysis, various permanent subcutaneous arteriovenous graft devices have been manufactured as a solution for dialysis patients who have exhausted all other access options.
One such product called the HeRO Graft was approved by the FDA in 2008. In comparison to catheters, it's the only clinically proven permanent subcutaneous arteriovenous graft to reduce the risk of vascular access-related infections by 69%, improve adequacy of dialysis by up to 32% (1.7 Kt/V), and cut interventions needed to maintain access function by more than half.7 Studies have also linked the HeRO Graft to high cumulative patency rates that reach 87% at two years.8
But unlike other graft products, the HeRO Graft doesn't depend on venous anastomosis to bypass venous stenosis. Instead, a radiopaque silicone Venous Outflow component reinforced with kink and crush-resistant nitinol braid is placed in the right atrium and securely attaches to an adjacent ePTFE hemodialysis graft by way of a proprietary titanium connector. This mechanism allows for blood to return from the veins back to the heart.
Now, eight years after the launch of the HeRO Graft, the Super HeRO Adapter emerges as an additional way to help access-challenged patients with central venous stenosis.

Graft compatibility is what makes the Super HeRO Adapter a one-of-a-kind product and a superior alternative to catheters. By having the same safety, dialysis adequacy, and patency advantages of the standard HeRO Graft but with a wider range of compatible graft products to choose from, using the Super HeRO could mean the difference between contracting and avoiding infection.
Researchers at the University of Miami Hospital in Miami, Fla., demonstrated the validity of this premise by examining the safety and efficacy of the standard HeRO Graft in comparison to tunneled dialysis catheters. Thirty-six access-challenged patients with venous stenosis were implanted with the HeRO Graft and followed over a course of almost 9 months.7
Results published in the Journal of Vascular Surgery showed that access-related bacteremia rates were significantly lower among patients using the HeRO Graft (0.7 events per 1000 days), but that infection only occurred during the bridging period when a catheter was implanted prior to the HeRO graft being used.7
Circumventing the 2-4 week bridging period and avoiding the risk of infection is one of the major advantages of the Super HeRO Adapter, especially since infection is a frequent cause of hospitalization and the second most common cause of death among dialysis patients.9 By connecting the Venous Outflow component to an early cannulation graft, a patient can be implanted today and dialyzed the next, virtually eliminating the risk of access-related infection due to a bridging catheter.
Early cannulation grafts compatible with the Super HeRO Adapter include GORE® ACUSEAL grafts and FLIXENE® Standard Wall grafts. If an early cannulation graft isn't used, the Super HeRO Adapter also works with single-wall options, including GORE-TEX® and IMPRA®.
Cost savings advantages seen with the standard HeRO Graft can also be applied to the Super HeRO Adapter. A US healthcare model for provision of dialysis access predicted that in comparison to catheters, using the HeRO Graft could result in an average of 23% annual savings.10 Dialysis centers could save over $3000 per patient each year.11 And hospitals can save thousands in hefty admission costs that accrue because of device-related infections—rates that would commonly range between $23K to $56K per stay.12,13
These cost savings are being recognized around the globe. At the University Hospital at Birmingham, a British economic study analyzed the cost of introducing the HeRO Graft in the UK.14 Shakarchi et al. compared the cost of the HeRO Graft versus tunneled dialysis catheters by carrying out a 1-year cost-consequence decision analytic model that measured vascular access function, infection, device thrombosis, and associated costs over four 3-month intervals.
Based on a 100-patient cohort managed with the HeRO Graft, results of the study revealed 6 fewer failed devices, 53 fewer access-related infections, and 67 fewer device thromboses compared to patients managed with catheters.14  The authors concluded that even though the initial device and placement costs for the HeRO Graft are more expensive than catheters, the savings that occur because of fewer device complications and longer effective device patency minimizes these costs. Overall, a net 1-year savings of £1200 per patient was estimated for patients managed with the HeRO Graft.
Another cost-effective option offered by the Merit team is the HeRO Ally Revision Kit—a viable solution for long-term dialysis patients who still have a functioning Venous Outflow component—but need a new graft. The Revision Kit contains the tools needed to place a new Super HeRO compatible graft, which includes the Adapter, Support Seal, Graft Expander, Vascular Clamp, and Syringe for Heparinized Saline. Sold separately from the Super HeRO itself and compatible grafts, the HeRO Ally gives clinicians the freedom to purchase their compatible graft of choice.
By using these tools—whether it's the Super HeRO, HeRO Ally Revision Kit, or the standard HeRO Graft—clinicians are offering access-challenged patients who've exhausted all other options a longer life expectancy and—above all—hope.
"It's exciting to know that there's something out there," said Kay, referring to the HeRO Graft.15 After experiencing failure with traditional access grafts and catheters, Kay was faced with no other options—until her doctor suggested the HeRO Graft. "I'm not so depressed now," Kay told Merit Medical. "I'm on the go more. I go places more and do things more."
The HeRO products can also give loved ones peace of mind. "We have less to worry about," explained Katie, Kay's daughter and caregiver.14 "We're not worried about infection. We're not worried about clotting. The dialysis is just more efficient. She feels better."
Merit Medical's HeRO technology not only saves the lives of countless dialysis patients, but also enhances them. "I consider it my lifeline," Kay said. "It keeps me alive." And if that's not the true mark of a superhero, I don't know what is.
REFERENCES
Hemachandar, D. (2015). Analysis of vascular access in haemodialysis patients—single center experience. Journal of Clinical and Diagnostic Research, 9(10): OC01-4. doi: 10.7860/JCDR/2015/13342.6611. https://www.ncbi.nlm.nih.gov/pmc/articles/PMC4625272/
Adib-hajbagheri, M., Molavizadeh, N., Alavi, N. S., & Abadi, M. H. M. (2014). Factors associated with complications of vascular access site in hemodialysis patients in Isfahan Aliasghar hospital. Iranian Journal of Nursing and Midwifery Research, 19(2): 208-214. https://www.ncbi.nlm.nih.gov/pmc/articles/PMC4020033/
Beathard, G. A. (2016). Central vein stenosis associated with hemodialysis access. Retrieved October 5, 2016, from http://www.uptodate.com/contents/central-vein-stenosis-associated-with-hemodialysis-access
Kundu, S. (2009). Central venous obstruction management. Seminars in Interventional Radiology, 26(2): 115-121. doi: 10.1055/s-0029-1222454. https://www.ncbi.nlm.nih.gov/pmc/articles/PMC3036427/
Al-Solaiman, Y., Estrada, E., & Allon, M. (2011). The spectrum of infection sin catheter-dependent hemdialysis patients. Clinical Journal of the American Society of Nephrology, 6(9): 2247-2252. doi:  10.2215/CJN.03900411. https://www.ncbi.nlm.nih.gov/pmc/articles/PMC3359000/
National Kidney Foundation. (2012). A Clinical Update on an Alternative Vascular Access for the Catheter-Dependent Hemodialysis Patient. Retrieved October 6, 2016, from https://www.kidney.org/sites/default/files/12-10-4487_KBB_ClinicalUpdateOnAlternateiveVA.pdf
Katzman, H., McLafferty, R., Ross, J., Glickman, M., Peden, E., & Lawson, J. (2009). Initial experience and outcome of a new hemodialysis access device for catheter-dependent patients. Journal Of Vascular Surgery, 50(3): 600-607.e1. doi: 10.1016/j.jvs.2009.04.014. http://dx.doi.org/10.1016/j.jvs.2009.04.014
Gage, S., Katzman, H., Ross, J., Hohmann, S., Sharpe, C., Butterly, D., & Lawson, J. (2012). Multi-center experience of 164 consecutive Hemodialysis Reliable Outflow [HeRO] Graft implants for hemodialysis treatment. European Journal Of Vascular And Endovascular Surgery, 44(1): 93-99. doi: 10.1016/j.ejvs.2012.04.011. http://dx.doi.org/10.1016/j.ejvs.2012.04.011
Laurin, L., Harrak, H., Elftouh, N., Ouimet, D., Vallee, M., Lafrance, J. (2015). Outcomes of infection-related hospitalization according to dialysis modality. Clinical Journal of the American Society of Nephrology, 10(5): 817-824. doi: 10.2215/ CJN.09210914. http://cjasn.asnjournals.org/content/10/5/817.full
Dageforde, L., Bream, P., & Moore, D. (2012). Hemodialysis Reliable Outflow (HeRO) device in end-stage dialysis access: a decision analysis model. Journal Of Surgical Research, 177(1): 165-171. doi: 10.1016/j.jss.2012.04.041. http://dx.doi.org/10.1016/j.jss.2012.04.041
Yost, L., Dinwiddie, L. (2010, Nov.). Impact of the use of the HeRO vascular access graft vs. tunneled dialysis catheters on dialysis provider economics in an era of bundling. Poster session presented at ASN, American Society of Nephrology, Denver, CO.
Ramanathan, V., Chiu, E., Thomas, J., Khan, A., Dolson, G., & Darouiche, R. (2007). Healthcare costs associated with hemodialysis catheter–related infections: a single‐center experience. Infection Control And Hospital Epidemiology, 28(5): 606-609. doi: http://dx.doi.org/10.1086/513617
O'Grady, N., Dellinger, E., Gerberding, J., Heartd, S. Maki, D., Masur, H., McCormick, R., Mermel, L., Pearson, M., Raad, I., Randolph, A., & Weinstein, R. (2002). Guidelines for the prevention of intravascular catheter-related infections. The Hospital Infection Control Practices Advisory Committee, Center for Disease Control and Prevention, U.S. Pediatrics, 110(5): e51.
Al Shakarchi, J., Inston, N., Jones, R., Maclaine, G., & Hollinworth, D. (2016). Cost analysis of the Hemodialysis Reliable Outflow (HeRO) Graft compared to the tunneled dialysis catheter. Journal Of Vascular Surgery, 63(4): 1026-1033. doi: 10.1016/j.jvs.2015.10.089. http://dx.doi.org/10.1016/j.jvs.2015.10.089
Merit Medical Systems, Inc. (2016, Aug 26). HeRO® Graft – Kay and Katie: A Patient's Story of Receiving a HeRO Graft. [Video File]. Retrieved from https://youtu.be/OztHLxZ2CG8
Alicia Armeli is a Freelance Writer and Editor who specializes in medical technology, health, and wellness.
https://www.merit.com/wp-content/uploads/2016/10/SuperHero.png
645
675
Amy Swensen
https://www.merit.com/wp-content/uploads/2019/07/merit-medical-header-logo.svg
Amy Swensen
2016-10-18 06:00:50
2018-02-23 11:51:28
What Is the Super HeRO?