"Manufacturing is back… and frankly, it's companies like Merit Medical that are making it happen all across this country. And that's why it's a real privilege to be here with this great team," stated United States Vice President Mike Pence, as he began his talk to several hundred employees and special guests at Merit Medical on Thursday, August 22.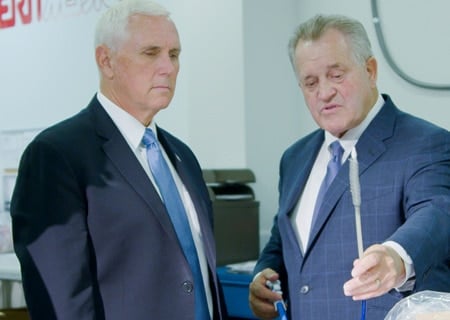 During their half-day visit, Vice President Pence and Commerce Secretary Ross toured the manufacturing facilities at Merit's global headquarters in South Jordan, Utah. They learned about the many medical device products that are manufactured here and sold throughout the world and about the employees who make it all happen.
The event was planned to promote the President's proposed North American trade agreement, and Merit Chairman and Chief Executive Officer Fred Lampropoulos surmised that Merit was likely chosen as the site for the event because "we do hundreds of millions of dollars of revenues in just North America."
August 22 will surely be an unforgettable experience for many Merit Medical employees. "I am thrilled that many of our employees were able to enjoy this unique and very special opportunity. What an honor for Merit Medical to be able to host the United States Vice President and Secretary of Commerce," said Fred Lampropoulos.