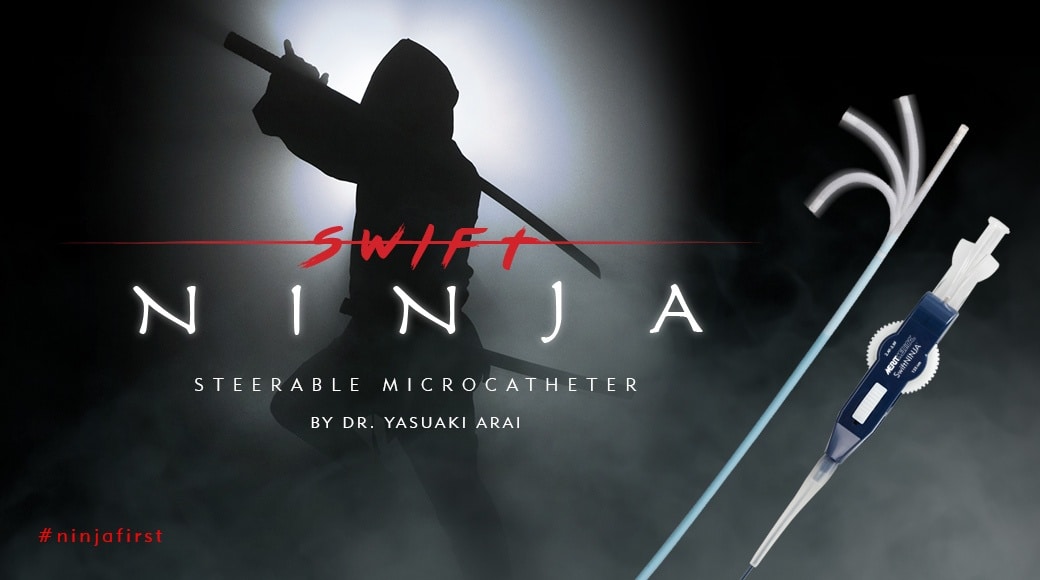 In the May 2017 issue of Radiology Case Reports, Hinrichs, Marquardt, Wacker, and Meyer reviewed two potential solutions to successfully coil embolize patients with hepatointestinal collateral (HIC) vessels precluding radioembolization. The second solution presented is to use the SwiftNINJA® Steerable Microcatheter as a "work horse" device in appropriate situations, as opposed to a "problem-solving" device, as it is sometimes considered.
In the second case, a 59-year-old male is presented who suffers from bilobar multifocal hepatocellular carcinoma (HCC).
After coil embolization was performed on the right gastric artery, cystic artery and gastroduodenal artery, an angiogram revealed a small, reverse-curved HIC.
Radioembolization was determined to be contraindicated in the patient after catheterization of the HIC using regular microcatheters was unsuccessful.
After introduction to the SwiftNINJA Steerable Microcatheter®, the patient was brought back four weeks later.
The patient's HIC was then accessed by positioning the SwiftNINJA® catheter tip near the origin and repeating inflection until the catheter tip hooked into the feeder. Once the SwiftNINJA® was locked in an inflected configuration, a 2-mm pushable straight coil was advanced.
Radioembolization was performed successfully 20 days later.
The authors note that given the numerous regular microcatheters that were used initially in the case without success, in appropriate cases it is more cost-effective to use the SwiftNINJA® first as a "work horse" device, rather than a "problem-solving" device.
"The [SwiftNINJA®] represents a new device class and has the potential to expand the armamentarium of interventional radiology in oncology patients and might be of high value in this and numerous other endovascular interventions."
http://www.sciencedirect.com/science/article/pii/S1930043317301206
SwiftNINJA® Steerable Microcatheter
Merit Medical's SwiftNINJA® Steerable Microcatheter is the single most advanced and only 180-degree articulating microcatheter on the market. Able to navigate difficult vasculature, the SwiftNINJA® offers unparalleled performance by utilizing three main advantages: speed, control, delivery.
To learn more about the SwiftNINJA®, please click here:
https://www.merit.com/interventional-oncology-spine/accessories/microcatheters/swiftninja-steerable-microcatheter/
REFERENCE
Hinrichs, J. B, Marquardt, S., Wacker, F. K, & Meyer, B. C. (2017). Coil embolization of reversed-curve hepatointestinal collaterals in radioembolization: potential solutions for a challenging task. Radiol Case Rep, http://dx.doi.org/10.1016/j.radcr.2017.04.006