Safeguard® and Ergonomics in the Cath Lab
I recently read an article by Marsha Holton, CCRN, RCIS, FSICP, "An Ergonomic Survey of Cath Lab Repetitive Stress Injuries," who observed that the duration of manual compression may be one of the ergonomic risk factors for cath lab repetitive stress injuries.
"Survey results regarding recovering access sites were surprising, particularly the mean holding pressure time of 19 minutes*. We may have identified at least one task that could increase the risk of carpal tunnel injury to our health care workers. Three of the seven ergonomic risks are involved in holding manual pressure. These are the risks of position and pressure, force, and duration, which may explain the trembling of those hands that held for 19 minutes." [* Emphasis added]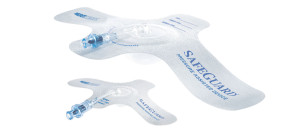 As a result of her survey, Ms. Holton encourages cath lab professionals to look for ways to reduce the risk of injury.
"If there is even a possibility that such injuries are caused by our work, it is important to identify what is hurting cath lab professionals, and what we can do to decrease the number of future injuries."
For those who are looking for ways to reduce the duration of manual compression, I recommend using the Safeguard Pressure Assisted device. The Safeguard Manual Assist (SMAT) study—a multicenter trial of over 100 patients found that the device was effective in reducing active compression time.
The mean active compression time for all patients (n = 100): 7.7±3.3 minutes
The mean active compression time for diagnostic patients (n = 72): 6.6±2.9 minutes
The mean active compression time for interventional patients (n = 28): 10.5±2.5 minutes
Safeguard is indicated in the reduction of active compression time in femoral artery cannulation following diagnostic and interventional procedures and it is effective in obtaining and maintaining hemostasis. It has a clear polyurethane window and bladder with adhesive backing and a Luer valve for inflation with a syringe to provide pressure to the puncture site.
Testimonials from two of the nurses who participated in the SMAT study support the effectiveness and comfort of the device:
"Well, I love this product because my hand doesn't hurt when I go home at night." —Karen Cronin, RN
"Safeguard is just a great thing for nurses and a great thing for the patients." —Judy Champion, RN
To learn more about the Safeguard Manual Assist Technique, contact your local Merit Medical Sales Representative.
Mark Heninger
Senior Product Manager
https://www.merit.com/wp-content/uploads/2014/05/safeguard1.jpg
541
1200
Amy Swensen
https://www.merit.com/wp-content/uploads/2019/07/merit-medical-header-logo.svg
Amy Swensen
2014-05-27 08:40:24
2020-02-27 06:51:08
Safeguard® and Ergonomics in the Cath Lab