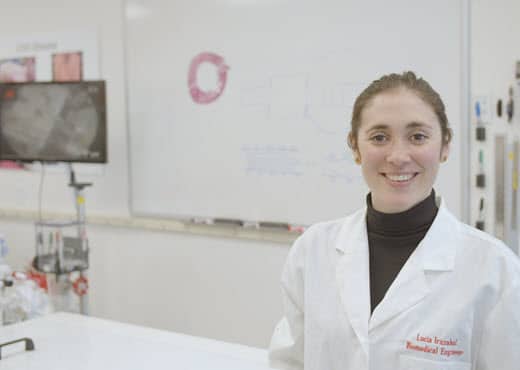 Today we celebrate the efforts of those in the Science, Technology, Engineering, and Mathematics (STEM) fields who work to innovate our world for the better. As a leading medical device manufacturer, we at Merit Medical know our future is in the hands of capable STEM students and graduates.
In an effort to help welcome new talent into the field of medical technology, our Merit Galway Graduate Program works to provide hands-on experience, foster skills, and develop the next generation of STEM professionals.
Research and Development
Bellvina Obi recently completed her first rotation in the Research and Development department at Merit Galway, where she learned what it takes to bring a product from concept to the customer.
"I'm so proud of all the skills that I've gained and all my learning progress in the Med Tech industry," says Bellvina. "I'm proud to say that I've really come to understand what Merit is about, which is to Understand, Innovate, and Deliver."
With one rotation finished, Bellvina will now have the opportunity to learn about our other spheres of work within other departments—which provides invaluable networking for graduates.
Read more about her experience.
---
Manufacturing Engineering
Anna Foxe has been hard at work during her first rotation in our Manufacturing Engineering department. In addition to observing first-hand the process of bringing our products to life, Anna has enjoyed gaining valuable insight into the world of engineering.
About her Merit experience, Anna says, "Anyone interested in progressing in the med tech sector should definitely take a look at what Merit has to offer. I'd highly recommend."
Discover where her journey leads her next.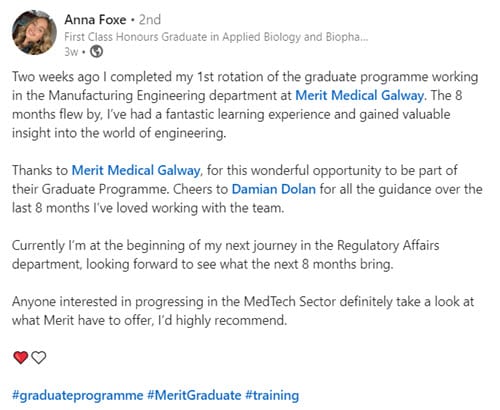 ---
Regulatory Affairs
Emma Flanagan wrapped up her first rotation in the Regulatory Affairs EMEA department, which gave her the opportunity to assist in submitting our lifesaving products for approval in the EU, Middle East, and Africa. This helped deepen her understanding of the importance of Regulatory Affairs within the company.
"I've already started my second rotation in Manufacturing Engineering and look forward to further developing my skillset for the med device industry," Emma says.
Explore more of her Merit experience.
---
The Future of Med Tech
Promoting education, providing opportunities, and encouraging innovative ideas are just some of the ways Merit aims to continue our mission of being the most customer-focused company in healthcare. We're proud to build relationships with these bright STEM graduates, and we can't wait to see how they continue to shine.
Are you a recent graduate looking to help build something special? Learn what it means to be part of the Merit team in our Vision and Values and browse our open positions—including internships—to kick-start your career.