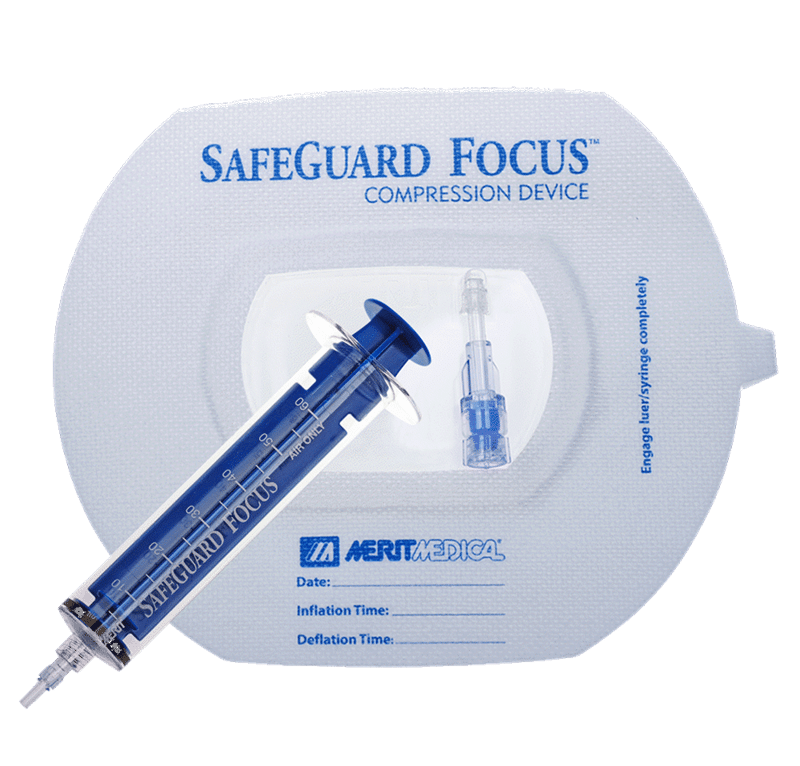 Merit Medical is proud to announce the launch of the SafeGuard Focus, a revolutionary compression device designed specifically for use in patients with pacemakers and implantable cardioverter defibrillator (ICD) pockets. Available in two unique versions—a contoured adhesive dressing and an adhesive-free flexible strap—the SafeGuard Focus is designed to provide accurate and quick hemostasis that is also comfortable for the patient.
Pacemakers and ICDs are placed in a "pocket" under the skin as a therapeutic option to monitor, detect, and control abnormal heart rhythms. To provide compression care to this patient population, electrophysiologists, nurses, and other healthcare professionals will often utilize pocket compression products on the market that fall short of effective, turn to handmade pressure bandages as an alternative, or rely on antithrombin products that can result in potential side effects1 for the patient.
Listening to physician feedback, Merit created the SafeGuard Focus as a reliable solution to this common clinical challenge, designed to reduce the risk of pocket bleeding2 and the risk of subsequent infection.1,3
---
Advanced SafeGuard Focus features and benefits include: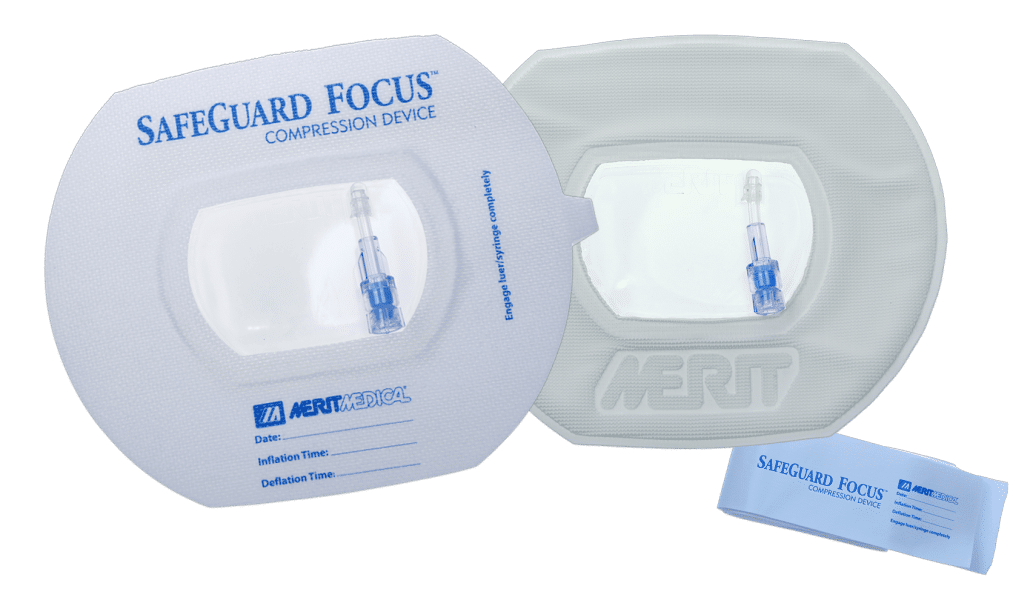 More Targeted Pressure
Delivers nearly 2x the pressure versus handmade compression devices.4,5
Flexible Compression
Adjustable pressure allows desired compression while maintaining patient comfort.
Ease of Use
Quick application without adjusting the patient's position.*
Unobstructed Site Visibility
A clear window facilitates surgical site assessment without device removal.
Durable Attachment
Medical grade adhesive backing (adhesive version)** and a VELCRO® brand strap (adhesive-free version) offer secure attachment.
Patient Comfort
Soft thermoplastic balloon (both versions) and nylon loop (non-adhesive version) enhance patient comfort.
Merit is committed to understanding the clinical challenges healthcare providers face, then innovating and delivering advanced product solutions that address these needs. The SafeGuard Focus Compression Device is one such solution, a revolutionary addition to the Merit Hemostasis portfolio and to electrophysiology labs worldwide.
Learn more about the SafeGuard Focus by exploring its product page or by connecting with our Customer Support Center to see how you can incorporate it and other Merit hemostasis solutions into your electrophysiology practice today.
---
REFERENCES
Essebag V et al. 2016. "Clinically Significant Pocket Hematoma Increases Long-Term Risk of Device Infection." Journal of the American College of Cardiology 67, no. 11 (March): 1300–1308. PMID: 26988951.
American Heart Association. 2000. "ECC Guidelines Part 5: New Guidelines for First Aid." Circulation 102 (suppI_1): I-77–I-85.
Baddour LM et al. 2010. "Update on Cardiovascular Implantable Electronic Device Infections and Their Management—A Scientific Statement from the American Heart Association and on behalf of the American Heart Association Rheumatic Fever, Endocarditis, and Kawasaki Disease Committee of the Council on Cardiovascular Disease in the Young." Circulation121: 458–477. PMID: 20048212.
SafeGuard Focus SP 0522.X Revision 001 Input/Output Specification Matrix (ECN145093).
Design Verification for SafeGuard Focus REP 20-0118F.00101 Revision 001 Final Report (ECN144963).
* Adhesive version only.
** The adhesive portion of the SafeGuard Focus should not be used over damaged skin.
VELCRO® is a registered trademark of Velcro IP Holdings LLC. Used with permission.