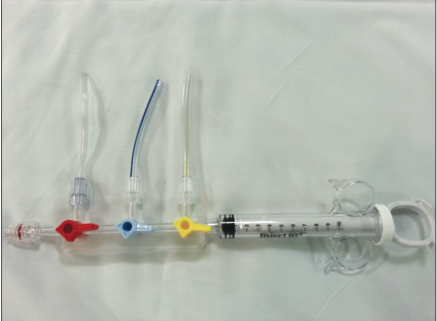 Cath Lab Digest Article Shows How a Merit Medical Custom Fluid Management Set Up Can Help Reduce the Risk of Air Embolism
A recent Cath Lab Digest article, "Proposal of Manifold Variation for Use During Cardiac Catheterization," reported that a new manifold set up used in 1,500 diagnostic catheterizations was "safe, very easy and convenient to use."
In the article, a custom Merit Medical Fluid Management Kit was pictured showing a modified construction that allows physicians to inject medication while keeping the system closed during angiography, thus reducing the risk of air embolism associated with syringe exchanges.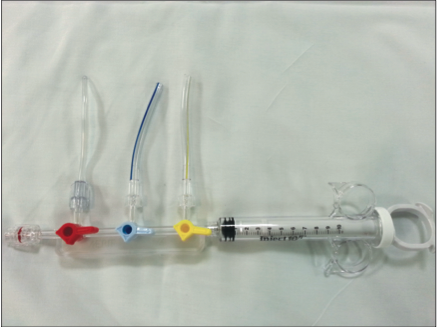 Photo of Merit Medical fluid management products in the configuration suggested in the article.
By inserting a 3-way stopcock with pigtail attached to a 5 mL syringe on the heparin flush line, the operator can inject medication through the heparin flush line into the arterial circulation without exchanging the syringe from the manifold.
Click on the following link to watch our Fluid Management System & Custom Designed Kits video. To find out how to get this custom fluid management kit, contact a Merit Medical Representative today!
Mark Heninger
Senior Product Manager
https://www.merit.com/wp-content/uploads/2015/02/HowardFigure1-e1423612734976.png
327
437
Amy Swensen
https://www.merit.com/wp-content/uploads/2019/07/merit-medical-header-logo.svg
Amy Swensen
2013-07-09 16:56:05
2020-02-27 06:56:59
Cath Lab Digest Article Shows How a Merit Medical Custom Fluid Management Set Up Can Help Reduce the Risk of Air Embolism