Brighton Bipolar Probe®
The Brighton Bipolar Coagulation Probe is intended to be passed through an endoscope's working channel to provide hemostasis throughout the gastrointestinal tract.
---
Advantages
Silver spiral electrode pair design provides constant power and thermal conductivity.
Hydrophilic coated tip can reduce probe adherence for more effective coagulation.
Round distal tip helps promote precise burn from various angles.
Unique catheter material facilitates passage through the endoscope and virtually eliminates kinking while providing optimum tamponade.
350cm length offers one size to fit most endoscopes.
Dual and single plugs to fit most bipolar generators.
Irrigation through central lumen to effectively remove debris.
Purple color enhances positive endoscopic identification of the tip and catheter transition.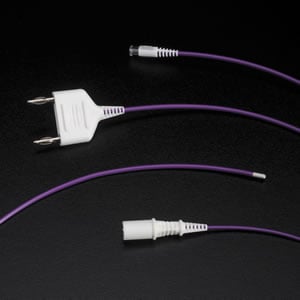 ---
Ordering Information
| Catalog Number | Description | Length | Generator Plug Type |
| --- | --- | --- | --- |
| BP-10F-DP-350 | 10F (3.3mm) | 350cm | Dual |
| BP-10F-SP-350 | 10F (3.3mm) | 350cm | Single |
| BP-7F-DP-350 | 7F (2.3mm) | 350cm | Dual |
| BP-7F-SP-350 | 7F (2.3mm) | 350cm | Single |
---
Documents
Brighton Bipolar Probe Brochure®
---
Brighton Bipolar Coagulation Probe Instructions for Use (English)
---
Brighton Bipolar Coagulation Probe Instructions for Use (Multilingual)