To limit coronavirus exposure to patients and healthcare workers, healthcare facilities are decreasing the number of procedures performed as well as the length of procedure time for those that remain scheduled. This includes replacing surgical care with less-invasive interventional radiology procedures.
New hospital protocols may prove challenging for patients who need multistep care, as seen with individuals who suffer with severe ureteral or biliary obstructions. Traditionally, these patients require two separate interventional procedures to successfully place a temporary internal drainage: a first procedure to place a drainage catheter and a second to place a stent.
To simplify treatment for these patients, Merit Medical offers a temporary internal nephroureteral and biliary drainage stent system called the ReSolve ConvertX Stent System. A less-invasive option than conventional treatment, the ReSolve ConvertX completely eliminates the need for a second drain-to-stent procedure. Instead, stent conversion can be done in an office or at bedside in less than one minute.1

WATCH HOW THE RESOLVE CONVERTX WORKS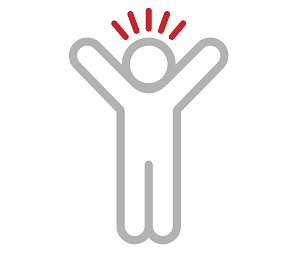 Eliminating a second interventional procedure has several advantages, particularly in the present healthcare crisis. Without the need for a lengthy, additional drain-to-stent procedure, hospital visits may be shorter for patients,2 potentially resulting in less risk of exposure to other patients, physicians, and hospital staff. Because treatment with the ReSolve ConvertX can be completed in a less-intense care setting, it can free up physicians and hospital staff to care for an increasing caseload outside of the interventional radiology suite. This may also leave the interventional radiology suite open for an influx of new interventional cases.
The ReSolve ConvertX is also designed with other clinical benefits in mind, such as reduced procedural challenges for the patient. Furthermore, with fewer procedures, there is less radiation exposure for patients, physicians, and hospital staff.
FIRST IMPRESSIONS OF RESOLVE CONVERTX
SCOUT Localization can help alleviate future workflow challenges
As a result of the effect of the COVID-19 pandemic in the US, screening, diagnostic exams, and surgical procedures are being severely restricted or postponed at hospitals and breast centers across the country. This is causing a disruption never experienced before in the diagnosis and treatment of the 325,000 projected cases of breast cancer in 2020 in the US.1
These delays and closures will impact care delivery well into the foreseeable future. While this health crisis clearly needs immediate management, we also need to think long term on how to effectively manage the backlog of breast cancer patients once restrictions have been lifted.
Merit Oncology is connecting physicians across the county to share their experiences, challenges, and solutions with managing breast patients during COVID-19. Merit Café is a forum for healthcare providers to come together to share best practices and experiences in an online, interactive forum moderated by a radiologist and a surgeon. Discussion focuses on relevant topics including triaging breast patient care during the COVID-19 pandemic, procedure efficiency, minimizing patient/provider exposure, and planning for downstream challenges anticipated post-pandemic.
Joining Merit for this Q&A is Vincent Reid, MD, Surgical Oncologist at Mercy's Hall-Perrine Cancer Center, Cedar Rapids, Iowa and one of the first moderators of Merit Café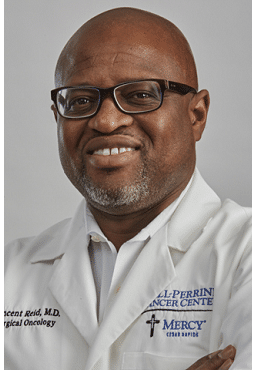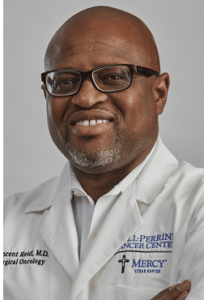 Does your institution have guidelines established for the surgical management of breast cancer patients?
There has been guidance published from different organizations and societies on the management of elective surgeries. It is important to note that they all share the common goal of minimizing patient and physician exposure and preserving personal protective equipment (PPE). The guidelines are mostly based on the assumption of a low to moderate COVID-19 census at your facility. Once a surge of COVID-19 occurs, the guidelines become more restrictive. The guidelines are also constantly being updated, so it is important to stay on top of the latest revisions.
At the current time, in our community, we are at that low to moderate stage. However, as I talk to colleagues on Merit Café from other parts of the country, particularly on the East coast, their situation is very different. Having the opportunity to learn what they are doing has been helpful to me in planning for different scenarios.
Access the most recent guidelines from the COVID-19 Pandemic Breast Cancer Consortium, comprised of representatives from the American Society of Breast Surgeons (ASBrS), the National Accreditation Program for Breast Centers (NAPBC), the National Comprehensive Care Network (NCCN), the Commission on Cancer (CoC), and American College of Radiology (ACR) here.
Based on your hospital's and your region's exposure, what are some of the plans you are putting into place now to help patients and staff when restrictions are lifted at your hospital?
Our number one priority is to help ease the stress and anxiety of our patients during this difficult time, not only about their cancer but now COVID-19. All our breast cancer patients are being evaluated by a multidisciplinary group to develop a recommended care plan. Some patients are having surgery delayed and for those patients where it is appropriate, they are going to either neoadjuvant chemotherapy (NAC) or endocrine therapy prior to surgery. We are localizing these patients with SCOUT®, which can safely and effectively be placed, even though they will not go surgery for several months. This will streamline the process once they are ready to go to surgery. If immediate surgery is indicated those patients proceed to surgery.
Where appropriate, we are also localizing with SCOUT at time of biopsy. At Mercy, a number of our patients drive long distances for treatment. When we can eliminate an entire procedure, we eliminate a travel day, decrease patient and physician interaction, and preserve PPE. That is significant all around.
How do you anticipate the strategies you are implementing now will help with overrun schedules in all hospital departments?
I see two things, first the placement of SCOUT in our surgical patients. Our radiology department is going to be slammed just catching up with routine mammography screening. Patients who have been waiting for cancer surgery for 2-4 months are not going to want to wait any longer than needed if they have to go and be localized prior to surgery. They will get very impatient if radiology scheduling resulted in an additional delay.
The second is telemedicine. Our cancer program was about two years out on the horizon for implementing a meaningful telemedicine program. Now fast forward to a pandemic and we have progressed leaps and bounds in this implementation. We are conducting video telemedicine consultations with patients now, so they do not have to be delayed waiting for a consult. It is an excellent tool and allows me quality time with my patients discussing options.
Have you seen any unexpected outcomes of the COVID-19 restrictions?
I am seeing more patients opting for a lumpectomy over mastectomy. Clearly there are clinical cases where a mastectomy is the only option, but with the current surgical restrictions we are not able to do reconstruction – that part of the procedure is being delayed. Women who are candidates for lumpectomy, who were leaning toward a mastectomy of their own choice are now opting for a lumpectomy.
The outcome that I find most enlightening is that we are all united in a powerful way. I am virtually connecting with colleagues, that I might have never had the opportunity to meet, and we are sharing and learning from each other. I look forward to the day our medical societies come together again, and we can all meet in person.
What are you telling your breast cancer patients during this difficult time?
I think the most important message for patients is the reassurance that no matter what the recommended course of treatment is they are not being put at risk. We are thoughtfully evaluating all the options, and even in the COVID-19 environment as we are working to keep everyone safe, we are not compromising their cancer care. I also reassure them that once restrictions are lifted everything possible has been done to assure, they can move on to the next step of treatment as quickly as possible.

At the Imperial College London, future interventional radiologists are sharpening their biopsy skills by attending educational workshops that use a newly developed medical simulation. The cutting-edge technology, called the Microsoft HoloLens 2, operates through interactive holograms that allow junior trainees to practice using augmented reality headsets.
The comprehensive workshop provided trainees with several stations where they could practice simulations of image-guided needle biopsy. Trainees at HoloLens 2 simulation stations used the Merit CorVocet® Biopsy System to help create a combination of "real" and "virtual" elements. Other Merit biopsy needles were employed at additional hands-on ultrasound workshop stations.
The simulation was developed by a team of experts from Imperial's Faculty of Medicine and Digital Learning Hub, a team that works with students and teachers to create innovative learning and teaching experiences using augmented reality and virtual reality. Its mission is to create interactive, challenging, and authentic digital education.
"By building the simulation in mixed reality, it not only allows for accurate imaging placement but also for crucial tactile feedback," explained Mohamad Hamady, a professor in the department of Surgery & Cancer at the Imperial College London and part of the team that developed the simulation. "It's constructed from real patient X-rays, and they are using real needles."
Image-guided interventions, particularly those using computed tomography (CT) imaging, are traditionally taught using a mentored approach on real patients or in costly cadaver workshops.
"This app really demonstrates the potential of mixed reality to provide high-fidelity experience at a fraction of the cost of traditional methods. It is readily scalable, and I am sure will form part of the training for doctors in the future," noted Dimitri Amiras, MBBS, BSc, a musculoskeletal consultant radiologist at Imperial College Healthcare NHS Trust and part of the team that developed the simulation. "As technology improves this will not only change the way we train but also the way in which we perform procedures."
As the field of interventional radiology evolves, and the number of complex procedures increases, new methods of teaching and learning—like simulation technology—are necessary.
"It's unique that we've managed to create realistic images of the patient and biopsy needle together," said Phillip Pratt, PhD, research fellow in the department of Surgery & Cancer at the Imperial College London and developer at the Digital Learning Hub. "This simulation is a great example of how mixed reality can help create learning environments that are interactive and challenging."
Merit is proud to support medical training efforts with its high-quality products. Physicians of today and tomorrow can rely on these tools to learn new skills that will improve the lives of patients around the world.
Read the full Imperial College London article here.
Before using, refer to Instructions for Use for indications, contraindications, warnings, precautions, and directions for use.