Fred Lampropoulos, Merit Medical Chairman and CEO, has been named 2019 Entrepreneur of the Year by MountainWest Capital Network (MWCN), Utah's first and largest business networking organization devoted to supporting entrepreneurial success. The prestigious award is given annually, honoring a Utah business executive who has built a successful Utah-based company, inspiring others in the process to join the risks and rewards of entrepreneurship.
"Fred clearly exemplifies the attributes of what an Entrepreneur of the Year should be," said Scott Anderson, President and CEO of Zions Bank and a Merit Medical Board Member. "He sustains success as an entrepreneur, he reaches out to encourage and inspire the entrepreneurial spirit in others, and he gives back. . . to make our communities a better place to live and to work."
Mr. Lampropoulos founded Merit Medical more than 30 years ago with a vision of becoming the world's most customer-centric healthcare company. By listening to and understanding customers' needs, Mr. Lampropoulos made Merit Medical unique in the medical device industry, innovating and delivering the tools physicians need to simplify and improve patient care.
"He is so committed to this organization. He is so committed to people," said Justin Lampropoulos, EVP of Global Sales Marketing and Strategy at Merit Medical. "The organization started with this and today has grown into an organization that has six franchises."
Those franchises support various areas of medicine, such as cardiac intervention, interventional oncology and spine, peripheral intervention, endoscopic procedures, cardiovascular and critical care, and more. Today Merit Medical is a leading manufacturer and marketer of proprietary disposable devices, holding over 800 patents and pending applications that represent thousands of inventions used in diagnostic, interventional, and therapeutic procedures worldwide.
Over the years, Mr. Lampropoulos has expanded Merit Medical's presence to include facilities around the globe. In addition to the United States, Merit Medical can be found in The Netherlands, France, Ireland, China, Mexico, Brazil, Canada, Australia, Japan, and Singapore. Employing approximately 6,000 people, Merit Medical facilities operate with the common goal of improving the lives of people, families, and communities throughout the world.
"Fred is in every way a great human being," said Nolan Karras, a Merit Medical Board Member. "In my mind he is worthy of being honored for his sense of optimism that lifts us all. That optimism has lifted a fledgling company in 1987 to a powerhouse of a company today with a great future."
In addition to receiving the award, Mr. Lampropoulos shared his entrepreneurial insights and experiences and revealed what he believed was essential to his success. "The key in any business is not only having the vision. . . but it's having the right people," Mr. Lampropoulos said. "Our success is really the people in this room. You're here, and I'm grateful."
Fred Lampropoulos was celebrated earlier this week at the MWCN Entrepreneur of the Year annual award luncheon at the Little America Hotel in Salt Lake City.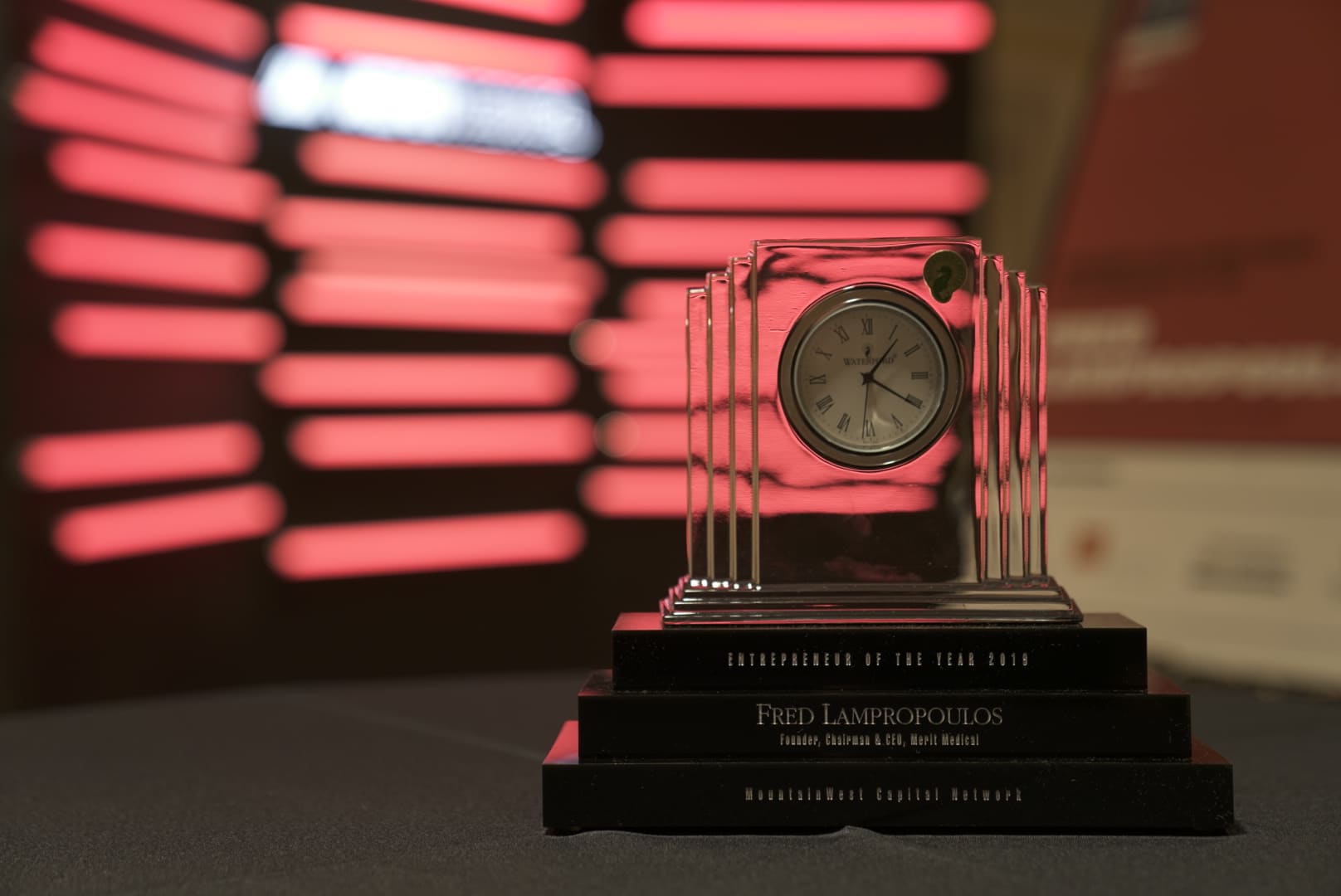 Diagnostic and Interventional Cardiology (DAIC) recently featured an article titled "Use of the Interventional CRT Approach to Solve Issues With LV Lead Placement." Written by Matthew S. McKillop, MD, and Seth J. Worley, MD, the article discusses how adopting the interventional cardiac resynchronization therapy (I-CRT) method may offer electrophysiologists a greater ability to adapt to difficult patient anatomy, providing a better way to place a left ventricular (LV) lead in comparison to conventional placement techniques.
Originally developed by interventional cardiologists and radiologists, the I-CRT approach is based on a set of tools and techniques now repurposed and used for coronary sinus cannulation and LV lead implantation. An entirely different path to LV lead placement, I-CRT helps electrophysiologists take on exceptionally challenging cases by controlling the anatomy and allowing for multiple adjustments during a procedure.
In the article, Drs. McKillop and Worley address seven complex situations that may be encountered during LV lead placement and follow up with how Interventional CRT provides solutions. The authors write that in some of these examples, "I-CRT offers a solution where the only other viable option is to abandon the case." Read the full DAIC article.
For more information about I-CRT and overcoming obstacles to adoption, explore Dr. Worley's 2018 EP Lab Digest article titled "I-CRT: Challenging the Conventional Approach to LV Lead Placement, Literally and Figuratively."

A major green initiative is happening throughout Merit facilities worldwide. To accommodate our Cafe customers in a way that's more environmentally conscious, we've switched out all of our conventional to-go containers for a greener option: a plant-based line of fully compostable products.
According to the Environmental Protection Agency, food and its packaging, such as containers, make up almost 45% of what ends up in U.S. landfills.1 To cut down on the amount of food-related trash we generate, Merit has eliminated disposable food containers, instead adopting a line of compostable products, including cups, to-go containers, plates, and even straws. Made of plant sugars derived from field corn, these products are fully compostable in commercial composting facilities.2
Trading in conventional to-go products for something with less of an environmental impact is part of a greater Merit-wide vision to expand our environmental performance. We've taken significant steps to accomplish this, such as participating in massive recycling programs, overhauling our energy efficiency efforts, and offering eco alternatives in our kits and packs, just to name a few.
As a global healthcare company, ongoing innovation is our driving force. Whether it's improving products and services or finding better ways to manage our facilities, choosing practices that preserve the planet is just one more way we show we care.
REFERENCES
1. Environmental Protection Agency. (n.d.). Reducing wasted food & packaging: A guide for food services and restaurants. Retrieved from https://www.epa.gov/sites/production/files/2015-08/documents/reducing_wasted_food_pkg_tool.pdf
2. Karat®. (2016). Products. Retrieved from https://karatcup.com/products/