CASE STUDY SERIES – DR. DEEPANKAR SHARMA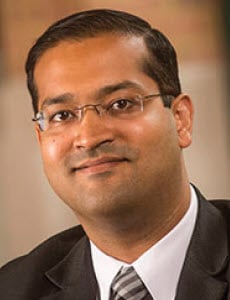 Dive into a series of case studies by Dr. Deepankar Sharma,
Director of Interventional Pulmonology,
Columbus Regional Health in Columbus, Indiana.
Treatment of Uncommon Endobronchial Lesion in the Bronchus Intermedius with an AERO® Tracheobronchial Stent
PRESENTATION
A 77-year-old man with moderate COPD, obstructive sleep apnea, and a prior history of smoking, presented to emergency room with hemoptysis and was found to have a new endobronchial mass in the bronchus intermedius.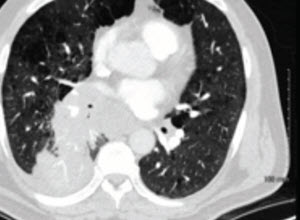 Stenosis Treatment in the Bronchus Intermedius with Telescoping AERO® Tracheobronchial Stents
PRESENTATION
A 48-year-old male with a medical history significant for diabetes, severe COPD, and 40 pack years of smoking, presented with a progressive cough and shortness of breath over a 3-month duration.
Treatment of Epithelial Myoepithelial Carcinoma in the Left Mainstem with Multiple AERO Tracheobronchial Stents
PRESENTATION
A 75-year-old woman presents with moderate COPD and recurrent metastatic breast cancer with a complete response to treatment. She then developed a sub-acute worsening shortness of breath and hemoptysis of a 2-month duration.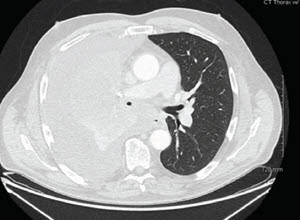 Management of Adenocarcinoma in the Right Mainstem and Bronchus Intermedius with the Use of Multiple AEROmini® Through-the-Scope Stents
PRESENTATION
A 68-year-old man with known adenocarcinoma of the rectum, failed to complete a recommended treatment in the past, presented with gradual worsening of shortness of breath.
CASE STUDY SERIES – DR. ROY CHO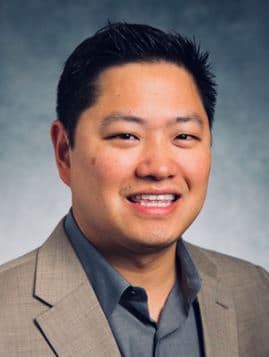 Learn from a series of case studies on the AEROmini and AERO Tracheobronchial Stents from Roy Cho, MD, MHA.
Dr. Cho is Assistant Professor of Medicine, Interventional Pulmonary Dept.,
Pulmonary, Allergy, Critical Care and Sleep Medicine,
Earl E Bakken Medical Devices Center,
University of Minnesota, M-Health.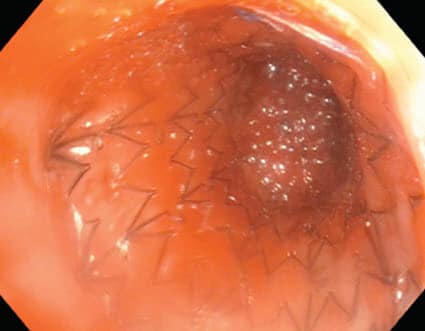 Treatment of a Left Mainstem Endobronchial Tumor Using an AERO Tracheobronchial Stent
PRESENTATION
A 60-year-old woman with a large left hilar mass presented to the emergency room with worsening dyspnea. Advanced imaging demonstrated total occlusion of the left mainstem (LM) bronchus which was confirmed with direct visualization.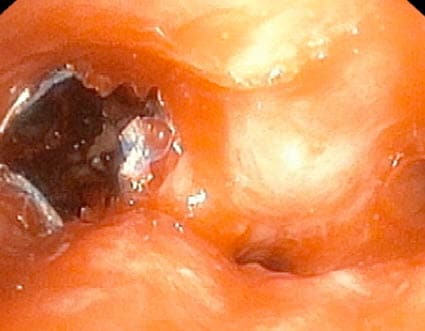 Treatment of Right Middle Lobe Stenosis Using an AEROmini® Through-the-Scope Tracheobronchial Stent
PRESENTATION
A 75-year-old man who had advanced stage lung cancer presented with worsening dyspnea and productive cough. Under bronchoscopic exam, the right middle lobe (RML) had a 90% stenosis with evidence of post-obstructive pneumonia.
PHYSICIAN EDUCATION
Designed and taught by physicians, Merit's immersive education courses include didactic presentations, taped or live cases, and hands-on training. We believe that a successful program provides an enjoyable education experience, as well as the clinical support needed for you to implement your learning once you return to your practice.
THINK ENDOSCOPY
COURSE
WHO SHOULD ATTEND?
AGENDA HIGHLIGHTS
Discover the latest advancements in airways stenting. This one-hour educational workshop will focus on the utilization of unique airway stenting technology to address common airway strictures both in the trachea and central airways. Expert faculty will provide participants with a didactic learning experience utilizing innovative stenting technology from both rigid and flexible bronchoscopic methods.
Pulmonologists and Thoracic Surgeons who have the clinical capacity to perform airway stenting, and who want to gain knowledge about all aspects of the procedure, from stenting guidelines to challenging case experiences. A minimum of one stent case a week is strongly recommended.

Advanced techniques and novel airway stenting technology to overcome challenging strictures in the trachea, mainstem bronchi, and peripheral airways
Indications and contraindications for airway stenting
Guidelines for appropriate patient selection, successful stent selection, placement and management post-placement
PATIENT RESOURCES
Take home resources for your patients.
Patient Brochure – Airway Stents
Prepare your patients for the procedure and the tracheal or bronchial stent placement by outlining the procedure and explaining the possible risks. This brochure will go over preparing for the procedure, what happens during and after the procedure, and things to be aware of.
Please Note: For more information please refer to Instructions for Use. Consult product labels and inserts for any indications, contraindications, potential complications, warnings, precautions and directions for use. These products may not be approved, cleared or available for sale or use in your country or region. Please contact your local Sales Representative for more information.