The AERO Fully-Covered Tracheobronchial Stent is indicated for use in the treatment of tracheobronchial strictures produced by malignant neoplasms.
Features & Benefits
Flexible Over-the-Wire Delivery System
The AERO Fully Covered Tracheobronchial Stent is delivered to the target site by means of a proprietary, flexible, over-the-wire delivery system. Benefits of the delivery system are:
Accurate one-handed delivery helps ensure proper stent placement.
Virtually no foreshortening or elongation reduces much of the guesswork in stent sizing and placement.
Flexible delivery system allows for stent placement in difficult anatomical locations.
Low profile (7.4mm) pre-loaded delivery catheter increases clinical ease of use.
Direct Visualization (DV) Delivery System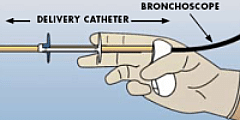 The AERO DV allows for Direct Visualization of proximal and distal ends of stenosis upon deployment.
Designed for accurate placement.
Allows the procedure to be performed bedside, eliminating the need for fluoroscopy.
Advantages
Laser cut nitinol stent is designed to meet specific anatomical requirements of the airway.
Geometric shape provides increased and uniform radial force with true dynamic expansion.
Polyurethane coating helps decrease granulation tissue formation and ingrowth.
Anti-migration struts reduce stent migration.
Lubricious inner lumen hydrophilic coating is specially formulated to aid in the prevention of mucous buildup.
Purse-string design of the proximal suture knot allows repositioning and removal immediately post-placement.
Documents
Discover more about the AERO Tracheobronchial Stent by reviewing the brochures and Instructions for Use.
Loading...
Order Information
Please Note:
• All AERO Tracheobronchial Stents are latex free and non-sterile
• Maximum Guide Wire size is .035"
• Non-clinical testing has demonstrated that the AERO Tracheobronchial Stent is MR Conditional. It can be scanned safely under the conditions outlined in the Instructions For Use.