The AEROmini Fully Covered Tracheobronchial Stent is indicated for use in the treatment of tracheobronchial strictures produced by malignant neoplasms.
Features & Benefits
Advantages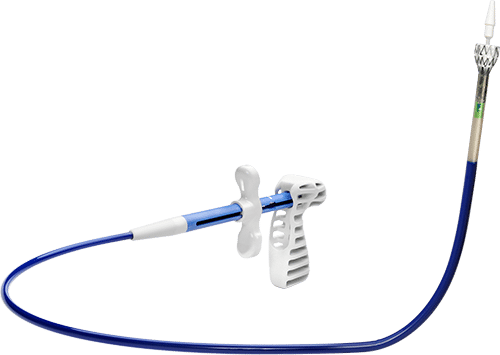 Through-the-Scope and Over-the-Wire deployment options
6 mm through 14 mm diameter stents expand the options for difficult strictures.
10mm and 15 mm length provides the options for stenting short segments.
Suture Eyelets aid stent repositioning and removal.
Laser cut stent design ensures virtually no foreshortening nor elongation—making accurate stent placement easier.
Improved anti-migration struts are designed to reduce stent migration without the potential complications associated with tissue ingrowth.
Purse-string design of the proximal suture knot allows repositioning and removal immediately post-placement.
Easy of Deployment
The AEROmini Fully Covered Tracheobronchial Stent builds on the strengths of the original AERO platform. The stent is delivered to the target site by means of an optimized low profile, through-the-scope or over-the-wire delivery system. Benefits of the delivery systems are:
Ergonomic handle and trigger provide accurate single handed deployment of the preloaded stent.
Low profile 7.9F Through-the-Scope and 12F & 16F Over-the-Wire delivery systems for crossing tight strictures.
Increased working length for ease of deployment into distal anatomy.
Distal Catheter Flex Zone designed to increase trackability of the stent deployment system into tortuous anatomy.
Tapered tip may reduce possibility of trauma.
Order Information
Please Note:
• All AEROmini Tracheobronchial Stents are sterile and latex free
• Maximum Guide Wire size is .035"
• Non-clinical testing has demonstrated that the AEROmini Tracheobronchial Stent is MR Conditional. It can be scanned safely under the conditions outlined in the Instructions For Use.