StabiliT Bone Cement Offers Physicians Key Clinical Advantages – An Interview with Dr. Jayson S. Brower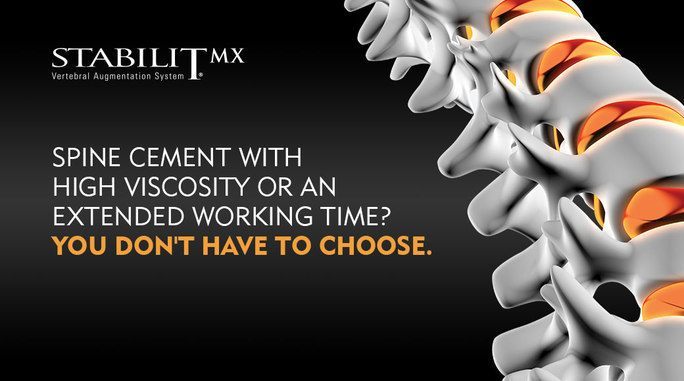 The success of percutaneous vertebral augmentation (PVA) relies on the quality of its bone cement. To relieve the pain that accompanies pathologic vertebral compression fractures, cement must be injected into affected vertebra with precision and control. To accomplish this, Merit Medical launched its proprietary StabiliT Bone Cement that offers physicians two significant advantages over other cements on the market.
"There are multiple factors that contribute to StabiliT Bone Cement's advantages from my perspective as a treating clinician: extended working time and increased viscosity," says Jayson S. Brower, MD, Radiologist at Inland Imaging Associates and Providence Sacred Heart Hospital in Spokane, WA. "With StabiliT cement, you have more control. Increased working time allows you to take your time. Because of its viscosity, you have more confidence in where you're putting the cement into the bone."
Using conventional high-viscosity bone cement often translates into shorter working times. Merit's StabiliT Bone Cement maintains its high-viscosity with a working time of 35-minutes. When used with the original StabiliT Vertebral Augmentation System, higher levels of radiofrequency (RF) energy are initially applied to the cement to increase its viscosity but then taper off over the length of the procedure. This allows control of the polymerization, making the delivery of high-viscosity cement over an extended working time possible.
Maintaining this viscosity has its clinical benefits especially when managing common complications like cement extravasation. According to Dr. Brower, whether a physician is treating pathologic fractures or osteoporotic fractures, cement potentially leaking outside of the vertebral body is a widespread concern but one that a highly viscous cement can ameliorate.
"Because of StabiliT's increased viscosity, you have confidence that this cement is far less likely to leak," Dr. Brower explains. "If you have large fracture planes or are treating pathologic fractures due to vertebral metastatic tumors, you're potentially concerned about cement leakage. For example, when there's disruption of the posterior aspect of the vertebral body that reaches into the spinal canal, using StabiliT Bone Cement offers a huge advantage."
What's more, using bone cement that retains a high viscosity over the length of a procedure affords time to address or even revisit areas of concern. "StabiliT's prolonged working time allows you to install a bit of cement, let it set up, go back, and place additional cement," Dr. Brower continues. "Or if you don't get the optimal spread, you can go back, form additional channels, and place additional cement in that same level."
To offer these same benefits to physicians with varying clinical needs and patient requirements, Merit introduced the StabiliT MX Vertebral Augmentation System—a simplified system that only requires the use of a precision syringe to deliver high-viscosity cement.
"A great opportunity for the MX system would be in an outpatient practice, treating in an ambulatory setting," Dr. Brower notes. "The lower cost, combined with increased control of the StabiliT Cement, would be a huge advantage. It could give a clinician the chance to use a potentially more expensive system in a cost-effective way and leverage the safety and efficacy of the MX cement in that outpatient setting."
Limited working time and unreliable cement viscosity have often left physicians rushing to complete a procedure. StabiliT Bone Cement's versatility and many clinical advantages, mainly its extended working time and dependable high-viscosity, have made it the bone cement of choice.
"I've used just about everything on the market and, through trial and error, I've realized there's nothing quite like it. I use StabiliT Bone Cement exclusively," Dr. Brower adds. "I think the clinical advantages warrant its use."
Alicia Armeli and Dr. Brower are paid consultants of Merit Medical. For more information please refer to Instructions for Use. Consult product labels and inserts for any indications, contraindications, potential complications, warnings, precautions and directions for use.
https://www.merit.com/wp-content/uploads/2017/07/preview-full-MCD_blog_StabiliT_1040x580_A_.jpg
381
684
Colin Bell
https://www.merit.com/wp-content/uploads/2019/07/merit-medical-header-logo.svg
Colin Bell
2017-07-18 16:57:55
2020-03-26 11:28:35
StabiliT Bone Cement Offers Physicians Key Clinical Advantages – An Interview with Dr. Jayson S. Brower