NTI 2017: Partner with Us Across the Patient Care Continuum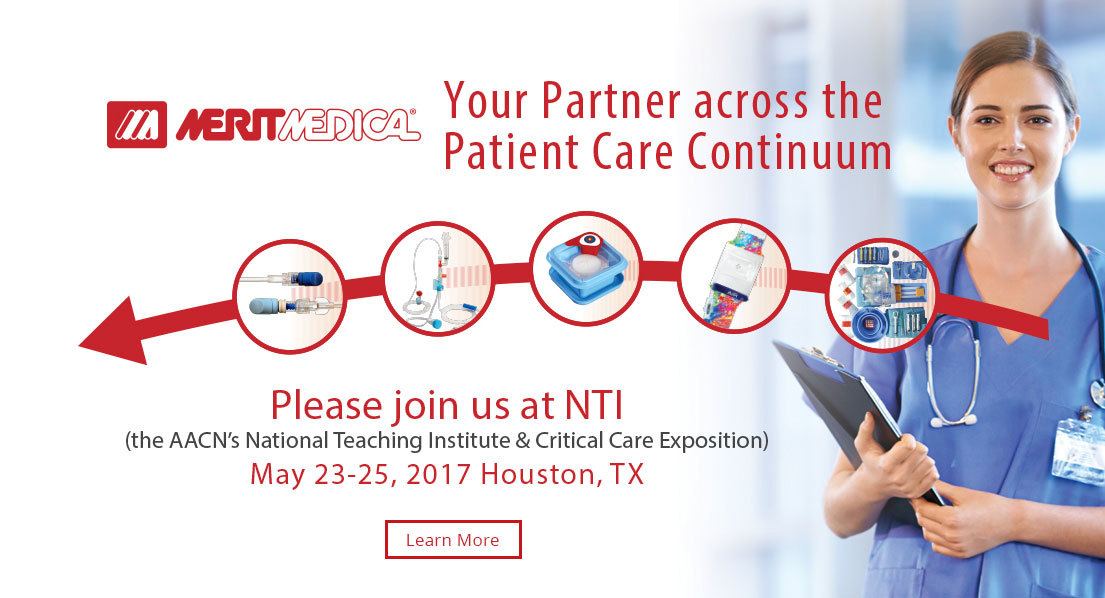 Merit Medical is making its debut at the 2017 AACN's National Teaching Institute & Critical Care Exposition (NTI) in Houston, TX, on May 23-25. After 30 years of bringing quality, innovative products to medical professionals, we're continuing the Merit tradition at this year's NTI by introducing our critical care portfolio and demonstrating how we can partner with you across the patient care continuum.
Visit us at Booth 4300 and look forward to the following events we have planned through our Merit Education Theater:
Earn CERP credits while learning about infection control from expert critical care nurses.
Get an up-close look at our Critical Care and Infection Control products.
Learn about our Patient Care Continuum promise to you and product continuity that spans the patient care continuum.
Meet the Merit team at the Merit Ice Cream Café! Enjoy ice cream on us and learn about the many ways we can partner with you.
In-Booth Presentations You Won't Want to Miss (Booth 4300):
Sepsis Survival for Patients and Nurses
Addressing the new definition of sepsis and mandatory CMS reporting.
Alexander Johnson, MSN, RN, ACNP-BC, CCNS, CCRN 
TUESDAY, MAY 23
10:45 am to 11:15 am
11:30 am to 12 noon
1 pm to 1:30 pm
Preventing CLABSIs: Tales from the Frontline
Discussing protocols to prevent bloodstream infections and how newer technologies and education have helped reduce the occurrence. A specific case will be discussed.
Donna Schweitzer, MSN, CCNS, CCRN 
WEDNESDAY, MAY 24
10:45 am to 11:15 am
11:30 am to 12 noon
3:15 pm to 3:45 pm
Learn more about Merit's NTI events, our expert critical care speakers, and specific Critical Care and Infection Control products we'll be showcasing.
Alicia Armeli is a paid consultant of Merit Medical. For a complete step-by-step guide to delivery, refer to instructions for Use. Please consult product labels and inserts for any indications, contraindications, potential complications, warnings, precautions and directions for use.
0
0
Amy Swensen
https://www.merit.com/wp-content/uploads/2019/07/merit-medical-header-logo.svg
Amy Swensen
2017-05-03 16:42:01
2018-02-23 12:16:13
NTI 2017: Partner with Us Across the Patient Care Continuum