Merit Medical has achieved an important milestone as SCOUT surpassed 200,000 procedures—far exceeding any other non-radioactive wire-free device. Launched in 2016, SCOUT has realized remarkable growth and system-wide adoption in the US and global expansion since 2020. Our commitment to ongoing product enhancements, customer training and support, and clinical education contributes to this achievement. However, this milestone would not be possible without the input and support of our valued customers.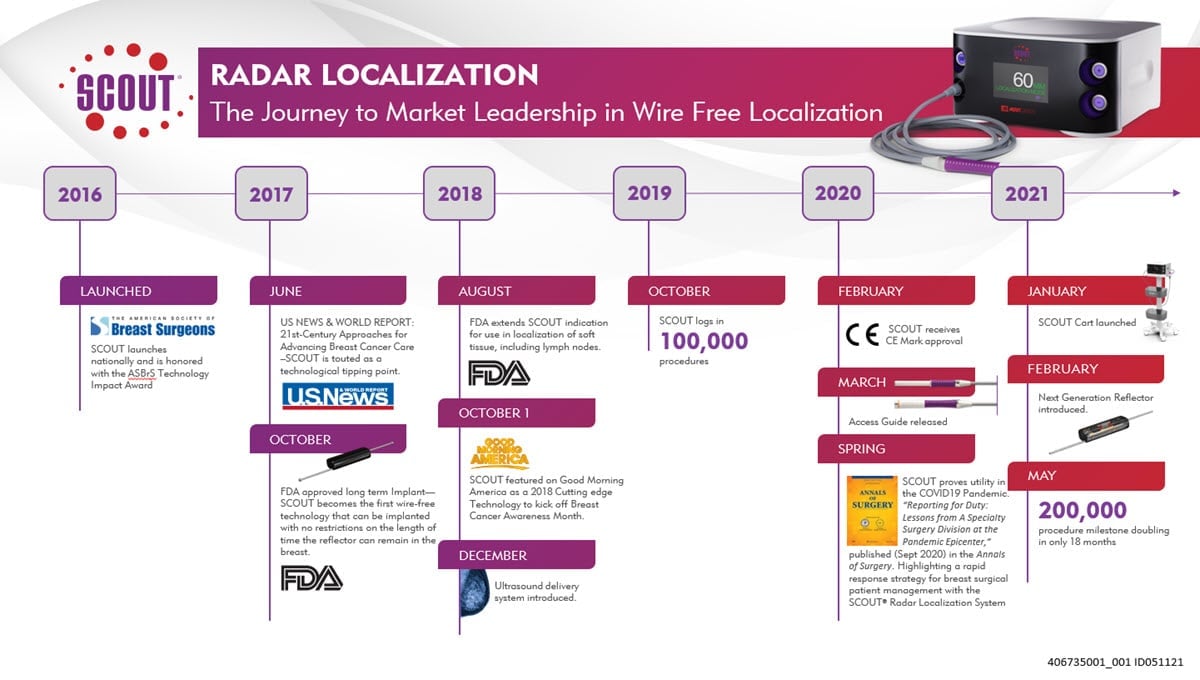 HOW DID WE GET HERE? THE SCOUT PLATFORM
With clinically insignificant MRI artifact, there is no restriction on the imaging modalities that can be used effectively throughout a patient's treatment. This gives physicians the ability to place a reflector at the time of biopsy, prior to neoadjuvant chemotherapy (NAC), and to enable targeted axillary dissection. While SCOUT has been used primarily for breast tumor localization, physicians are recognizing the clinical benefits, including 1+/- mm accuracy, 60-mm depth, and 360° detection, are applicable for myriad oncological applications, including nodes, sarcoma, and lung.
OUR COMMITMENT TO YOU
Merit Medical remains committed to you, your staff, and the patients you serve. We are dedicated to delivering exceptional customer service as well as more product enhancements and platform expansion to help reduce the burden cancer places on your patients and their loved ones. Thank you for your ongoing support and partnership through our journey to market leadership in wire-free localization with SCOUT.