10 Reasons Why IR's and IC's Should Attend April's ThinkRadial™ Course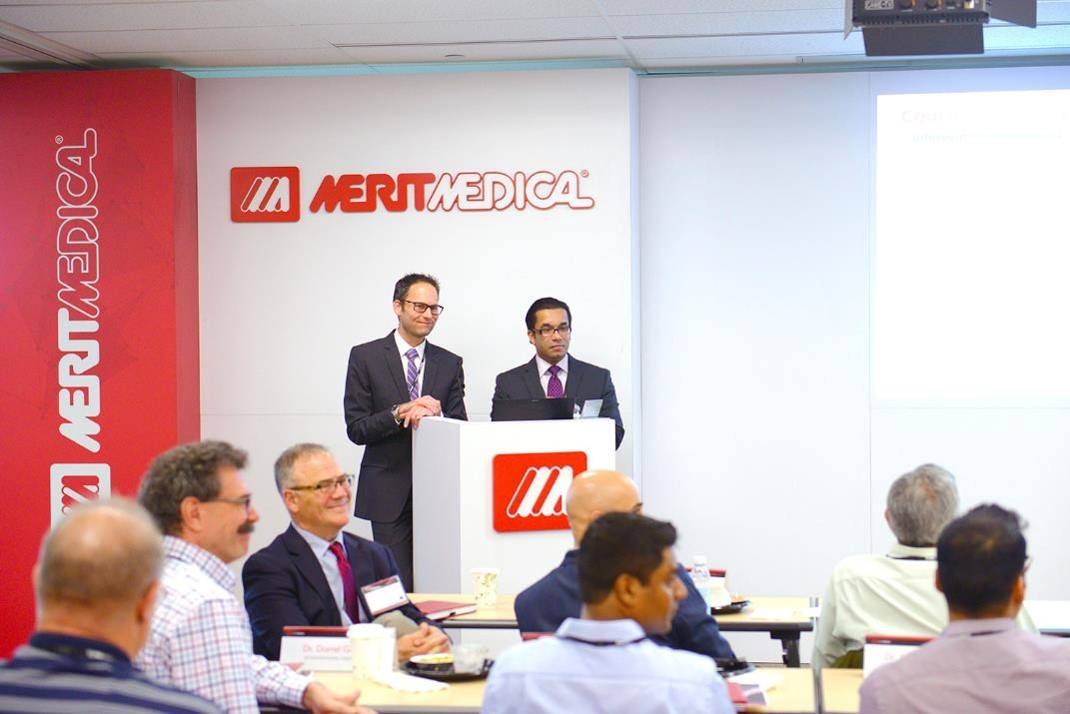 By Alicia Armeli
Twenty-five years ago, the first transradial coronary intervention was performed. This sparked the start of the Radial Revolution—a medical movement that put transradial procedures on the map as a way of treating patients without surgery. In honor of this progress, Merit Medical is hosting a special ThinkRadial® course April 21-22 for Interventional Radiologists and Interventional Cardiologists. Here's why you won't want to miss it.
Get a Front-Row Seat to Learn from the Father of Transradial Intervention
For the first time, Merit is honored to have the "Father of Transradial Intervention" himself—Dr. Ferdinand Kiemeneij—as the special guest of honor at a US ThinkRadial course. In 1992, Dr. Kiemeneij was the first to perform a transradial coronary intervention at the Onze Lieve Vrouwe Gasthuis in Amsterdam. Attendees will be able to learn from Dr. Kiemeneij's knowledge, expertise, and technique as he co-proctors this one-of-a-kind training opportunity. Read more about Dr. Kiemeneij in this special News Blog.
Stellar Proctors: a Chance to Be Trained by the Best
Alongside Dr. Kiemeneij, well-known physicians who are experts in the transradial technique will be proctoring attendees. Interventional Radiologist Darren Klass, MD, PhD, MRCS, FRCR, FRCPC, of Vancouver General and UBC Hospitals will be instructing Interventional Radiologists, while Sandeep Nathan, MD, MSc, FACC, FSCAI, of the University of Chicago Medical Center will be training Interventional Cardiologists.
New Advanced Interventional Cardiology Curriculum
To help Interventional Cardiologists advance to the next level of transradial, for the first time, the April ThinkRadial program features an Advanced Curriculum for Interventional Cardiologists. IC attendees will be able to share and troubleshoot complex cases, learn advanced transradial techniques, and hear an invaluable presentation by Dr. Kiemeneij about new radial techniques and advancements in the field.
True Hands-On Experience
Interventional Radiologists will have the opportunity to learn the radial technique through direct experience using cadavers, while Advanced Interventional Cardiologists will gain hands-on practice using ultrasound-guided access on realistic arm models.
Beginner Interventional Radiologists Welcome
Everyone must start somewhere! Merit invites Interventional Radiologists with little to no transradial experience to the training course, as well as those wanting to improve their technique. Introductory information, including patient prep and room set-up, will be presented.
Gain Knowledge By Learning From Each Other
Each advanced Interventional Cardiology attendee will present his/her own complex case for discussion and team troubleshooting. Learning from fellow Interventional Cardiologists can help you better understand potential complications and how to navigate them successfully.
Look Ahead
Physicians attending the course will learn how to implement the procedure in more complex interventions, expanding your ability to use the transradial approach in more situations. In addition, Dr. Kiemeneij will present new transradial techniques that demonstrate what's coming down the pipe!
Visit Salt Lake City and See Where Merit Does Its Magic
The ThinkRadial course will be held in beautiful Salt Lake City, Utah, at the Merit Medical Education Center.
Networking
This training event includes a group dinner where attendees can meet and greet each other, as well as listen to a memorable presentation by Dr. Kiemeneij.
It's On Us
Merit Medical will pay or reimburse for certain travel and other expenses associated with attending this program in accordance with the AdvaMed Code of Ethics and will appropriately disclose per the Sunshine Act. Travel and reimbursement information will be provided during the registration process.
To learn more about registration, visit Merit.com/Education. We hope to see you there!
Alicia Armeli is a paid consultant of Merit Medical. For a complete step-by-step guide to delivery, refer to instructions for Use. Please consult product labels and inserts for any indications, contraindications, potential complications, warnings, precautions and directions for use.
https://www.merit.com/wp-content/uploads/2019/07/merit-medical-header-logo.svg
0
0
Amy Swensen
https://www.merit.com/wp-content/uploads/2019/07/merit-medical-header-logo.svg
Amy Swensen
2017-03-20 13:44:08
2020-03-26 11:43:08
10 Reasons Why IR's and IC's Should Attend April's ThinkRadial™ Course