Hemodialysis access failures take a great toll on a patient's quality of life. Frequent hospital admissions, invasive diagnostic tests, and open and endovascular reinterventions are associated with increased morbidity.1 Maintaining vessel patency in hemodialysis patients is critical; however, surgical access durability is temporary at best, with half-life for arteriovenous grafts lasting approximately one year and arteriovenous fistulas providing only slightly better outcomes.1 A common failure of hemodialysis access is stenosis or occlusion of the dialysis outflow circuit. Obstructions caused by cellular migration and tissue accumulation across graft ePTFE layers can be a contributing factor.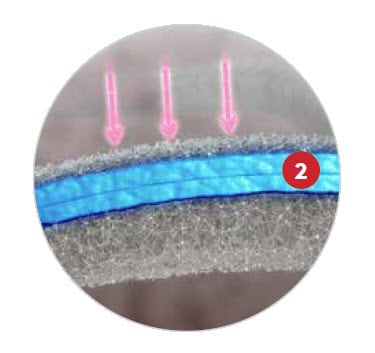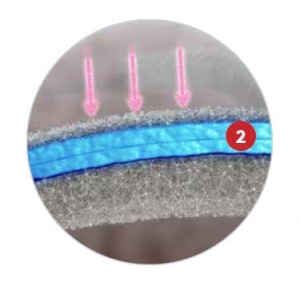 Addressing this clinical challenge, Merit Medical® introduced the Merit WRAPSODY™, a novel endoprosthesis designed with a revolutionary cell-impermeable middle graft layer. With this unique feature, the Merit WRAPSODY Endoprosthesis inhibits transmural cellular migration without the use of drug bonding, helping to prevent obstructions from forming within the endoprosthesis.
To evaluate device performance, Dolmatch et al. published a study 2 in the Journal of Vascular and Interventional Radiology comparing the patency, cellular response, and thrombogenicity of the Merit WRAPSODY with that of a leading ePTFE covered stent. Both Merit WRAPSODY and leading ePTFE covered stent grafts were implanted in the external iliac arteries of 14 adult sheep for 30 (n = 4), 90 (n = 4), and 180 (n = 6) days. Angiographic patency and percent diameter stenosis (%DS) were assessed at termination. Excised stent grafts were fixed and stained for histopathologic analysis, including neointimal coverage (NC) assessment.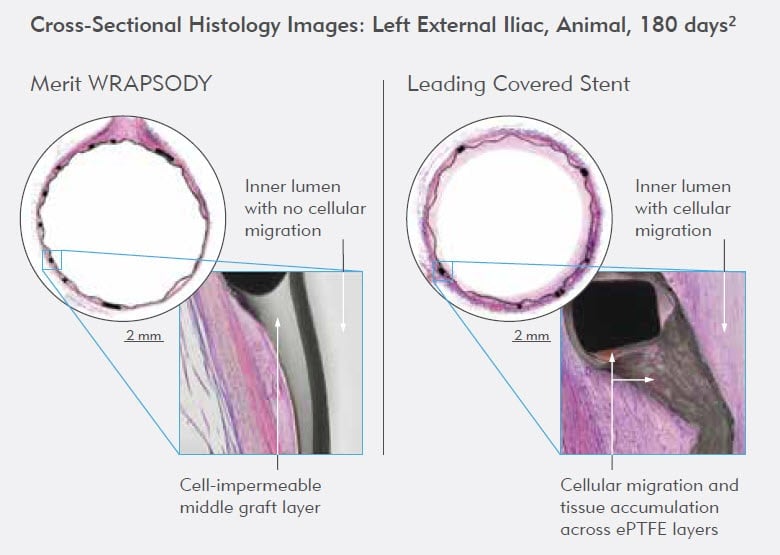 Results showed that the Merit WRAPSODY had lesser mean %DS in comparison to the leading ePTFE covered stent: 4.6% vs. 8.2% (P = .563), 2.0% vs. 10.9% (P = .363), and 2.1% vs. 10.3% (P = .009) at 30, 90, and 180 days, respectively. In addition, median NC scores at 30, 90, and 180 days were significantly lower in middle Merit WRAPSODY sections (P <.05). Proximal and distal Merit WRAPSODY and leading ePTFE covered stent sections exhibited similar median NC scores at all time periods (P >.05).
The authors of the study concluded that the Merit WRAPSODY's cell-impermeable middle graft layer prevented cellular migration and tissue accumulation across device layers and around nitinol stent struts better than the leading ePTFE covered stent.
In addition to animal models, human trials to investigate the Merit WRAPSODY's safety and effectiveness are currently underway. The WRAPSODY FIRST, an ongoing clinical trial, will have 6-month and 12-month patency data available at the beginning of next year. Moreover, the WRAPSODY AV Access Efficacy (WAVE) IDE study is expected to start enrolling patients in January 2021. Merit received the CE mark for the Merit WRAPSODY™ from the British Standards Institution (BSI) earlier this year.
Every day Merit works to create solutions to clinical challenges that once seemed impossible. Engineered with dialysis patients in mind, the Merit WRAPSODY Endoprosthesis provides a viable treatment option that preserves functional hemodialysis access.
Discover the Merit WRAPSODY and its many innovative design features by visiting the product page, and contact Customer Service for more information about how you can incorporate the Merit WRAPSODY into your practice.
Important: This product is intended for sale and/or use only in the European Union, for use in hemodialysis patients for the treatment of stenosis or occlusion within the dialysis outflow circuit of an arteriovenous (AV) fistula or AV graft. This product is not approved, cleared or available for sale or use in the United States, and may not be approved, cleared or available for sale or use in other countries. Before using any product, refer to the Instructions for Use (IFU) for indications, contraindications, warnings, precautions, and directions for use.
---
Related
---
References
Rodriguez, Eduardo, et al. 2017. "Hemodialysis Outflow Vein Stenosis." In Hemodialysis Access Fundamentals and Advanced Management, edited by Sherene Shalhub, Anahita Dua, and Susanna Shin, 257–263. Switzerland: Springer International Publishing.
Dolmatch, Bart L., John W. Hall, Wayne L. Mower, and Serge D. Rousselle. 2020. "Evaluation of a Novel Spun Polytetrafluoroethylene Stent Graft in an Ovine External Iliac Artery Model." Journal of Vascular and Interventional Radiology 31: 494–502.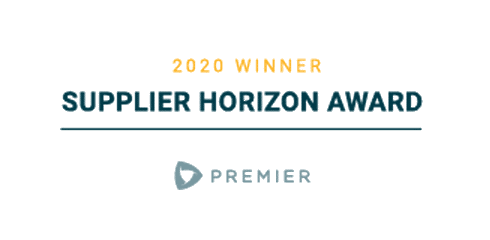 Merit Medical is proud to be a 2020 Recipient of the Supplier Horizon Award, presented by Premier Inc., a leading healthcare improvement company that unites an alliance of more than 4,100 U.S. hospitals and health systems and approximately 200,000 other providers and organizations to transform healthcare.
One of only nine suppliers to receive the award this year, Merit was recognized for its oncology division's support of Premier members through exceptional local customer service and engagement, value creation through clinical excellence, and commitment to lower costs.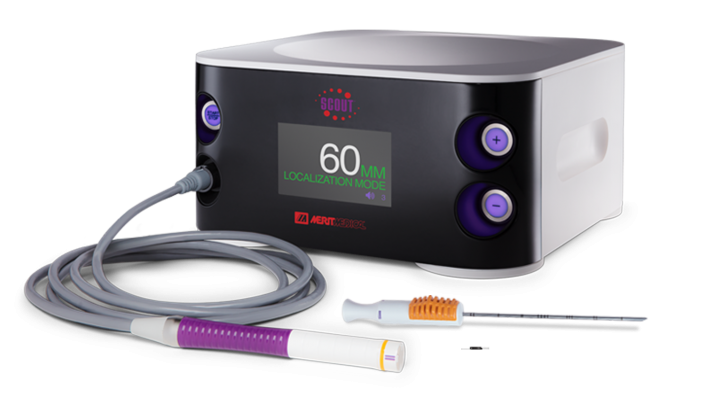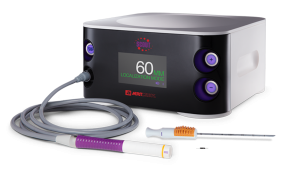 Merit Oncology's leading technology is SCOUT® Radar Localization, an advanced wire-free radar localization system designed to improve the precision and predictability of marking tumors, biopsy sites, and lymph nodes prior to neoadjuvant therapy and surgery. SCOUT Radar Localization is the wire-free platform that exclusively spans the care continuum from biopsy to surgery.
Used in more than 770 hospitals, October 2020 marked a milestone for SCOUT, as more than 150,000 women have experienced a wire-free localization.
---
Related News
In an effort to slow the spread of COVID-19, many companies are asking employees to work from home. Though working remotely can have its perks (comfy clothes, need I say more?), this type of flexibility may make it difficult for some to focus and be productive.
Working from home brings up a host of questions: How do I maintain work-life balance? How can I ensure my productivity is at its best? What aboutavoiding distractions? As work needs differ from person to person, at-home employees are learning how to resolve these issues in ways that fit their individual needs.
Whether you're one of those work-from-home naturals or you need a bit of help adapting to your new norm, having a toolkit of resources available is always a plus. Here are 9 tips to help you improve your at-home work environment, making it more productive, focused, and enjoyable.
#1 – Create a Schedule and Stick to It
When there's no literal clock to punch or office building to frequent, you may find it more difficult to adhere to normal working hours. If this is the case, creating guidelines for when to start and stop work can help maintain work-life balance. Setting alarms on your phone or computer can remind you to begin and end your day on time. Utilizing time-tracking apps, like Rescue Time, can aid in knowing when in your day you're most focused or distracted. Exploring this information may help to structure your workdays in ways that are most productive, helping you to get the most out of your set hours.
#2 – Safeguard Your Time
For those who haven't worked from home, images of bingeing your favorite episodes and taking long, leisurely lunches may come to mind. However, the opposite is usually more realistic. Working from home may make it hard for many to call it a day because it's more difficult to "leave" work. To avoid this issue, communicate your work hours with both colleagues and family.
#3 – Build a Routine
Stumbling from the bedroom to your home office might not be the most motivating way to start work. Building a routine that gently starts your day can help. Make a list of your favorite morning-time activities. This could be sipping coffee, stretching on your yoga mat, listening to a podcast, or making a healthy breakfast. Use your list to create a personalized morning-routine map to follow. Adhering to a routine can help to set you up for a more positive start to your workday. If work doesn't begin for you in the morning, this advice can be applied to any "start" of a workday.
#4 – Schedule Breaks
This is a big one. How many times have you found yourself in the zone, not even realizing that several hours have gone by without taking a break? I applaud you for your focus—but plain and simple, we all need breaks. Fitting regular breaks into your workday has been found to increase productivity, improve mental well-being, boost creativity, and offer more time for healthy habits (like eating a nutritious lunch or snack, standing and stretching, drinking water, etc.). Apps like Time Out can help you schedule thoughtful breaks into your day.
#5 – Designate a Place to Work
This doesn't have to be a fancy office in a separate wing of your home. It can be as simple as a small desk and back-supportive chair (your posture will thank you), a laptop connected to a larger monitor (again, your eyes will thank you), and a mouse and keyboard. Stock your drawers with paper, pens, highlighters, and whatever you need to move through your day with ease. Find ways to decorate your office that will motivate you. Maybe this means framing an inspirational quote on your wall or posting your goals somewhere you can see them.
#6 – Communicate Regularly
Something as simple as picking up the phone to voice your needs and ideas, and making sure your team knows how to reach you in return, can go a long way to help ensure tasks runs smoothly. Your company may already have virtual communication tools in place. But if not, conferencing apps like Zoom, Microsoft Teams, and Slack are other options that bring team communication to new heights, allowing you to move projects forward by combining the people, discussions, and information needed.
#7 – Don't Forget to Socialize
Wait, what? Socialize? Yes, socialize. Working from home means there's no more chatting with people in the breakroom or the elevator. Yet, this type of interaction is important to maintain. Make time every day to check in with your co-workers. This may mean joining a virtual meeting a few minutes early to see how everyone's weekend went or sending a quick DM to say hi. Doing small things like this can help to bring teams together—even when working apart.
#8 – Stay Active
Working from home in a pandemic means we have to get creative about how we stay active. During work, set a timer that prompts you to stand and stretch. Have a yoga mat nearby as an extra reminder. Take advantage of apps, like this 7-Minute Workout one, that encourage short bursts of daily activity that can easily be done during your breaks. Walking in place during meetings is another way to avoid sitting all day. If you miss exercising after work, try virtually running with friends or an online yoga class.
#9 – Learn to Share Your Space
For those of us who live with family members or roommates, there's no better time than the present to make clear your work hours. In addition, be proactive about incidences in your day that can interrupt your work flow, such as the arrival of maintenance personnel during an important phone call. Try to schedule these types of appointments outside of work hours or request someone in your household be available to take care of what's needed.
Working from home takes adjusting, so be kind to yourself as you navigate this new part of your life. Change takes time. However, using every situation as a way to learn about yourself can help you to create your perfect at-home work environment.
---
Rick Portrey
Director of Talent Acquisition, US and Global, Merit Medical
---
Resources