Designed for Pneumothorax and Pleural Effusion Procedures
The ReSolve Thoracostomy Tray allows air (pneumothorax) and fluid (pleural effusion) to be drained from the pleural space through a minimally invasive percutaneous approach rather than through an open surgical approach.
Features & Benefits
ASSEMBLED TO INCREASE PROCEDURAL EFFICIENCY.
The ReSolve Thoracostomy Tray has been designed with procedural ease in mind. Each tray component is placed in procedural order, helping to provide you with a smoother experience. To further support your pneumothorax and pleural effusion procedures, a ReSolve catheter is included that offers several features designed to aid in correct placement.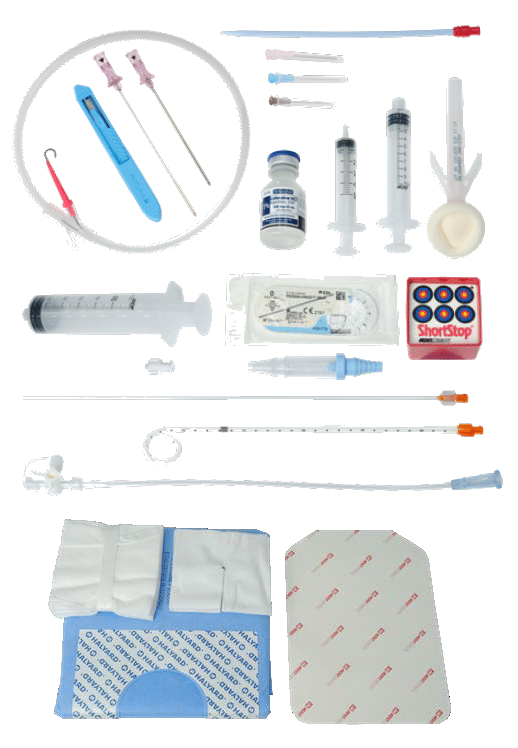 RESOLVE THORACOSTOMY TRAY INCLUDES:
(1) Pigtail Drainage Catheter, 14F x 25 cm
(1) Flexible Stiffening Cannula
(2) ChloraPrep™ Applicator (Orange Tint), 3 mL
(1) Drape 
(10) Gauze, 4″ x 4″
(1) Lidocaine, 20 mL
(1) Needle, 18G x 1.5″
(1) Needle, 22G x 1.5″
(1) Needle, 25G x 1.5″
(1) Luer Lock Syringe, 10 mL
(1) Luer Lock Syringe, 60 mL
(1) Slip Syringe, 5 mL
(1) Male-Female Non-vented Cap
(1) Needle Access, 18G x 2″
(1) Needle Access, 18G x 3.5″
(1) Futura® Safety Scalpel, #11
(1) ShortStop® Temporary Sharps Holder
(1) Guide Wire, 0.038″ x 80 cm
(1) Dilator, 14F
(1) 3-Way Stopcock
(1) Connecting Tube
(1) Heimlich Valve
(1) Suture 0 Silk
(2) Split Gauze, 4" x 4"
(1) Clear Dressing
---
ReSolve Catheter Features:

1 - Large Drainage Holes
Achieve fast pneumothorax and effusion drainage with multiple large drainage holes.
2 - Radiopaque Marker
Identify location of the most proximal drainage hole.
3 - Depth Markers
Ideal reference for correct positioning and accurate placement.
Documents
Discover more about the ReSolve Thoracostomy Tray by reviewing the product documents.
Loading...