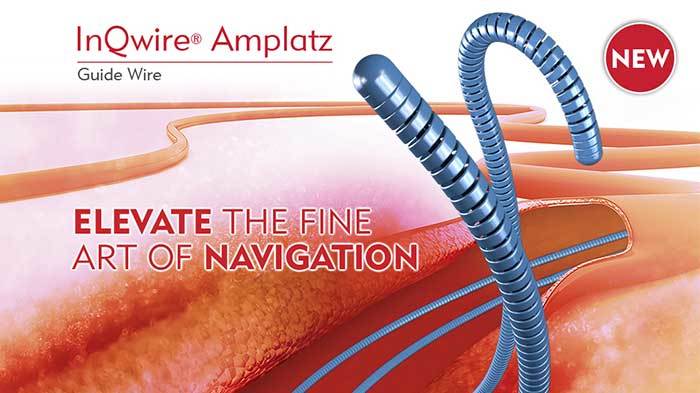 Elevate the Fine Art of Navigation
The right guide wire accomplishes many things. It can serve both diagnostic and interventional purposes. The right guide wire is versatile and facilitates procedures of various clinicians, including interventional radiologists, interventional cardiologists, vascular surgeons, and interventional nephrologists. But most of all, the right guide wire can help you get the job done.
That's why Merit Medical is proud to launch the InQwire® Amplatz diagnostic guide wire.
Choosing the right guide wire starts with familiarizing yourself with its performance characteristics. The InQwire Amplatz guide wire is held at a very high standard by six pillars of performance:
Stiff Shaft Construction
Stiff guide wires provide the support needed to introduce catheters and other devices during procedures. Available in multiple lengths, the InQwire Amplatz's larger inner core wire provides additional stiffness, which improves stability of devices within the vessels and enhances navigation of the devices throughout the vasculature. The InQwire Amplatz delivers push and navigation without compromising tip flexibility.
Multiple Tip Configurations
Tip flexibility means more tip configuration options to help navigate through tortuous anatomy. InQwire Amplatz's straight tip wires are available in a variety of flexible profiles, including 1.0 cm, 3.5 cm, 4.0 cm, 6 cm, 7 cm, and J3 mm configuration.
Atraumatic Tip Design
The combination of the smooth transition of the distal weld joint, and the soft flexible atraumatic tip assists with negotiation of the most difficult anatomy.
Improved Lubricity
The InQwire Amplatz goes even further to support manipulation and advancement of catheters and other devices through the vessels with its proprietary PTFE coating. This feature provides improved lubricity along the entire wire surface, ensuring smooth manipulation throughout the vasculature. Data show Merit's InQwire Amplatz is 20% more lubricious than the leading competitor.*
Device Placement Support
Not only does the lubricious coating help smooth advancement of devices through vessels, it reduces friction along the wire. Combined with this special coating, added stiffness provides extra support to facilitate advancement of devices, stability during device placement, and with exchanges during contralateral access. Highly-radiopaque material supports visibility.
Compatibility
The InQwire Amplatz is compatible with 0.035 in. and 0.038 in. devices, translating into more device options for your procedures.
And if all of these product benefits aren't enough, Merit offers an extensive product offering to meet the needs of your most complex procedures.
Now that you're familiar with all of InQwire Amplatz's advantages, ask yourself:
Does your guide wire do that?
* Data on file   703991001/A