June 2017 ThinkHeRO: Gain hands-on experience with the HeRO® graft at the World-Class MITIESM Lab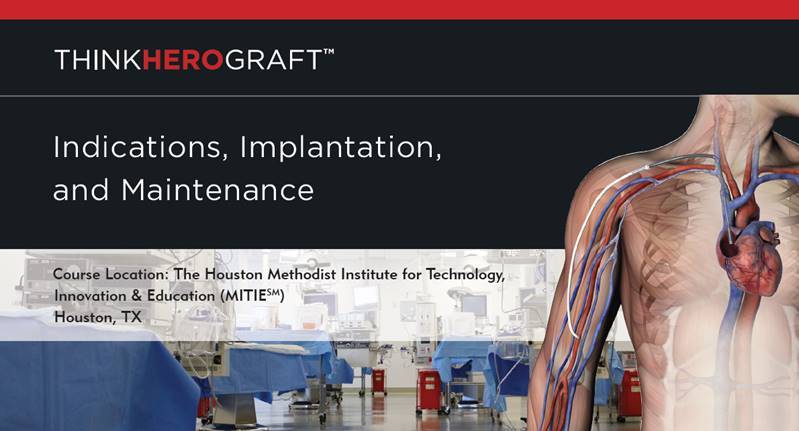 Have you signed up for the June ThinkHeRO course yet? If you haven't, you'll want to because June's training is the last ThinkHeRO course held in 2017 at the world-class Houston Methodist Institute for Technology, Innovation & Education (MITIESM).
What does this mean for you if you attend June's ThinkHeRO training?
HeRO graft training at MITIE means you'll have the opportunity to learn cutting-edge skills and have access to the latest technologies that will help support the advancement of your interventional and surgical procedures. June's ThinkHeRO course is like no other because you'll have the opportunity to rehearse, perfect, and perform techniques using cadavers in a state-of-the-art cadaver lab. Broken up into two groups for more individualized instruction, skills training such as placing a new implant, revising an existing implant, placing the venous outflow component from different access sites, identifying the anastomosis and tunneling will be addressed. These topics will be put into practice again in the SIM Lab using MITIE's advanced training models.
Clinical discussions will also be taking place throughout the course that focus on HeRO graft tips, troubleshooting, and clinical guidelines. You'll be invited to dive into several case study discussions with other physicians, enabling you to familiarize yourself with HeRO clinical scenarios that will help prepare you for challenging cases. At the end of the training, you'll also receive help on how to build your own HeRO program.
One more reason you'll want to reserve your seat for June's ThinkHeRO course is that you'll be taught by one of ThinkHeRO's foremost leaders, Eric Peden, MD, Chief of Vascular Surgery at Methodist DeBakey Heart and Vascular Center. Dr. Peden has a rich history as both a surgeon and an instructor with vast experience and expertise that he'll share with ThinkHeRO attendees. As the recipient of multiple accolades, Dr. Peden has been awarded the A.O.R.N. Distinguished Surgeon Award and Attending Teaching Award (Vascular Surgery Fellows). His stellar background also includes instructing at Baylor College of Medicine as Assistant Professor of Vascular Surgery before joining Methodist as Assistant Professor of Cardiovascular Surgery.
Visit us at https://www.merit.com/education/course_dates/#Hero and sign up today to be part of June's special ThinkHeRO training held at MITIE. We look forward to seeing you there!
Merit Medical
https://www.merit.com/wp-content/uploads/2018/11/merit-header-logo.svg
Merit Medical
2017-05-22 15:47:54
2018-02-23 12:09:02
June 2017 ThinkHeRO: Gain hands-on experience with the HeRO® graft at the World-Class MITIESM Lab