StabiliT Bone Cement – Trusted Cement. Simplified Delivery.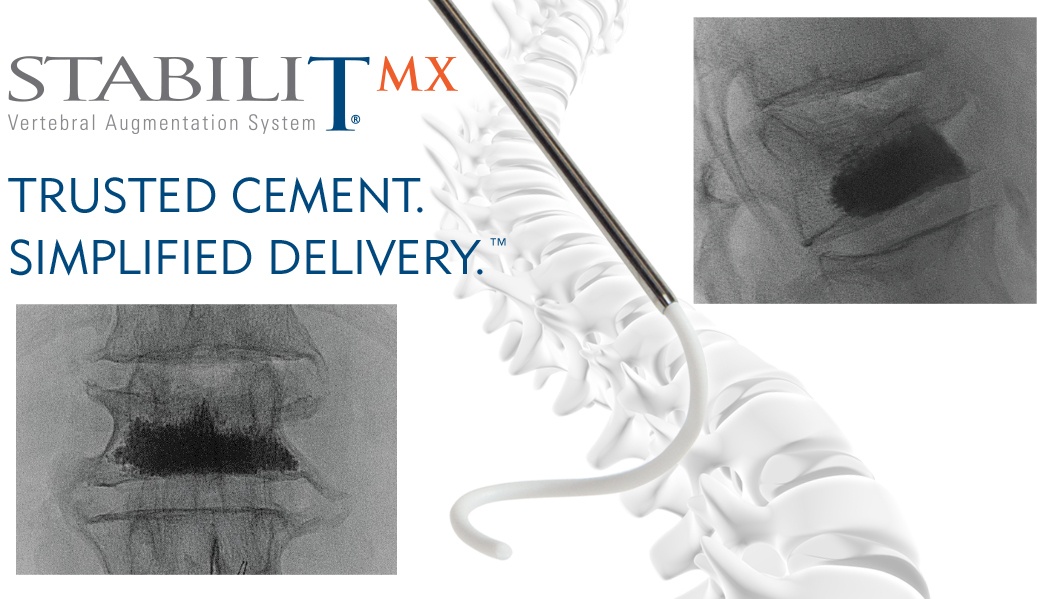 Thirty years ago, the first-generation percutaneous vertebral augmentation (PVA) system was introduced for the management of painful pathologic vertebral compression fractures. Since then, PVA treatment has had dramatic improvements in both bone cement formulations and delivery systems.
For example, higher cement viscosity has been considered desirable in recent years, but as viscosity increases, working time decreases. Therefore, conventional high-viscosity cements, with relatively short working times, often result in cement clogging the delivery system prior to the physician completing a procedure.
To address such challenges head on, Merit Medical's portfolio of StabiliT Bone Cement with expanded delivery options in the StabiliT Vertebral Augmentation Systems has two main advancements over the competition: 35-minutes extended working time with remotely controlled delivery and trusted high-viscosity bone cement.
Merit's unique proprietary StabiliT Bone Cement formulation offers physicians time flexibility to do a procedure in a controlled fashion, regardless of its complexity and number of levels requiring treatment. Physicians can also routinely initiate procedures with a unipedicular approach and still have adequate working time to convert to a bipedicular procedure, if required, avoiding the need to rush or mix additional cement.
Complex procedures that necessitate extended working time can also depend on StabiliT Bone Cement maintaining its high-viscosity. Bone cement viscosity has been shown to correlate to procedural success. How bone cement interacts with the fractured vertebral body determines how the cement stabilizes a fracture and/or extravasates (leaks).1 In an ex-vivo assessment of vertebral augmentation procedures, Lador et al. noted that several factors, specifically cement viscosity and rate of delivery, could influence cement flow within and leakage out of the vertebral body.1,2 Georgy reported approximately 50% less cement leakage using a controlled delivery of ultra-high viscosity cement after cavity creation with an osteotome compared to a lower viscosity cement in balloon kyphoplasty cases.3
In the original StabiliT Vertebral Augmentation System, proprietary ultra-high viscosity bone cement is heated with radiofrequency (RF) as it passes through a warming cartridge and its polymerization is accelerated just prior to being delivered into the vertebra. The controller's software algorithm applies more RF energy initially to rapidly increase the cement viscosity and then less as time goes on, enabling the delivery of the same ultra-high viscosity over an extended working time. Delivery of this ultra-high viscosity cement is remotely controlled by the physician at an optimized delivery rate.
In response to some physicians desiring this same control but in a simplified design, Merit launched the StabiliT MX Vertebral Augmentation System. The StabiliT MX uses high-viscosity bone cement that has the same clinical benefits and same 35-minute extended working time, but it doesn't require a controller or RF energy. The StabiliT MX provides high-viscosity cement that's hand delivered using an ergonomic precision syringe.
The StabiliT MX delivery syringe contains a quick release clutch mechanism that allows for immediate cement flow stoppage. The use of a 3-foot hydraulic line increases the distance from which cement is conventionally hand delivered, helping to minimize a physician's radiation exposure.4 Other features include a unique vacuum-based mixing system and articulating instrumentation for site and size specific cavity creation.
PVA treatment has been shown to significantly relieve pain of vertebral compression fractures.5 Merit is committed to providing technology that gives physicians maximum control as well as flexibility in cement and delivery options in order to optimize patient care. By using Merit's trusted cement and simplified delivery systems, why not bring these benefits to your practice?
Alicia Armeli is a paid consultant of Merit Medical. For more information please refer to Instructions for Use. Consult product labels and inserts for any indications, contraindications, potential complications, warnings, precautions and directions for use.
REFERENCES
Lador, R., Dreiangel, N., Ben-Galim, P., et al. (2010). A pictorial classification atlas of cement extravasation with vertebral augmentation. Spine J, Dec; 10(12): 1118-1127.
Loeffel, M., Ferguson, S. J., Nolte, L. P., et al. (2008). Vertebroplasty: experimental characterization of polymethylmethacrylate bone cement spreading as a function of viscosity, bone porosity, and flow rate. Spine, May; 33(12):1352–1359.
Georgy, B. (2013). Comparison between radiofrequency targeted vertebral augmentation and balloon kyphoplasty in the treatment of vertebral compression fractures: addressing factors that affect cement extravasation and Pain Physician, Sept-Oct; 16(5): E513-518.
Radiology Masterclass. (n.d.). Basics of X-Ray Physics. Retreived from http://www.radiologymasterclass.co.uk/tutorials/physics/x-ray_physics_safety
Mpotsaris, A., Abdolvahabi, R., Hoffleith, B., et al. (2011). Percutaneous vertebroplasty in vertebral compression fractures of benign or malignant origin: a prospective study of 1188 patients with follow-up of 12 months. Dtsch Arztebl Int, May; 108(19): 331-338.
https://www.merit.com/wp-content/uploads/2015/12/StabiliTMX_Cement_slider.jpg
599
1037
Amy Swensen
https://www.merit.com/wp-content/uploads/2018/11/merit-header-logo.svg
Amy Swensen
2017-06-28 11:32:03
2020-03-26 11:25:38
StabiliT Bone Cement – Trusted Cement. Simplified Delivery.