Announcing September Think Access™ Education Course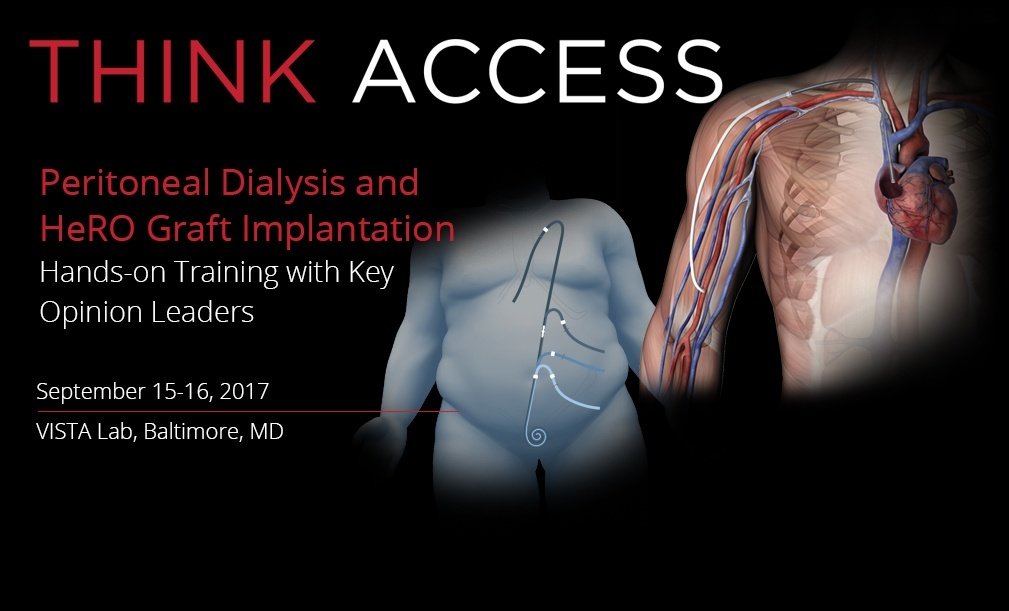 Have you signed up for the September Think Access™ training course yet? September's training is the first time that superpowers have been combined, adding comprehensive training for both the HeRO®/Super HeRO® Graft and for Peritoneal Dialysis (PD) systems. We are happy to announce that training for this exclusive course will be held at the VISTA lab in Baltimore, Maryland Friday, September 15th through Saturday the 16th.
HeRO Graft and PD training at VISTA means you'll have the opportunity to learn cutting-edge skills and have access to the latest technologies that will help support the advancement of your interventional and surgical procedures. September's Think Access course is like no other because you'll be able to rehearse, perfect, and perform techniques using cadavers (HeRO portion only) and simulators in a state-of-the-art facility. Broken up into two groups for more individualized instruction, training such as placing new implants and catheters as well as complications/tips and tricks will be covered. For HeRO, you'll revisit existing implants, placement of the venous outflow component from different access sites, identifying the anastomosis and tunneling will be addressed. These topics will be put into practice again in the SIM Lab using VISTA's advanced training models.
Clinical discussions will also be taking place throughout the course that focus on PD and HeRO Graft tips, troubleshooting, and clinical guidelines. You'll be invited to dive into several case study discussions with other physicians, enabling you to familiarize yourself with HeRO and PD clinical scenarios that will help prepare you for challenging cases.
You'll be taught by two of the foremost thought leaders, John H. Crabtree, MD Chair of PD University for Surgeons-North America and Jesse Garcia, MD, Vascular Surgeon at MedStar Heart & Vasculature Institute at MedStar Washington Hospital Center.
Dr. Crabtree has pioneered modifications and enhancements to the laparoscopic placement for peritoneal dialysis patients and has authored numerous articles covering dialysis catheters, implantation techniques, and resolution of dialysis access complications. He currently serves as Visiting Clinical Faculty at Harbor-UCLA Medical Center and as the Activity Director for ISPD-sponsored surgeon education programs for Europe.
Jesse Garcia, MD, is a board-certified general surgeon who specializes in vascular access surgery for patients diagnosed with kidney failure who need dialysis. His passion for practicing medicine began with his father, who led the cardiac surgery program at MedStar Washington Hospital Center into the 1980s.
Dr. Garcia is part of a team of vascular surgeons at MedStar Heart and Vascular
Institute (MHVI) that is performing the greatest volume of HeRO™ graft placements in the country. This unique new technology has made a dramatic impact on patients' lives because it reduces significantly the risk and frequency of infection associated with the standard venous catheter use.
Sign up today to be part of September's special Think Access training held at the VISTA Lab in Baltimore. We look forward to seeing you there!
https://www.merit.com/wp-content/uploads/2017/07/ThinkAccess.blog_.jpg
611
1009
Colin Bell
https://www.merit.com/wp-content/uploads/2019/07/merit-medical-header-logo.svg
Colin Bell
2017-07-14 14:02:16
2018-07-19 14:16:57
Announcing September Think Access™ Education Course