NAVIGATE. CAPTURE. SUCCEED.
The ONE Snare Endovascular Snare System is a single-loop snare designed to provide both accuracy and reliability for effective foreign body manipulation and retrieval. 
Features & Benefits
The ONE Snare can be used to retrieve inferior vena cava filters, reposition indwelling venous catheters, strip fibrin sheath formation, or assist in central venal access venipuncture. Superelastic Nitinol provides flexibility and kink resistance. Gold-plated tungsten is wrapped around the Nitinol loop for excellent visualisation under fluoroscopy. The ONE Snare is available in 15 kit configurations with 10 loop diameter sizes ranging from 2mm to 35mm.
---
ACCURACY
Gold-plated tungsten loop is highly visible under fluoroscopy to provide true orientation.
Radiopaque marker band on the snare delivery catheter identifies its precise location.
90-degree angle loop for a coaxial approach to foreign body capture.
Nitinol core wire allows for shape memory for support during vessel navigation.
RELIABILITY
Nitinol and gold-plated tungsten loop retains its circular shape to support the capture of foreign bodies.
Snare delivery catheter is constructed of a high performance copolymer material which offers strength during foreign body retrieval to minimize the potential for kinking and buckling.
Insertion tool with unique, peel-away design provides quick and efficient snare loading.
Easy-to-grip torque device supports snare torqueability.
OPTIONS
Available in fifteen kit configurations with ten loop diameter sizes ranging from 2 mm to 35 mm.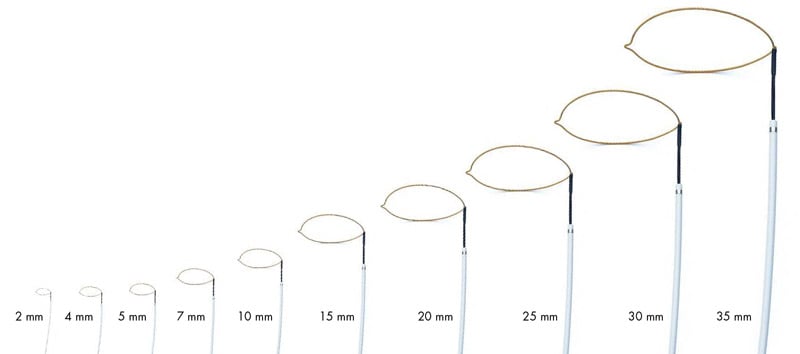 Documents
Discover more about the ONE Snare® Endovascular Snare System by reviewing the brochures and Instructions for Use.
Loading...