Higher performance when you need it most
Designed for high and low pressure procedures, the basixTOUCH40 provides expanded capability with the security and confidence in performance that comes from using a Merit product.
Features & Benefits
Expanding your capacity with the innovation, quality, and reliability that Merit customers have enjoyed for over 25 years.
SPEED + PERFORMANCE
The average procedure may require multiple inflations, making the time required for inflation and deflation critical. The basixTOUCH40 delivers the speed you need and the performance you demand to meet the needs of your busy lab.
Quick-release handle for easy release, even from high-pressure inflations, accelerating deflation time.
Ergonomic handle and large threads ensure that high pressures can be reached rapidly—up to 40 atm with as few as 3 rotations of the handle.*
One-handed preparation – Preparation made easy with unique one handed air removal. Simply press handle against solid surface to prep syringe.
Clarity – better visibility with clear 360° viewing of syringe barrel.
*Rotations vary depending on balloon volume.
VERSATILITY
Today's clinicians have to be prepared to deliver a wide variety of stents and balloons. Many procedures today require high pressures. The versatility of the basixTOUCH40 can provide you the extra performance you need.
40 ATM pressure capacity allows inflation of high pressure interventional balloons.
30 mL syringe barrel accommodates additional fluid for large balloons.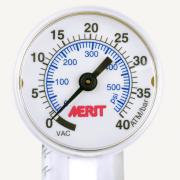 Documents
Discover more about the basixTOUCH40™ Inflation Device by reviewing the brochures and Instructions for Use.
Loading...