Predictable, Flow-Directed Targeting
QuadraSphere Microspheres are calibrated, hydrophilic, & compress up to 80% to facilitate smooth microcatheter delivery.
Features & Benefits
Predictable, Flow-Directed Targeting
QuadraSphere® Microspheres are calibrated, hydrophilic and compress up to 80% to facilitate smooth microcatheter delivery. Once through the microcatheter, they rebound to their stated spherical shape with a consistent cross-sectional diameter for predictable, flow-directed targeting. 
Targeted Occlusion
The in vivo median diameter of occluded arteries is significantly different between sizes of QuadraSphere Microspheres,* providing targeted occlusion.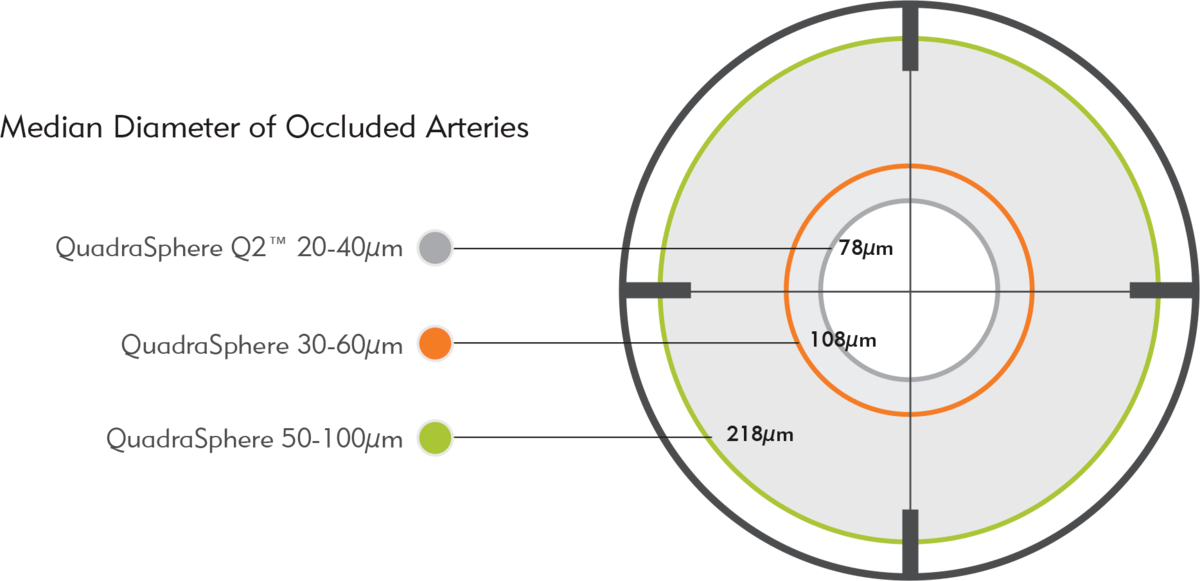 QuadraSphere Q2 Microspheres demonstrate a median occlusion of 78 µm, a statistically significant difference compared to larger sizes of QuadraSphere.
*Swine liver embolization model study performed for Merit Medical. QuadraSphere Microspheres prepared in 50/50 mixture of saline/contrast.

Angiographies of hypervascularized tumor pre- and post-embolization illustrate the ability of QuadraSphere Microspheres to perform a targeted embolization.
Experience the Power of Conformability
QuadraSphere Microspheres are soft and easily conform to the vessel lumen for complete occlusion:
Decreasing the risk of vessel recanalization1
Enabling greater tumor necrosis2,3
Providing optimal contact between the vessel wall and microsphere surface1,4
Enhancing the embolic effect, reducing the amount of product needed to reach embolization endpoint1
 Established
QuadraSphere Microspheres are a recognized and accepted platform for targeted liver embolization. QuadraSphere Microspheres are indicated for:
Hepatoma
Arteriovenous Malformations (AVM)
Hypervascular Tumors (HVT)
Super-Absorbent Polymer
Referred to as super-absorbent polymer (SAP) microspheres, QuadraSphere Microspheres are packaged dry, but once exposed to aqueous-based media, they swell to approximately 4x the size printed on the product label.
---
References
Bilbao JI, de Luis E, Garcia de Jalón JA, et al. Comparative study of four different spherical embolic particles in an animal model: a morphologic and histologic evaluation. J Vasc Interv Radiol 2008 Nov;19(11):1625-38.
Lee KH, Liapi E, Vossen JA, et al. Distribution of iron oxide-containing Embosphere particles after transcatheter arterial embolization in an animal model of liver cancer: evaluation with MR imaging and implication for therapy. J Vasc Interv Radiol 2008 Oct;19(10);1490-6.
Wáng YXJ, De Baere, Idée JM, et al. Transcatheter embolization therapy in liver cancer: an update of clinical evidences. Chin J Cancer Res 2015;27(2):96-121
Van Malenstein H, Maleux G, Vandecaveye V, et al. A randomized phase II study of drug-eluting beads versus transarterial chemoembolization for unresectable hepatocellular carcinoma. Onkologie 2011;34(7):368-76.