Experience the Latest in Hydrophilic Technology
The Merit Laureate hydrophilic guide wire provides an optimum level of lubricity to cross the most difficult lesions and facilitates successful clinical outcomes in the most challenging procedures.
Durability and Lubricity
The resilient hydrated gel coating provides a constant fluid layer on the wire surface for optimum lubricity and long lasting durability.
Enhanced Visibility
Nitinol core wire and radiopaque jacket are designed to provide enhanced visibility.
1:1 Torque Response
Designed to provide true 1:1 torque response to facilitate navigation and rapid vessel selection.
Watch the Torque Control and Turn-for-Turn Responsiveness
Features & Benefits
Merit Laureate hydrophilic guide wires facilitate the placement of devices during diagnostic and interventional procedures. Its exceptional torque control, turn-for-turn responsiveness, and enhanced lesion crossability demonstrates high performance in navigating tortuous vessels. The hydrophilic coating demonstrates enduring lubricity and consistent surface coating adhesion. The Laureate was designed to reduce wire whipping, minimize friction, and to promote rapid catheter exchanges.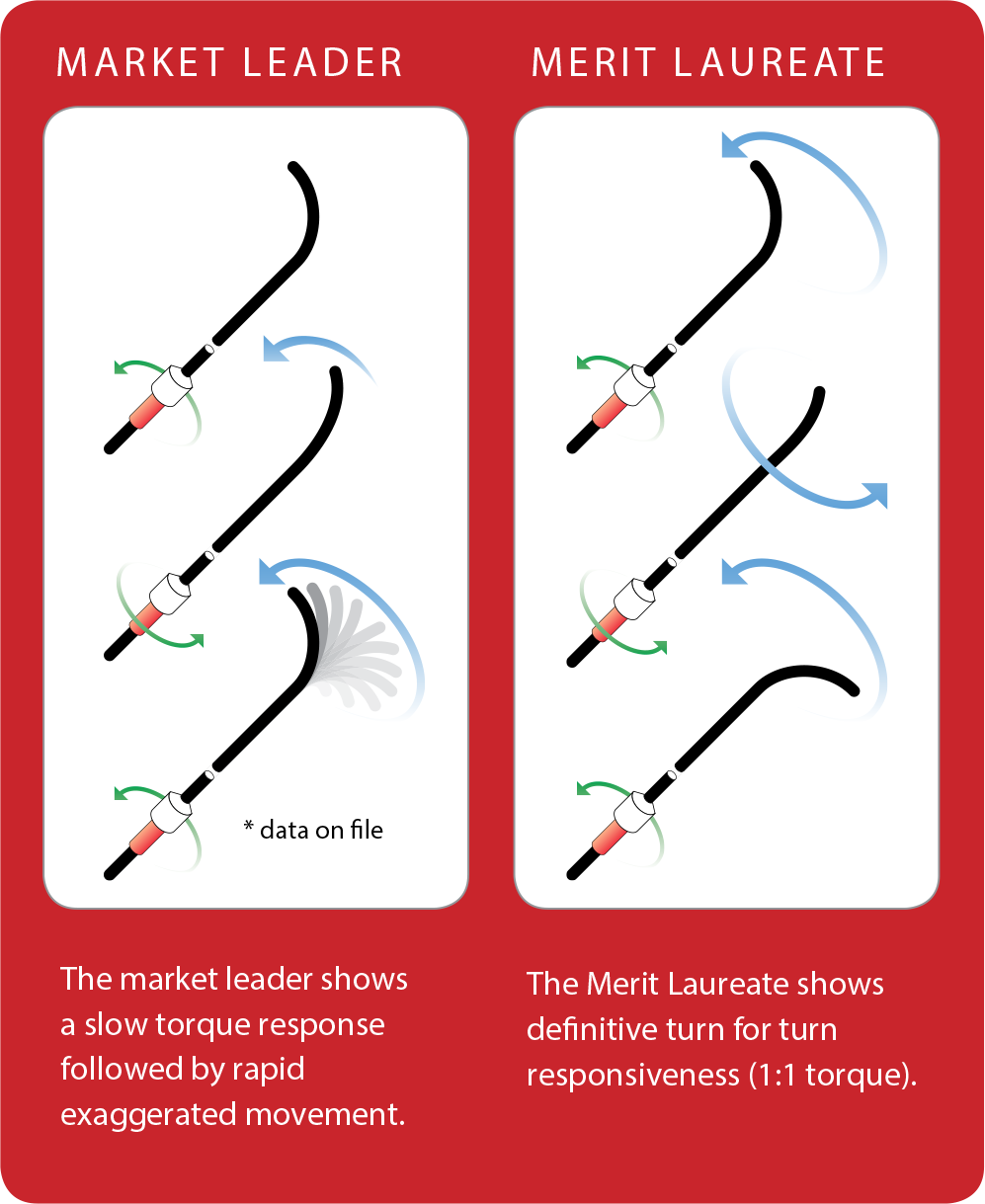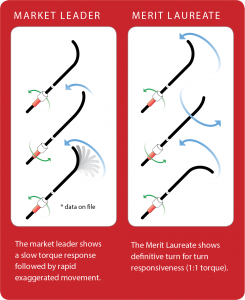 Comparative torque testing showed the Merit Laureate guide wire consistently met the 1:1 torque target.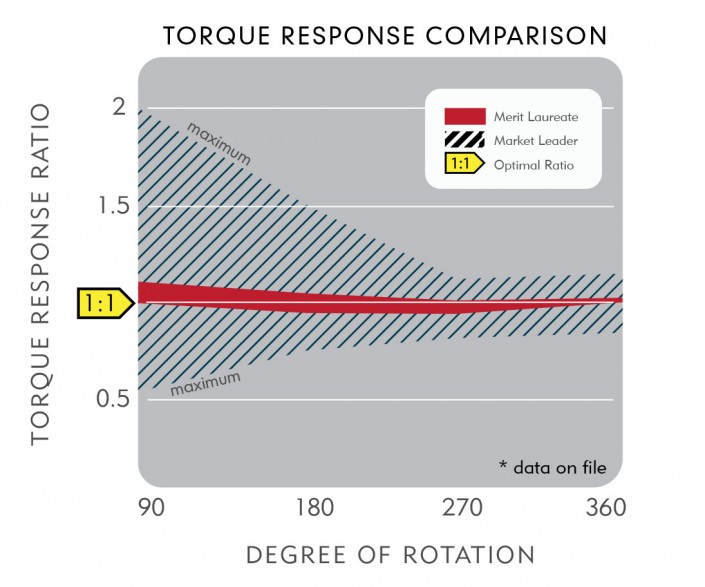 Ordering Information
| Catalog Number | Expanded Family Name1 | Expanded Family Name2 | Diameter (O.D.) | Length | Tip Shape | Configuration | Flexible Tip Length | Core Abbreviation | Surface Coating | Sterilization | Latex Free | HCPCS Code | Shipping Box Qty |
| --- | --- | --- | --- | --- | --- | --- | --- | --- | --- | --- | --- | --- | --- |
| AEAD35 | Hydrophilic Coated Merit | Laureate® Guide Wire | 0.035" (0.89 mm) | 150 cm (59") | Straight Tip | Standard | 3 cm | F | Hydrophilic Coated | ETO | Yes | | 100 |
| AEAE35 | Hydrophilic Coated Merit | Laureate® Guide Wire | 0.035" (0.89 mm) | 150 cm (59") | Angled Tip | Standard | 3 cm | F | Hydrophilic Coated | ETO | Yes | | 100 |
| AECD35 | Hydrophilic Coated Merit | Laureate® Guide Wire | 0.035" (0.89 mm) | 150 cm (59") | Straight Tip | Stiff Body | 3 cm | F | Hydrophilic Coated | ETO | Yes | | 100 |
| AECE35 | Hydrophilic Coated Merit | Laureate® Guide Wire | 0.035" (0.89 mm) | 150 cm (59") | Angled Tip | Stiff Body | 3 cm | F | Hydrophilic Coated | ETO | Yes | | 100 |
| LWSTDA18150 | Merit Laureate® Hydrophilic Guide Wire | | 0.018" (0.46 mm) | 150 cm (59") | Angled Tip | Standard | 3 cm | F | Hydrophilic Coated | ETO | Yes | C1769 | 5 |
| LWSTDA18180 | Merit Laureate® Hydrophilic Guide Wire | | 0.018" (0.46 mm) | 180 cm (71") | Angled Tip | Standard | 3 cm | F | Hydrophilic Coated | ETO | Yes | C1769 | 5 |
| LWSTDA18260EX | Merit Laureate® Hydrophilic Guide Wire | | 0.018" (0.46 mm) | 260 cm (102") | Angled Tip | Standard Exchange | 3 cm | F | Hydrophilic Coated | ETO | Yes | C1769 | 5 |
| LWSTDA1880 | Merit Laureate® Hydrophilic Guide Wire | | 0.018" (0.46 mm) | 80 cm (31.5") | Angled Tip | Standard | 3 cm | F | Hydrophilic Coated | ETO | Yes | C1769 | 5 |
| LWSTDA25150 | Merit Laureate® Hydrophilic Guide Wire | | 0.025" (0.64 mm) | 150 cm (59") | Angled Tip | Standard | 3 cm | F | Hydrophilic Coated | ETO | Yes | C1769 | 5 |
| LWSTDA25180 | Merit Laureate® Hydrophilic Guide Wire | | 0.025" (0.64 mm) | 180 cm (71") | Angled Tip | Standard | 3 cm | F | Hydrophilic Coated | ETO | Yes | C1769 | 5 |
| LWSTDA25260EX | Merit Laureate® Hydrophilic Guide Wire | | 0.025" (0.64 mm) | 260 cm (102") | Angled Tip | Standard Exchange | 3 cm | F | Hydrophilic Coated | ETO | Yes | C1769 | 5 |
| LWSTDA35150 | Merit Laureate® Hydrophilic Guide Wire | | 0.035" (0.89 mm) | 150 cm (59") | Angled Tip | Standard | 3 cm | F | Hydrophilic Coated | ETO | Yes | C1769 | 5 |
| LWSTDA35180 | Merit Laureate® Hydrophilic Guide Wire | | 0.035" (0.89 mm) | 180 cm (71") | Angled Tip | Standard | 3 cm | F | Hydrophilic Coated | ETO | Yes | C1769 | 5 |
| LWSTDA35220 | Merit Laureate® Hydrophilic Guide Wire | | 0.035" (0.89 mm) | 220 cm (87") | Angled Tip | Standard | 3 cm | F | Hydrophilic Coated | ETO | Yes | C1769 | 5 |
| LWSTDA35260EX | Merit Laureate® Hydrophilic Guide Wire | | 0.035" (0.89 mm) | 260 cm (102") | Angled Tip | Standard Exchange | 3 cm | F | Hydrophilic Coated | ETO | Yes | C1769 | 5 |
| LWSTDA3580 | Merit Laureate® Hydrophilic Guide Wire | | 0.035" (0.89 mm) | 80 cm (31.5") | Angled Tip | Standard | 3 cm | F | Hydrophilic Coated | ETO | Yes | C1769 | 5 |
| LWSTDA38120 | Merit Laureate® Hydrophilic Guide Wire | | 0.038" (0.97 mm) | 120 cm (47") | Angled Tip | Standard | 3 cm | F | Hydrophilic Coated | ETO | Yes | C1769 | 5 |
| LWSTDA38150 | Merit Laureate® Hydrophilic Guide Wire | | 0.038" (0.97 mm) | 150 cm (59") | Angled Tip | Standard | 3 cm | F | Hydrophilic Coated | ETO | Yes | C1769 | 5 |
| LWSTDA38180 | Merit Laureate® Hydrophilic Guide Wire | | 0.038" (0.97 mm) | 180 cm (71") | Angled Tip | Standard | 3 cm | F | Hydrophilic Coated | ETO | Yes | C1769 | 5 |
| LWSTDA38260EX | Merit Laureate® Hydrophilic Guide Wire | | 0.038" (0.97 mm) | 260 cm (102") | Angled Tip | Standard Exchange | 3 cm | F | Hydrophilic Coated | ETO | Yes | C1769 | 5 |
| LWSTDA3880 | Merit Laureate® Hydrophilic Guide Wire | | 0.038" (0.97 mm) | 80 cm (31.5") | Angled Tip | Standard | 3 cm | F | Hydrophilic Coated | ETO | Yes | C1769 | 5 |
| LWSTDS18150 | Merit Laureate® Hydrophilic Guide Wire | | 0.018" (0.46 mm) | 150 cm (59") | Straight Tip | Standard | 3 cm | F | Hydrophilic Coated | ETO | Yes | C1769 | 5 |
| LWSTDS18180 | Merit Laureate® Hydrophilic Guide Wire | | 0.018" (0.46 mm) | 180 cm (71") | Straight Tip | Standard | 3 cm | F | Hydrophilic Coated | ETO | Yes | C1769 | 5 |
| LWSTDS18260EX | Merit Laureate® Hydrophilic Guide Wire | | 0.018" (0.46 mm) | 260 cm (102") | Straight Tip | Standard Exchange | 3 cm | F | Hydrophilic Coated | ETO | Yes | C1769 | 5 |
| LWSTDS25150 | Merit Laureate® Hydrophilic Guide Wire | | 0.025" (0.64 mm) | 150 cm (59") | Straight Tip | Standard | 3 cm | F | Hydrophilic Coated | ETO | Yes | C1769 | 5 |
| LWSTDS25180 | Merit Laureate® Hydrophilic Guide Wire | | 0.025" (0.64 mm) | 180 cm (71") | Straight Tip | Standard | 3 cm | F | Hydrophilic Coated | ETO | Yes | C1769 | 5 |
| LWSTDS25260EX | Merit Laureate® Hydrophilic Guide Wire | | 0.025" (0.64 mm) | 260 cm (102") | Straight Tip | Standard Exchange | 3 cm | F | Hydrophilic Coated | ETO | Yes | C1769 | 5 |
| LWSTDS35150 | Merit Laureate® Hydrophilic Guide Wire | | 0.035" (0.89 mm) | 150 cm (59") | Straight Tip | Standard | 3 cm | F | Hydrophilic Coated | ETO | Yes | C1769 | 5 |
| LWSTDS35180 | Merit Laureate® Hydrophilic Guide Wire | | 0.035" (0.89 mm) | 180 cm (71") | Straight Tip | Standard | 3 cm | F | Hydrophilic Coated | ETO | Yes | C1769 | 5 |
| LWSTDS35220 | Merit Laureate® Hydrophilic Guide Wire | | 0.035" (0.89 mm) | 220 cm (87") | Straight Tip | Standard | 3 cm | F | Hydrophilic Coated | ETO | Yes | C1769 | 5 |
| LWSTDS35260EX | Merit Laureate® Hydrophilic Guide Wire | | 0.035" (0.89 mm) | 260 cm (102") | Straight Tip | Standard Exchange | 3 cm | F | Hydrophilic Coated | ETO | Yes | C1769 | 5 |
| LWSTDS3580 | Merit Laureate® Hydrophilic Guide Wire | | 0.035" (0.89 mm) | 80 cm (31.5") | Straight Tip | Standard | 3 cm | F | Hydrophilic Coated | ETO | Yes | C1769 | 5 |
| LWSTDS38150 | Merit Laureate® Hydrophilic Guide Wire | | 0.038" (0.97 mm) | 150 cm (59") | Straight Tip | Standard | 3 cm | F | Hydrophilic Coated | ETO | Yes | C1769 | 5 |
| LWSTDS38180 | Merit Laureate® Hydrophilic Guide Wire | | 0.038" (0.97 mm) | 180 cm (71") | Straight Tip | Standard | 3 cm | F | Hydrophilic Coated | ETO | Yes | C1769 | 5 |
| LWSTDS38260EX | Merit Laureate® Hydrophilic Guide Wire | | 0.038" (0.97 mm) | 260 cm (102") | Straight Tip | Standard Exchange | 3 cm | F | Hydrophilic Coated | ETO | Yes | C1769 | 5 |
| LWSTFA35150 | Merit Laureate® Hydrophilic Guide Wire | | 0.035" (0.89 mm) | 150 cm (59") | Angled Tip | Stiff | 3 cm | F | Hydrophilic Coated | ETO | Yes | C1769 | 5 |
| LWSTFA35180 | Merit Laureate® Hydrophilic Guide Wire | | 0.035" (0.89 mm) | 180 cm (71") | Angled Tip | Stiff | 3 cm | F | Hydrophilic Coated | ETO | Yes | C1769 | 5 |
| LWSTFA35220 | Merit Laureate® Hydrophilic Guide Wire | | 0.035" (0.89 mm) | 220 cm (87") | Angled Tip | Stiff | 3 cm | F | Hydrophilic Coated | ETO | Yes | C1769 | 5 |
| LWSTFA35260EX | Merit Laureate® Hydrophilic Guide Wire | | 0.035" (0.89 mm) | 260 cm (102") | Angled Tip | Stiff Exchange | 3 cm | F | Hydrophilic Coated | ETO | Yes | C1769 | 5 |
| LWSTFA3580 | Merit Laureate® Hydrophilic Guide Wire | | 0.035" (0.89 mm) | 80 cm (31.5") | Angled Tip | Stiff | 3 cm | F | Hydrophilic Coated | ETO | Yes | C1769 | 5 |
| LWSTFA38150 | Merit Laureate® Hydrophilic Guide Wire | | 0.038" (0.97 mm) | 150 cm (59") | Angled Tip | Stiff | 3 cm | F | Hydrophilic Coated | ETO | Yes | C1769 | 5 |
| LWSTFA38180 | Merit Laureate® Hydrophilic Guide Wire | | 0.038" (0.97 mm) | 180 cm (71") | Angled Tip | Stiff | 3 cm | F | Hydrophilic Coated | ETO | Yes | C1769 | 5 |
| LWSTFA3880 | Merit Laureate® Hydrophilic Guide Wire | | 0.038" (0.97 mm) | 80 cm (31.5") | Angled Tip | Stiff | 3 cm | F | Hydrophilic Coated | ETO | Yes | C1769 | 5 |
| LWSTFS35150 | Merit Laureate® Hydrophilic Guide Wire | | 0.035" (0.89 mm) | 150 cm (59") | Straight Tip | Stiff | 3 cm | F | Hydrophilic Coated | ETO | Yes | C1769 | 5 |
| LWSTFS35180 | Merit Laureate® Hydrophilic Guide Wire | | 0.035" (0.89 mm) | 180 cm (71") | Straight Tip | Stiff | 3 cm | F | Hydrophilic Coated | ETO | Yes | C1769 | 5 |
| LWSTFS35260EX | Merit Laureate® Hydrophilic Guide Wire | | 0.035" (0.89 mm) | 260 cm (102") | Straight Tip | Stiff Exchange | 3 cm | F | Hydrophilic Coated | ETO | Yes | C1769 | 5 |
| LWSTFS38150 | Merit Laureate® Hydrophilic Guide Wire | | 0.038" (0.97 mm) | 150 cm (59") | Straight Tip | Stiff | 3 cm | F | Hydrophilic Coated | ETO | Yes | C1769 | 5 |
| LWSTFS38180 | Merit Laureate® Hydrophilic Guide Wire | | 0.038" (0.97 mm) | 180 cm (71") | Straight Tip | Stiff | 3 cm | F | Hydrophilic Coated | ETO | Yes | C1769 | 5 |
| SQ2256 | Hydrophilic Coated Merit | Laureate® Guide Wire | 0.035" (0.89 mm) | 150 cm (59") | Straight Tip | Stiff Body | 3 cm | F | Hydrophilic Coated | ETO | Yes | | 100 |