HeRO® Graft Thrombectomy Guidelines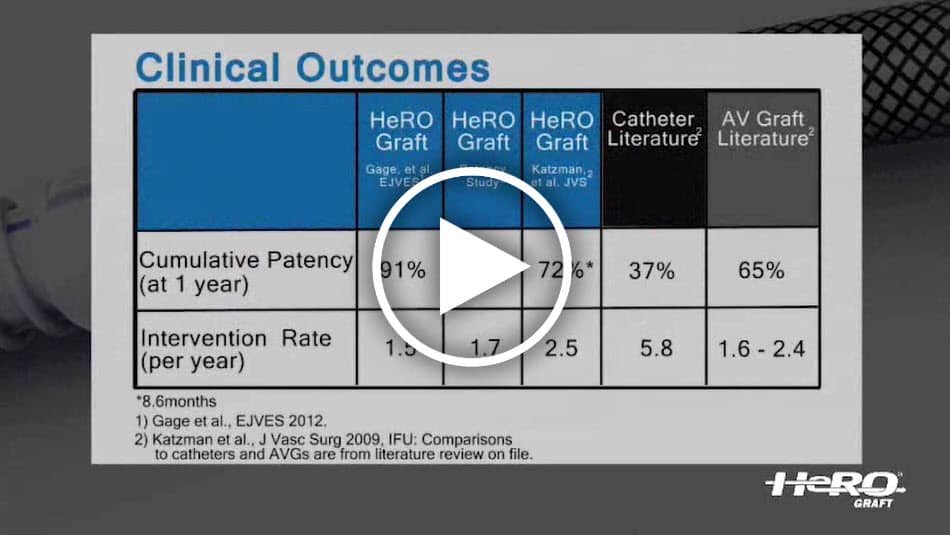 Watch Dr. John R. Ross perform a thrombectomy procedure of the HeRO Graft.
The HeRO Graft patency was clinically proven to be equivalent to a standard ePTFE graft. Like other specialized ePTFE grafts, HeRO Graft may require periodic maintenance. A percutaneous technique is recommended (e.g., a rheolytic thrombectomy system, balloon maceration, or balloon-assisted aspiration), after the ePTFE graft is completely incorporated. A surgical technique is recommended during the graft maturation period.
Use of fluoroscopy during any HeRO Graft intervention is strongly recommended.
THROMBECTOMY GUIDELINES
HeRO Graft consists of two primary components:
A Venous Outflow Component
An ePTFE Arterial Graft Component
Percutaneous or surgical technique may be used to declot HeRO Graft. A surgical technique is recommended during the graft incorporation period to avoid risk of seroma or other complications.
A 90 cm thrombectomy tool is required to accommodate the entire length of the HeRO Graft.
Administration of drugs such as TPA or urokinase to lyse the thrombus is recommended.
Thrombus may be soft or gelatinous in nature and is likely to be present throughout the entire device.
The Venous Outflow Component has a 5 mm inner diameter (ID), 19F outer diameter (OD), and is 40 cm long. It consists of radiopaque silicone with braided nitinol reinforcement (for kink and crush resistance) and a platinum-iridium radiopaque marker band at the distal tip.
The Arterial Graft Component has a 6 mm ID, 7.4 mm OD, and is 53 cm long, inclusive of the connector. It consists of an ePTFE hemodialysis graft with PTFE beading to prevent kinking proximal to the proprietary connector. The connector attaches the graft component to the outflow component.
No Fibrin Sheath
No fibrin sheath formation is expected around the tip of the Venous Outflow Component due to continuous blood flow from a target artery to the central venous system and into the heart.
Tips for Successful Outcomes
Mechanical/rotational devices (e.g., Arrow-Trerotola PTD®) are contraindicated as internal damage to the Venous Outflow Component and connector may occur.