Features & Benefits
The Huntington Bone Biopsy System is engineered to improve initial purchase on the cortex even in oblique approaches, the tri-angled drill-tip introducer provides a collection channel for bone evacuation upon first contact with bone. Accommodating the thin guide wire when Seldinger-inspired technique is desired, moving introducer counter-clockwise through soft tissue will minimise trauma, yet turning clockwise will immediately engage in cortex. An optional drill is included to work with the perforating cannula to further traverse bone where necessary.
Engineered to IMPROVE initial bone purchase
Longitudinal groove provides a COLLECTION CHANNEL from initial bone contact
Removable handles for VERSATILE, LIGHTWEIGHT USE
---
SYSTEM COMPONENTS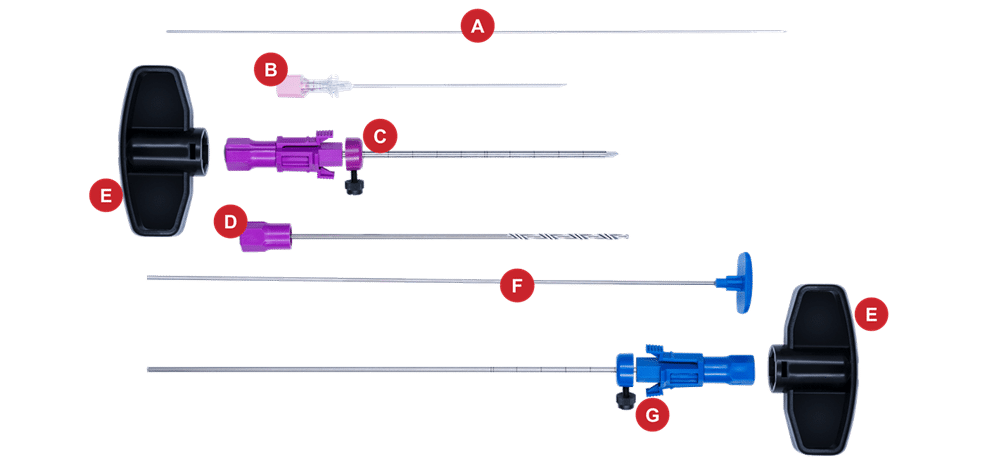 A – Guide wire
B – Anaesthesia needle
C – Tri-angled, grooved stylet/perforating-tip cannula introducer
D – Exchangeable drill insert
E – 2x clip-on handles (for introducer or biopsy needle)
F – Ejector pin
G – Clockwise trephine-tip biopsy needle
---
INTRODUCTION METHOD
A Seldinger-inspired technique may be used, positioning the guide wire through the needle. The needle is then removed leaving the guide wire. The assembled tri-angled grooved stylet with perforating tip cannula is introduced over the guide wire in a counterclockwise direction through soft tissues. Once in contact with bone, introducer is turned clockwise to anchor in bone and guide wire can be removed. Advance clockwise with careful but firm turns. The tri-angled stylet may be exchanged for the drill if further progression through dense bone is necessary. The handle can be clipped on or off the introducer to assist with handling.
Order Information
Please note:
* Gauge sizes may be closest approximate
** Length refers to the working needle only and does not include additional handle length