SOFT TISSUE BIOPSY
Our proven soft tissue biopsy devices offer a complete selection with advanced features to obtain top-quality tissue samples with ease and efficiency.
Biopsy Types Include:
Breast | Liver | Lung | Kidney | Spleen | Prostate | Lymph Nodes | Various Soft Tissue Masses
CORVOCET® AUTOMATIC BIOPSY SYSTEM

Precise & Predictable
Throw Adjustability

True One-Handed
Operation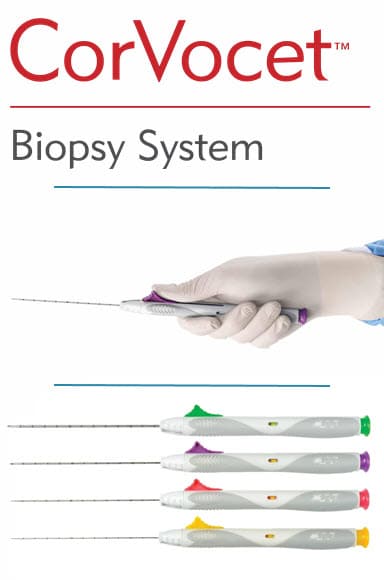 The CorVocet Biopsy System is designed to cut a full core of tissue, providing large specimens for pathological examination. Its sleek lines, lightweight, and ergonomic grip help facilitate one-handed priming, positioning, and deployment, which is especially beneficial during image-guided procedures.
Dual Triggers – Device can be fired from two locations, accommodating for procedural needs
Depth Markings – Easy insertion depth reference
Multiple Sizes – Broad range of gauge sizes and lengths to meet procedural needs
Quiet Firing Action – Approximately 33% quieter than the competition for an improved patient experience
Echo-Enhanced Tip – Provides visualization during image-guided procedures
Throw Length – Accurate, controllable throw length adjustment in mm increments
Ready Indicator – Displays yellow when device is primed
Blunt Stylet – May be used to minimize damage to soft tissue, vasculature, and organs
Coaxial Introducer – With its unique quick release technology, the inner stylet can be removed without twisting and torquing
ADDITIONAL SOFT TISSUE BIOPSY DEVICES
Achieve® Automatic Biopsy Device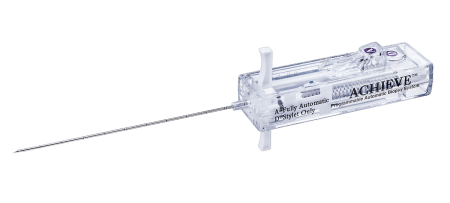 Easy-to-Use, Lightweight, One-handed Design
Smooth, one-handed operation, making it ideal for ultrasound guided biopsy.
Delayed Firing Option
Allows you to visualize needle placement within a lesion before capturing the sample tissue.
Coaxial Introducer
Enables multiple sampling from one percutaneous puncture with minimal damage to surrounding tissue.
Echogenic Markings
Help to confirm the placement of the sample notch for precise ultrasound positioning.
Pink Achieve™ Biopsy Device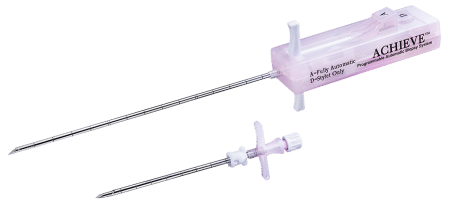 Compact, Lightweight Design
Enhanced design makes this device ideal for ultrasound-guided procedures.
Automatic Firing Mode
Releases the cannula and stylet in rapid sequence and captures a tissue sample with one push of a button.
Delay Firing Mode
Lets you verify the position of the sample notch in the target area before activating the cutting cannula.
Zero-throw Mode
Offers precision and reduces the threat of damage to deeper tissue with no forward throw of the needle.
Temno Evolution® Biopsy Device
Quality Samples
Two notch sizes (10 or 20 mm) provide controlled, precise sampling.
Advanced Design
Four-bevel tip is significantly sharp for quick, easy penetration.
Ergonomic 
Ergonomically-contoured body and soft, pliable finger grips provide increased comfort.
Flexible Sizing
Available in a wide range of gauges and sizes, including 14 to 20 G.
Adjustable Coaxial Temno™ (ACT) Biopsy Device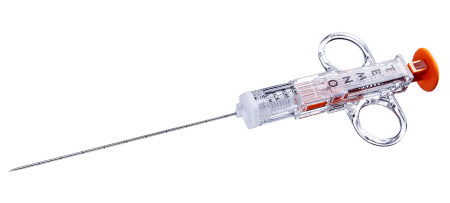 Notch Sizing
Features a 9 to 19 mm notch size with an adjustable coaxial bolt and corresponding measurement indicator.
Core Sizing 
Tissue settles in notch before firing for a larger core sample.
Ultrasound/CT Imaging Compatibility
Compact, lightweight design passes through CT with ease, while one-handed operation allows convenient manipulation of ultrasound transducer.
Repositioning 
Stylet can be repositioned prior to sample capture for greater confidence.
Original Temno® Biopsy Device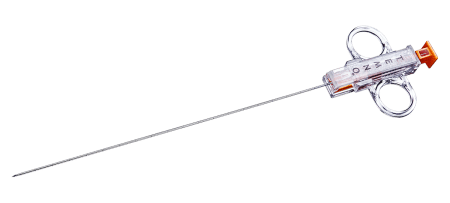 Quality Samples
Features a 20 mm sample notch.
Advanced Design
The lightweight, compact design may help reduce tissue shear.
Ultrasound/CT Imaging Compatibility
Echogenic cannula markings allow precise ultrasound positioning, and centimeter markings assist needle placement.
Flexible Sizing
Available in a wide range of gauges and sizes, including 14 to 22 G.
Tru-Cut® Biopsy Device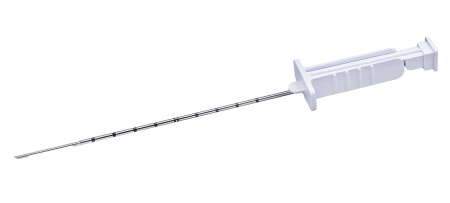 Scalpel-Sharp
Scalpel-sharp, surgical-steel cutting edge that retrieves cleanly cut, high-quality specimens.
Depth Markings
Centimeter depth markings to assist in needle placement.
Thin-Wall Needle
Thin-wall needle to yield larger core.
Multiple Sampling
Removable stylet for multiple sampling capability.
BONE BIOPSY SYSTEMS
Our bone biopsy systems offer physicians the luxury of choice while optimizing diagnostic yield. Unique engineering allows for traversing dense bone with tactile drilling, and guided access options can provide added confidence and procedural efficiency. We offer a full range of bone biopsy products for your needs.
BIOPSY PROCEDURE KIT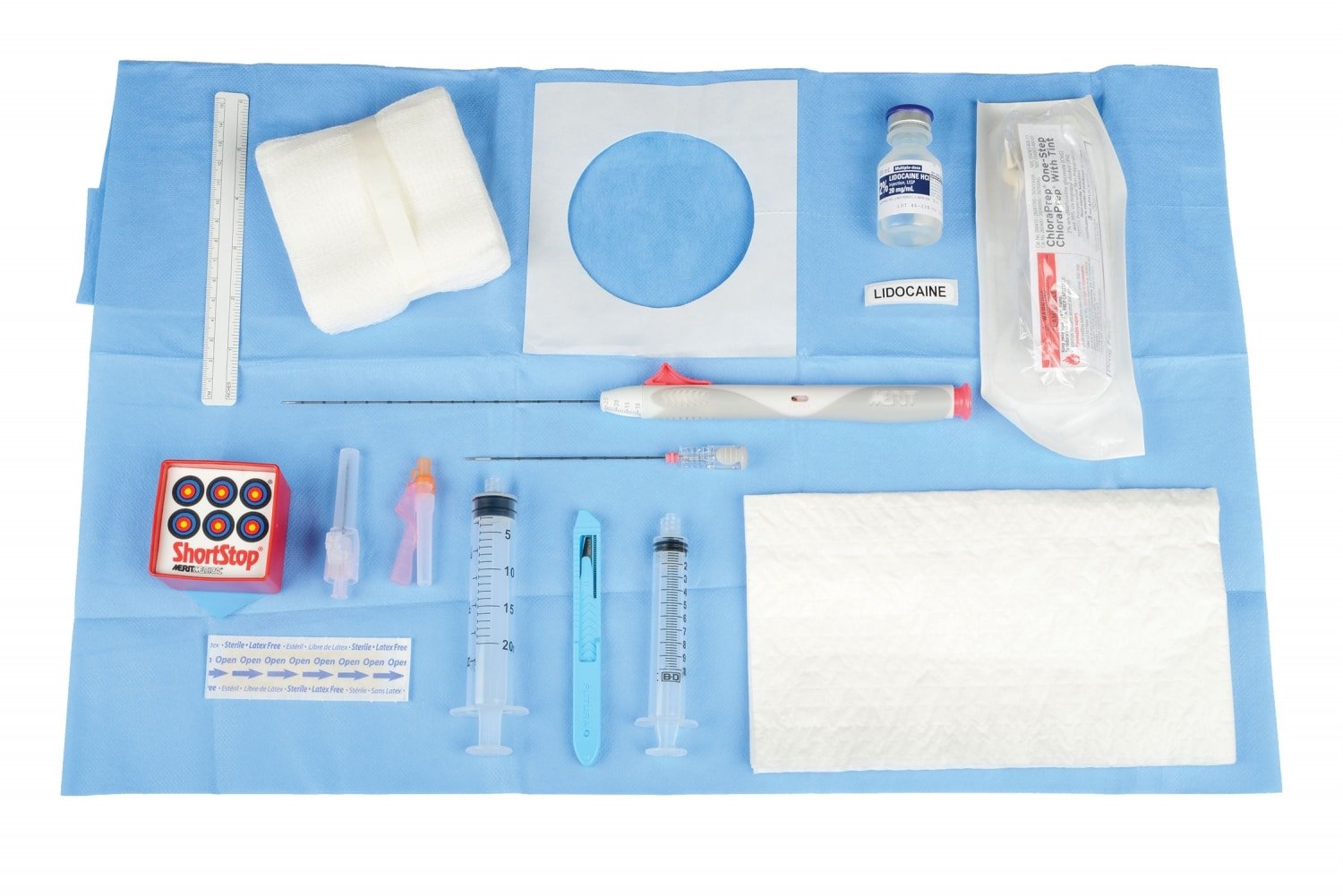 Trays, kits, and packs are efficient, time-saving, and cost-effective. Merit Medical offers numerous pre-arranged options, or we will work with you to create an assortment that uniquely meets your needs and provides everything you require to perform the biopsy procedures you do most.
Ready-made packs may contain products you don't need, resulting in increased cost and waste. Merit Medical can customize procedural packs to your specifications that meet your clinical requirements. Our packs combine high-quality products for cardiology, radiology, and other procedures. Merit Medical procedural packs can help you optimize efficiency and reduce cost and waste.