The StabiliT® VP Vertebroplasty System combines Merit's patented simple cement preparation with the controlled delivery of high-viscosity cement.
Brochure/Documents
Current IFUs
Current Brochures
Learn More About StabiliT® VP Vertebroplasty System
Features & Benefits
Simplicity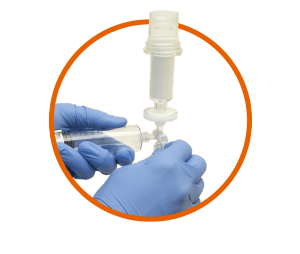 Simple cement preparation
No blending, shaking, squeezing, or stirring
Mixing cartridge used for delivery; no need to transfer cement
Speed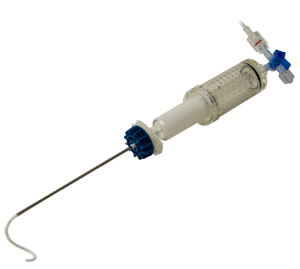 Superior cement viscosity and working time
Up to 2x viscosity of standard PMMA cements*; designed for consistent filling and interdigitation
Extended working time >30 minutes for procedural flexibility*
Barium sulfate radiopacifier for excellent visibility
Control
Controlled delivery
Precise cement delivery and stoppage for predictable results
* Tests performed and data on file at Merit Medical Systems, Inc.
Indications for Use
The StabiliT® Vertebral Augmentation System is intended for percutaneous delivery of StabiliT® ER2 Bone Cement. The StabiliT® ER2 Bone Cement is indicated for the treatment of pathological fractures of the vertebrae using a vertebroplasty or kyphoplasty procedure. Painful vertebral compression fractures may result from osteoporosis, benign lesions (hemangioma), and malignant lesions (metastatic cancers, myeloma).
Risks and Contraindications
As with most surgical procedures, there are risks associated with the StabiliT® procedure, including serious complications. For complete information regarding risks, contraindications, warnings, and precautions, please review the systems' Instruction for Use. For complete information regarding System related adverse events please see Instructions for Use.
Ordering Information
| Catalog Number | Expanded Family Name | Expanded Family Name1 | Sterilization | Latex Free | Shipping Box Qty |
| --- | --- | --- | --- | --- | --- |
| 0860 | AE Cable | | Gamma | Yes | 1 |
| 0975 | Locking Delivery Cannula | | Gamma | Yes | 1 |
| 1011 | VertecoR® StraightLine Osteotome | | Gamma | Yes | 1 |
| 1135 | StabiliT® ER² Bone Cement | | ETO | Yes | 1 |
| 1155 | Activation Element | StabiliT® Vertebral Augmentation System | Gamma | Yes | 1 |
| 1401 | ER² Saturate Mixing System | | Gamma | Yes | 1 |
| 1402 | Hydraulic Assembly | StabiliT® Vertebral Augmentation System | Gamma | Yes | 1 |
| 1426 | Locking Delivery Cannula | | Gamma | Yes | 1 |
| 1545 | VertecoR® StraightLine Osteotome | | Gamma | Yes | 1 |
| 1688 | StabiliT® ER² Bone Cement | | ETO | Yes | 1 |
| 1866 | ER² Saturate Mixing System | | Gamma | Yes | 1 |
| 2224 | VertecoR® Bone Drill | | Gamma | Yes | 1 |
| 3366 | StabiliT® ER² Bone Cement | | ETO | Yes | 1 |
| 3610-A | MultiPlex II Controller | With Cont. Europe Power Cord | NS | Yes | 1 |
| DF-5000A | Master Syringe Assembly | | Gamma | Yes | 1 |
| PWR-2011L | PowerCURVE® Navigating Osteotome | | Gamma | Yes | 1 |
| PWR-2011S | PowerCURVE® Navigating Osteotome | | Gamma | Yes | 1 |
| QRG-001 | StabiliT® MX/VP Quick Reference Guide | | ETO | Yes | 10 |
| QRG-002 | StabiliT® Bone Cement | Quick Reference Guide | ETO | Yes | 10 |
| QRG-003 | StabiliT® VP Cement | Quick Reference Guide | ETO | Yes | 10 |
Catalog Number
Description
KIT CONFIGURATIONS
VP-1110L (Long)
VP-1110S (Short)
StabiliT VP Vertebroplasty Kit Includes:

StabiliT Introducer (10G) with Diamond-tipped Stylet
Locking Cement Delivery Cannula (11G) with Diamond-tipped Stylet
StabiliT ER Bone Cement and Saturate Mixing System
StabiliT Delivery Syringe
Master Syringe
Elbow
Coupler

A LA CARTE COMPONENTS
1467
StabiliT Introducer (10G) with Bevel-tipped Stylet (Long)
1488
StabiliT Introducer (10G) with Bevel-tipped Stylet (Short)
1472
StabiliT Introducer (10G) with Diamond-tipped Stylet (Long)
1493
StabiliT Introducer (10G) with Diamond-tipped Stylet (Short)
0975
Locking Delivery Cannula (11G) with Diamond-tipped Stylet (Short)
4457
StabiliT Bone Cement and Saturate Mixing System
| Catalog Number | Expanded Family Name | Expanded Family Name1 | Sterilization | Latex Free | Shipping Box Qty |
| --- | --- | --- | --- | --- | --- |
| 0860 | AE Cable | | Gamma | Yes | 1 |
| 0975 | Locking Delivery Cannula | | Gamma | Yes | 1 |
| 1011 | VertecoR® StraightLine Osteotome | | Gamma | Yes | 1 |
| 1135 | StabiliT® ER² Bone Cement | | ETO | Yes | 1 |
| 1155 | Activation Element | StabiliT® Vertebral Augmentation System | Gamma | Yes | 1 |
| 1401 | ER² Saturate Mixing System | | Gamma | Yes | 1 |
| 1402 | Hydraulic Assembly | StabiliT® Vertebral Augmentation System | Gamma | Yes | 1 |
| 1426 | Locking Delivery Cannula | | Gamma | Yes | 1 |
| 1545 | VertecoR® StraightLine Osteotome | | Gamma | Yes | 1 |
| 1688 | StabiliT® ER² Bone Cement | | ETO | Yes | 1 |
| 1866 | ER² Saturate Mixing System | | Gamma | Yes | 1 |
| 2224 | VertecoR® Bone Drill | | Gamma | Yes | 1 |
| 3366 | StabiliT® ER² Bone Cement | | ETO | Yes | 1 |
| 3610-A | MultiPlex II Controller | With Cont. Europe Power Cord | NS | Yes | 1 |
| DF-5000A | Master Syringe Assembly | | Gamma | Yes | 1 |
| PWR-2011L | PowerCURVE® Navigating Osteotome | | Gamma | Yes | 1 |
| PWR-2011S | PowerCURVE® Navigating Osteotome | | Gamma | Yes | 1 |
| QRG-001 | StabiliT® MX/VP Quick Reference Guide | | ETO | Yes | 10 |
| QRG-002 | StabiliT® Bone Cement | Quick Reference Guide | ETO | Yes | 10 |
| QRG-003 | StabiliT® VP Cement | Quick Reference Guide | ETO | Yes | 10 |